Advisors of Delta Tau Chapter
Finance Advisor
Susan E. Stone, Professor, Music Appreciation, Violin, Musicianship
B.M., Valparaiso; M.M., Northwestern; D.M.A., Southern California
Dr. Susan Stone is Associate Professor of violin at Augustana, and principal second violin in the Quad City Symphony Orchestra. A graduate of Interlochen Arts Academy, she holds a B.M. degree from Valparaiso University, an M.M. from Northwestern University and a D.M.A. from the University of Southern California. She has studied with Edgar Muenzer, Milton Preves, Milton Thomas, and Eudice Shapiro. Dr. Stone has been on the faculty at the Los Angeles Conservatory of Music and Arts and at the University of Southern California. She was a member of the Pasadena Chamber Orchestra and the Fiori String Quartet (Los Angeles). At Augustana, she is a member of the Cantare Duo and the Lyra Trio.
Program and Social Advisors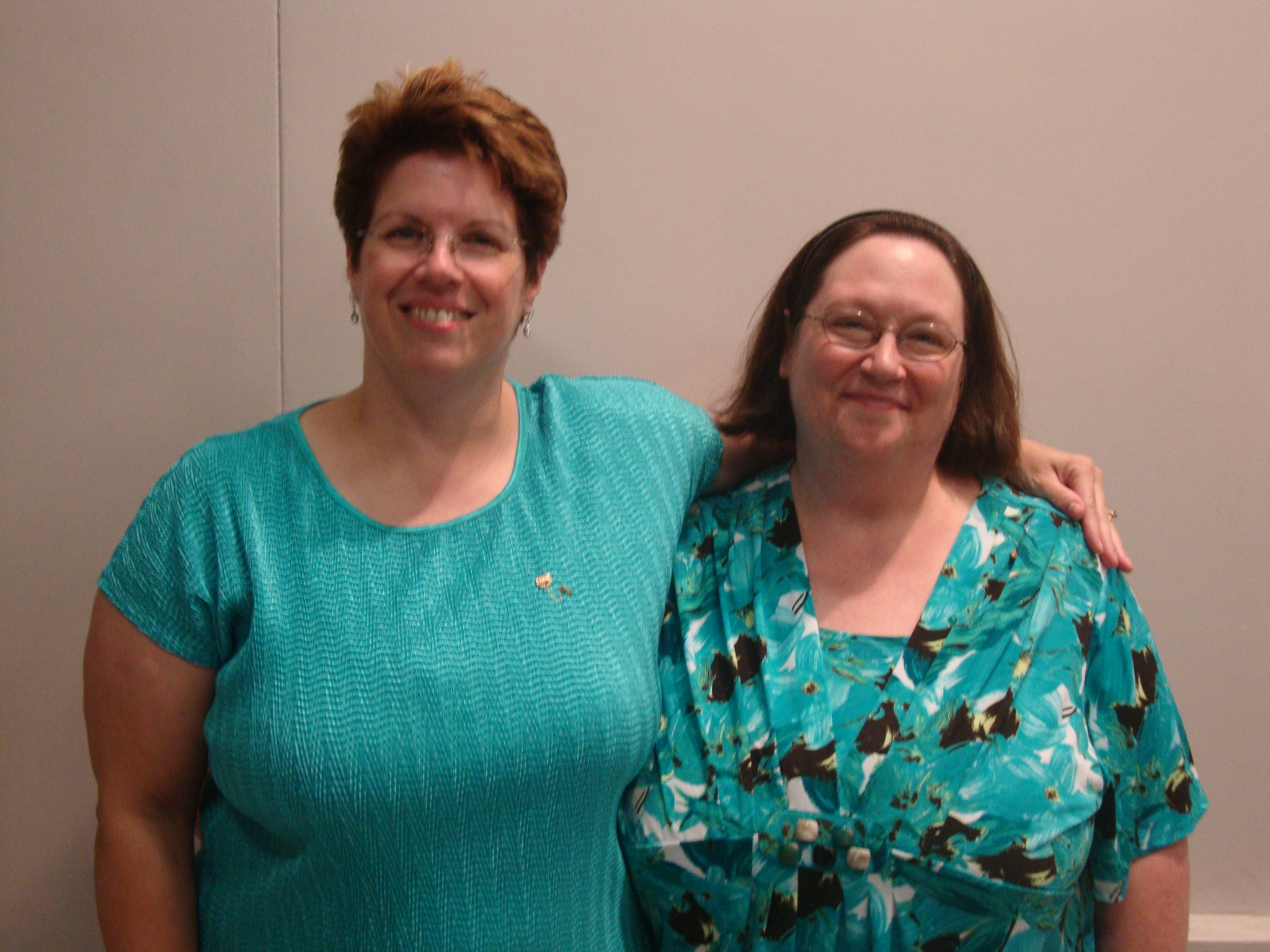 Dara Wegman-Geedey (left) and Rita Oetken Gustafson (right)
Dara Wegman-Geedey was born in Cleveland, Ohio.  She earned her BS in Biology, with a minor in Art, from Mount Union College in Alliance, OH in 1982.  For the next several years, she worked in pediatric infectious disease research through Case Western Reserve University in Cleveland, Ohio. In 1995, Dara received a PhD in biological sciences (microbiology and ecology, specifically) from the University of Delaware; her dissertation work was the evaluation of the adaptive responses of an estuarine Thiobaillus to changes in salinity.
Dara became a professor at Augustana College in 1995, after teaching for one year as a sabbatical replacement professor at Sweet Briar College in Sweet Briar, Virginia. In 1998, Dara married Kevin Geedey, an Augustana professor of ecology/evolution; they have one cat (Spyke), a Springer Spaniel (Bart), and a tank of tropical fish and invertebrates.
A lover of singing since childhood, Dara was introduced to Sigma Alpha Iota through Delta Tau chapter's annual Celebrating Women in the Arts program when a student in her BIO 101 class asked her to participate in February 1996. Although the flu prevented Dara from participate that year, she has been in the Celebration each year since. In 1998, Dara was asked to become a Patroness Member of Augustana's Delta Tau Chapter of Sigma Alpha Iota. She especially enjoys participating in the "big events": initiation, senior farewell, pledging, and even a meeting or bake sale once in a while.
Rita Oetken Gustafson has worked for Augustana since 1984, with her entire career being dedicated to the college's performing and fine arts programs. She began as the secretary in the Cultural Events Office, eventually assuming the role of Ticket Office Manager in 1999, and is currently the Business Manager of the Augustana Performance Halls.
Rita was honored by the invitation to become a Patroness Member of Augustana's Delta Tau Chapter of Sigma Alpha Iota in 1998. Since that time, she has greatly enjoyed her participation in the chapter and her interaction with the many SAI members over the years. In 2010 Rita was named National Outstanding Advisor for her superior work in the 2009-2010 school year.
Rita lives in Rock Island, Illinois, with her husband Jon and her three extraordinary children – a daughter, Asta, who is seventeen years old, and ten-year old sons Nathaniel and Parrish. She considers herself thoroughly blessed to have a great job that she loves and a wonderful family.
Patroness Members
Bonnie Buss is in her sixteenth year as a member of the voice faculty at Augustana College, where she teaches studio voice, vocal pedagogy, class voice, and supervises the voice lab. She received her B.A. from St. Olaf College, Northfield, Minnesota, where she was soloist in the famous St. Olaf Choir conducted by Olaf C. Christiansen. She earned her Masters in vocal performance from the University of Iowa and performed with the University Opera Theatre.
Ms. Buss has appeared as mezzo-soprano soloist with chamber and oratorio groups in the Midwest. Locally, she has sung with the Quad City Chorale, Augustana Vocal Arts Ensemble, and performed with Genesius Guild opera productions. In addition to her regular teaching at Augustana, Ms. Buss has taught in and recruited for the Lutheran Summer Music Program, the National Lutheran High School Music Camp.
In recent years Ms. Buss has developed an avid interest in voice education and voice science and has participated in many Alexander Technique workshops, including study with Alexander's pupil and master teacher of the technique, Marjorie Barstow of Lincoln, Nebraska. In addition she is an active member of the Voice Foundation, the VoiceCare Network, and has attended the Wesley Balk Institute for the singer-actor approach to performance.
Dr. Mary Neil is an associate professor and area coordinator of piano at Augustana. She received her B.A. from Western Illinois University, having attended her first two years at Knox College. Her M.F.A. and D.M.A. degrees in piano performance and pedagogy are from the University of Iowa. She has studied with pianists Murray Baylor, James Magsig, and John Simms, as well as with conductor/pianist Tamara Brooks. While in Iowa City, she served on the faculty of the Preucil School of Music, and performed with the University of Iowa Symphony, Chamber Orchestra, Kantorei, and the Center for New Music. Her performances as both soloist and chamber musician have earned acclaim both in the United States and in Europe. Here in Rock Island she is a member of the Cantare Duo (with Augustana faculty member Susan Stone), the Lyra Trio (with Stone and faculty cellist Janina Ehrlich) and is the pianist with the Quad City Symphony Orchestra.
Other Patroness Members of Delta Tau chapter include:
Ms. L. Ann Boaden
Dean Betsey Brodahl (Deceased
Mrs. Margaret Hibbard
Ms. Ruth Holmen
Mrs. J. Erik Holmer (Deceased)
Mrs. Norelle Jesson (Deceased)
Mrs. Harry S.B. Johnson (Deceased)
Mrs. Gertrude Lundholm
Mrs. Karen Opheim
Mrs. Gloria Reed
Mrs. Enda Sorensen
Ms. F. Chloe Stodt
Mrs. Ruth Van de Voorde
Mrs. Aretta Wetzel (Deceased)