Intro to Design and Cy the Coffee Guy
November  25, 2016
One of several design proposals for "Cy the Coffee Guy." Below, examples assignment in which students were asked to turn one object into 16 iterations.
The first term this year was a busy one for the Introduction to Graphic Design students who worked individually and collaboratively in a class that explores an evolving industry.
The class is like a graphic designer's right of passage, said course instructor Vickie Phipps, assistant professor of art and graphic design.
Students taking this course get the chance to experience the everyday struggles of working designers. Phipps said the course allows for teaching the simplicity of graphic design, exploring the relationship between color and text. An example of this would be one assignment in which students are asked to turn one objects into 16 different iterations.
Working on an assignment like this can be challenging, particularly for students where this is their very first class studying graphic design. Many are non-majors. However, those students not familiar with the design software were able to work around that and still accomplish the objective.
Late in the term, the students produced a show of their work in the Tredway Library.
One group worked on a prototype for an on-campus coffee shop logo and brand. Through multiple drafts their group created "Cy, the Coffee guy," a character that their logo uses.
"I thought it'd be difficult, but it was nice to bounce ideas off of each other," said Tony Dzik '19 who studies marketing and graphic design.
His fellow group member James Compere '18 agreed. Compere is studying computer science, but after this class might be thinking about a graphic design minor.
Their project goal was to create a logo and a design for a cutout of "Cy." In order to reach their goals, they worked on their own sketches and then came together to brainstorm. They learned that at times making decisions is awkward because design can be so personal.
Their group's finished product showed a great use of collaboration as well as a clever use of the human experience around coffee drinking. Dzik was proud of his group members for not limiting themselves and said there is a possibility the campus may see more of Cy, the coffee guy" in future.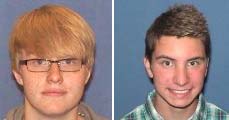 Design students James Compere, left, and Tony Dzik.