Augustana celebrates grand opening of new theatre center with Othello
October  12, 2016
The Augustana College Department of Theatre Arts will present "Othello"by William Shakespeare on the Brunner Main Stage in the Brunner Theatre Center from Oct. 14-23. The theatre center was made possible through the generosity of Kim Brunner '71 and Donna Huber '75 Brunner, who provided the lead and naming gift of $1 million for Augustana's new theatre center.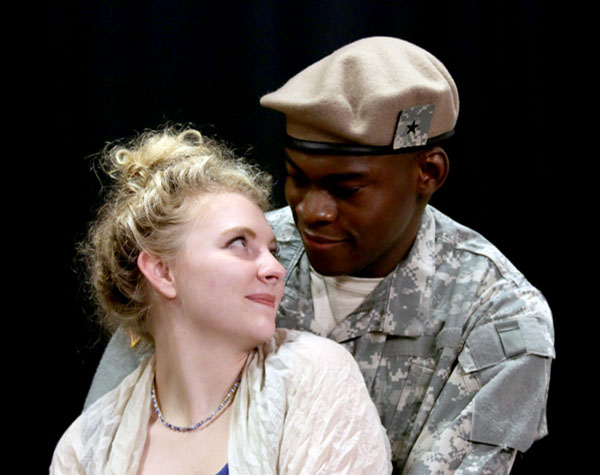 Kathleen Kleve '20 and Debo Balogun '17 star in "Othello." (Amanda Moore '18/Augustana Photo Bureau)
"Othello" is a classic story of lust, jealousy and vengeance—a timeless tale for all ages. Director Jeff Coussens plans to bring this Shakespearean classic into the contemporary realm, setting the play in the Green Zone of Iraq. This notorious war zone provides the appropriate pressure cooker environment in which to explore the themes of prejudice, racism and otherness that are so pertinent to our current national dialogue. Placing the action of "Othello"in a contemporary setting allows the already relevant story to resonate even more strongly with audiences of today.
Coussens said, "It is an absolute pleasure to direct the opening production of our inaugural season in the new Brunner Theatre Center. The Brunner Main Stage presents some very exciting and new possibilities. The student cast and crew are energized by the new space and excited about meeting the challenges that this piece presents."
The story revolves around the central characters: Othello, played by Debo Balogun '17, is a Moorish general in the Venetian army; Desdemona, his beloved wife played by Kathleen Kleve '20 and his trusted but ultimately unfaithful ensign Iago will be played by Keenan Odenkirk '18.
Those working behind the scenes bringing this timeless classic to life in the modern era are Audrey Johnsen '19 serving as stage manager, Lauren Hagedorn '18 as dramaturg, Andy Gutshall as technical director and scenic designer, and Ellen Dixon as costume designer, with lighting design by Augustana alumnus Adam Pfluger '15.
Performances are open to the public and will be presented in the Brunner Main Stage Theatre located in the Brunner Theatre Center on Oct. 14-15 and 21-22 at 7:30 p.m. and Oct. 16 and 23 at 1:30 p.m. Tickets are $11 for the general public, $9 for senior citizens, students and Augustana faculty/staff, as well as $5 for Augustana students and children ages 12 and under. Tickets can be purchased through the Augustana Ticket Office at 309-794-7306 or at augustana.edu/tickets.
Sam Schlouch
Senior Communication Director
(309) 794-7833
samschlouch@augustana.edu