Inside the Celebration of Learning
May  04, 2016
This annual event gives students the opportunity to share their scholarly and creative work and be a part of a campus-wide community of learners. Students are invited to submit proposals for presentations, posters, and performances.
Here is a closer look at a sampling of senior student presentations from the 2016 event.
Senior Art Show Gallery Talks: The Town
Nathan Gray '16, art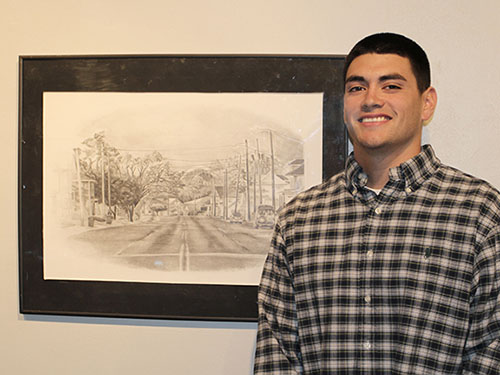 Nathan Gray '16
Augustana baseball fans know Nathan (Nate) Gray '16 well. He leads the Vikings in number of hits, runs scored and stolen bases and is No. 2 on the team with a .338 batting average.
What they may not know is that Gray is just as comfortable in an art studio as in the batter's box.
For his Senior Inquiry project entitled "The Town," Gray drew three detailed scenes of Rock Island in graphite and charcoal. He says Rock Island can be viewed from two perspectives: to some it's where they attend college and to others, it's home.
For Gray, it's both.
Most American cities, large and small, have what are considered "rough" areas, and Rock Island is no exception. Yet, as Gray shows in his drawings, he embraces all of his hometown and believes Rock Island, the "good" and the "bad," has shaped him into the person he is today.
"Nathan uses drawing as a tool of communication understandable to anyone, and his feelings about the streets and places that he is familiar with, ring true in his work," said Peter Xiao, an art professor and one of Nathan's project advisors. "I am also sure that all viewers find in Nathan's drawings the honesty and gentleness that is authentically him, like I do."
For his project, Gray drew 11th Street with Centennial Bridge in the background; Tim's Corner Tap, a neighborhood bar; and the football stadium at Rock Island High School, where Gray led the Rocks' team as quarterback.
"I spent a lot of time there, and it's a place where everyone comes together on the weekends during football season," he said.
With only three more regular season baseball games on the schedule and commencement in a couple of weeks, Gray eventually will be leaving Rock Island to attend graduate school for biomedical illustration. Even so, he'll always be a "townie."
Exposure-Type Social Buffering of Predator-Induced Fear Behavior in Young Domestic Chicks
Sara Mitchell, Haley West, Sarah English, Ethan Harrod, Caleb Ivey, Jennifer Vanderpool
A group of neuroscience students researched the how young chicks responded to fear triggers based on the presence of absence of a fellow chick. They shared their findings at the annual Celebration of Learning.
Communication Activism: The Arc's Mission in Action
Maliek Combs '16, communication studies
For his Senior Inquiry civic engagement project, Maliek Combs interned at The Arc of the Quad Cities Area. An independent non-profit organization with headquarters in Rock Island, The Arc serves individuals with intellectual and developmental disabilities through residential and day programs.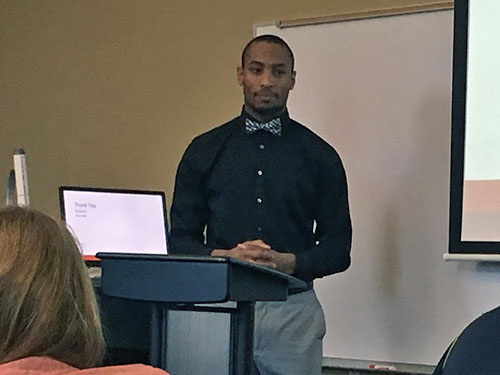 Maliek Combs '16
His interest in The Arc internship grew out of personal experience. As a high school student, Combs played on a unified basketball team. At a critical moment in a game, a disabled student he often helped made a perfect shot. It was a lasting memory for Combs, who thought "Why does he have to live with this disability, and I don't?"
In his presentation, Combs focused especially on stigmatization of persons with disabilities, and the imbalance of priority resulting in lack of government support. The state of Illinois is especially remiss in funding organizations such as The Arc, which has to rely heavily volunteer assistance.
During his internship, Combs' responsibilities ranged from basic data entry and cold calling potential donors—especially for the Spring Gala fundraiser—to developing messaging for their mission and content for The Arc website. What Combs learned about the non-profit sector during his experience has convinced him to pursue similar work in the future.
Halfway Home: A Historical Geography of Swedish Immigration and Settlement in Moline, Ill., 1870-1930
Alex Mahaffey '16, geography poster presentation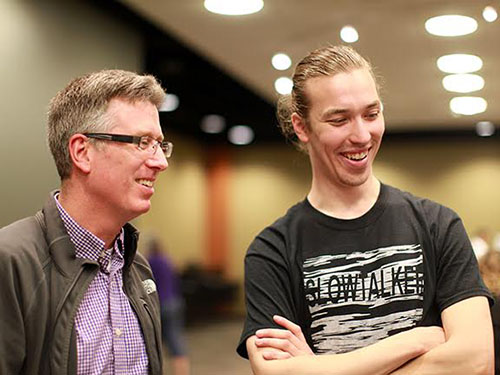 Alex Mahaffey, right, with geology professor Jeff Strasser.
For his Senior Inquiry project, geography major Alex Mahaffey overlapped his interests in cultural geography and sociology (his minor) and his own Swedish heritage to study the immigration of more than a million Swedes to neighboring Moline, Illinois, in the late 19th–early 20th centuries.
According to Mahaffey, Moline's Swedish immigrant community stood out from other immigrant groups. They weren't seeking to build a religious community, for example, as many immigrant groups sought at the time — Swedes and otherwise.
"They came here for the urban setting and for economic reasons," Mahaffey said. "The majority were laborers and shopkeepers under the age of 30. They weren't pastors."
They also didn't exhibit a "regional continuity," arriving in Moline from all over Sweden. Most immigrants at that time would uproot from the same location and then settle in the same region in the states.
During this period, the Swedish community of Moline was so pervasive the city had seven consecutive mayors who were Swedish immigrants.
"This shows how influential and successful the Swedes were. They were on the same playing field as the native Anglo population," he said.
Mahaffey did the bulk of his research at Augustana's Swenson Swedish Immigration Research Center and at the Moline Public Library. He credits the Swenson Center for starting him down the path.
"It was so easy to talk with people who knew about the subject matter," he said. "I had so much access to information and real expertise through the Swenson Center."
Tree Density on EREN Permanent Forest Plot Project Sites at the Augustana College Field Stations
Stephen Lavelle '17 poster presentation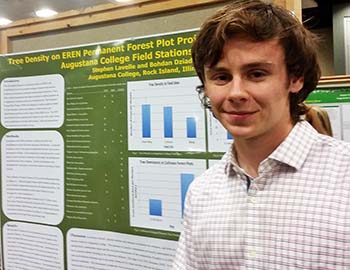 Stephen Lavelle '17
Junior Stephen Lavelle's poster presented findings from the latest tree survey at the college's three field stations. Augustana contributes data each year to the Ecological Research as Education Network (EREN) Permanent Forest Plot Project
Lavelle is a biology major whose main interest in botany. He grew up playing and running cross country in a forest preserve in his hometown of Park Ridge, which contributed to his interest. "And I grew up doing a lot of gardening as a kid," he said.
Lavelle noted the number and species of trees and woody vines within 20 meter square plots (about one-tenth of an acre) at the three field stations.
Interestingly, he said, there was not one species that was found at all three field stations (Green Wing, Collinson and Beling). And the number of trees did not vary as much as he expected between a riparian plot (which often floods) and a plot that once was a farm field.
The goal of EREN is to establish a set of permanent research plots in the U.S. and Canada that will allow researchers to answer questions about tree biomass, carbon accumulation, invasive species and disturbance patterns across a range of sites and ecoregions.

Trees recorded by Lavelle:
The main species were silver maple, green ash and slippery elm, with an average of 475 trees per hectare at Beling.
Red oak, pignut hickory and slippery elm at Collinson, with an average density of 750 trees.
Burr oak, black oak and wild cherry and 875 trees per hectare Green Wing.
Immigrants and Refugees: Stories of Conflict, Division, Restoration, and Renewal
Dr. Paul Lewellan, Devyn Absher, Laura Bergren, Kara Brummel, Marie Brzezinski, Maricarmen De La Rosa, Peter Doughty, Somer Druszkowski, Shannon Flynn, Jordan Furiosi, Andrea Grubaugh, Jordan Johnson, Gabrielle Muir, Martha Murray, Joshua Narvaez, Allison O'Hern, Nadia Panasky, Sierra Scanlan, Marckus Simmons, Helena Smiley, Margaret Stadtwald and Salomon Navarro
Dr. Paul Lewellan's performance studies class presented dramatic interpretations of nonfiction immigrant and refugee stories throughout the past century. Students contrasted political speeches with the diaries of immigrants and refugees during the same time periods, discussed statistics and personal anecdotes of Mexican immigrants, and shared little-known facts about the Syrian refugee crisis in the U.S. and Europe.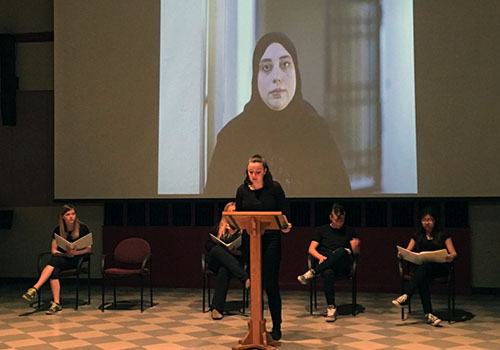 Gabrielle Muir '18 presents a portion of her group's research involving immigration.
Classwork involved thorough research via online and print databases while working in small groups to cover specific topics regarding immigration and refugees. Students impersonated the original speakers using costumes and photographs projected on a screen behind them.
Upon welcoming their audience, students acknowledged that "many individuals see immigration as detrimental to our economy, work force, and society," but stressed the importance of sharing immigration stories that are "rarely heard." Hoping to shine a light on the humanitarian issues surrounding immigration and refugees, the class aims to encourage exploration and thought-provoking discussion of international relations on Augustana's campus.
Converged Student Media Practicum
Student journalists produce comprehensive reports on local urban issues
Multimedia journalism students in the Converged Student Media Practicum classes taught by Dr. Carolyn Yaschur and Stephanie DePasquale '07 Soebbing presented on their extended coverage of three issues over three terms: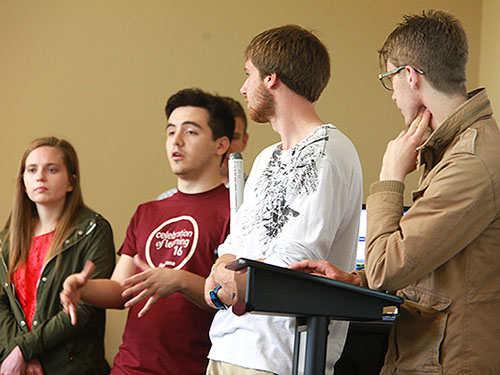 Sam Dunklau, second from left, discusses the work he and his classmates produces in a series of journalism courses this year.
1. The food desert of western Rock Island
2. Teen homelessness in the Quad Cities
3. Guns in the Quad Cities
During these courses, the class was turned into a working newsroom. Students went into the community to cover the issues comprehensively and, according to Dr. Yaschur, "hopefully to effect change."
Their work involved extended interviews, interactive timelines, maps, news stories, video, a website for each issue, a WVIK radio story on homelessness by Ben Payne '16, and revised approaches depending on new discoveries. At the end of the course each term, a professional journalist reviewed their coverage and critiqued their work.
As far as the impact their reporting will have on the community, time will tell. But Sam Dunklau '17 for one is hopeful about early progress he's seen in Rock Island city government's approach to the food desert on the west end, which in the 1960s had 24 grocery stores, and by 1990 had zero.
Off the streets and in the ring
Multimedia journalism major Jake Norcia '16 produced this video story detailing the efforts of Ramsey Vesey in founding the Rock Island Boxing Club to serve as a positive influence in the lives of at-risk youth.
The Oppressors Singing as the Oppressed: An Examination of Racial Tensions and Cultural Appropriation in the Choral Realm
Maria Catalano '16, social welfare, psychology
Maria Catalano presented her honors capstone project, which involved researching the question, "Is it culturally appropriate for White choirs to sing Black spiritual music?"
Ever since singing black spirituals in the Augustana Choir, Catalano was confused about whether or not is was appropriate to sing the spirituals as a white person in a predominately white choir and began asking herself the very question she researched for her capstone.
Catalano's work involved researching the history of traditional black spirituals, ranging from their inception in the early–mid 1800s as songs sung by black slaves in the United States to their use during the civil rights movement of the 1950s-60s.
As the singing of the spirituals became more popular after the Fisk Jubilee Singers started singing concert spirituals, questions about whether or not it was appropriate for the spirituals to be sung were raised.
Catalano explained that cultural appropriation, the taking of an aspect of one culture and using it in one's own, can be problematic if one is not respectful and if a mutual understanding between the two cultures is not present.
Her research has led her to conclude that white choirs may sing black spirituals if the authenticity of the spiritual is maintained and there is no misrepresentation of the culture. Catalano summed things up by saying, "With great power comes great responsibility."
Players to Creators: The Process of Commissioning a Musical Composition
Dr. Rick Jaeschke, Sara Lyon '19, Victoria Karnes '18
For the past few months, Augustana students and Dr. Rick Jaeschke have been working on a piece, but not just rehearsing and performing it. The students and Dr. Jaeschke have collaborated with composer Carl Strommen on the actual composition of the work, titled Nordanvind (The North Wind). Dr. Jaeschke and the Concert Band will premiere the work at the band's May 14 concert at 2 p.m. in Centennial Hall.
The speakers discussed the process of working through the commissioning process with a composer, showing their matrixes and playing musical examples that were sent to Strommen. The piece, which seeks to embrace the Swedish heritage of Augustana, begins with drums, low brass and air blowing through the other brass and wind instruments, reminiscent of the title of the movement, a Havsdrake (a sleek, powerful ship).
Eventually the listener is transported from the deck of the ship racing across the sea into a Swedish pub where Slängpolska (Swedish folk music ideal for dancing) is being performed. The catchy melody dances around the band, going from section to section.
The third movement provides a respite from the dancing scene, as well as a familiar tune to many Augustana audiences. One may expect a movement titled Tryggare kan ingen vara (Children of the Heavenly Father), to include a hint of the familiar hymn, which is sung by the Augustana Choir at the end of their concerts. And it does. The melody is present, starting with an oboe solo that blossoms into a lush sound of the full band, those with a fondness of the Swedish hymn are in for a treat.
Finally, the piece ends back on the Havsdrake where the listener experiences the exciting energy of a ship cutting through the waters.
The Swedish ambassador to the United States, Björn Lyrvall, was in attendance for the session and said he regrets not being able to be in town for the performance.