College adds two new sports amid state funding uncertainty
April  19, 2016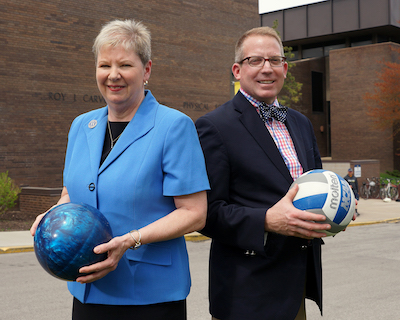 Dr. Evelyn S. Campbell, dean and vice president of student life, and Kent Barnds,
vice president of enrollment, communication and planning.
Augustana College's Department of Athletics annnounced today that the college will add men's volleyball and women's bowling to the varsity lineup. Both teams' first seasons are set to begin in the 2017-18 school year.
Amid uncertainty around higher education at both the state and federal level, and with demographic changes in the Midwest, Augustana leaders are strategically investing in new programs to attract more students. These two athletics programs are the first among academic and co-curricular programs the college may add.
"Augustana has a long history of adding programs to meet the changing needs of our students," said President Steve Bahls. "Men's volleyball and women's bowling are both emerging sports in high schools. Adding these sports also will allow us to provide new opportunities to compete for the next generation of Augie students."
Most recently, Augustana has been impacted by challenges related to the State of Illinois' unfunded Monetary Award Program (MAP), which impacts nearly a third of Augustana students. More than 600 Augustana students were awarded $3.2 million in MAP grant assistance for the 2015-16 academic year. To date, the state has not funded the program, and the college will carry these students for both this and next academic year.
"We remain hopeful that the State of Illinois will come through with the funding it has promised to our students, and until then, we are hopeful that adding attractive programs will help us weather the uncertainty," said Kent Barnds, executive vice president and vice president of enrollment, communication and planning.
The addition of men's volleyball and women's bowling will bring the number of varsity sports sponsored by Augustana to 25. Women's lacrosse and men's lacrosse were added to the varsity lineup during the 2011-12 school year; prior to that the newest sport had been women's golf, which came on board in 1996.
"Athletics plays a critically important role in the overall enrollment management process at Augustana, and following several months of discussion and review, we believe that women's bowling and men's volleyball are both strategic additions as varsity sports in terms of attracting quality student-athletes from our traditional recruitment areas, plus new markets such as California," said Mike Zapolski, Augustana's director of athletics.
"Our plan is to replicate the process that was used for the launch of our men's and women's lacrosse programs a few years ago, with the goal of fielding highly competitive teams that represent the Augustana brand of competitive excellence," added Zapolski.
The men's volleyball season will run from January through mid-April, while women's bowling goes from October until March.
Augustana has long been a leader in both the College Conference of Illinois & Wisconsin and NCAA Division III in terms of combining athletic prowess and academic excellence. With 184 CCIW team titles (142 for men and 42 for women), the Vikings have won more titles than any other school in the conference. Augustana currently ranks seventh in the nation (all divisions) in number of Academic All-Americans produced, with 161.
Sam Schlouch
Senior Communication Director
(309) 794-7833
samschlouch@augustana.edu