Archaeology uncovers stories of royal enslaved Africans
April  12, 2016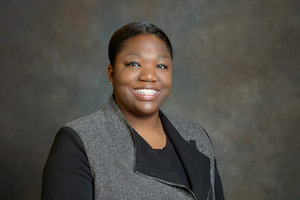 Alicia Odewale
Alicia Odewale, diversity fellow in the Department of Anthropology, Sociology and Social Welfare at Augustana College, will present "Two Worlds, One Subfield: Researching Slavery and Empowering Descendant Communities through Archaeology" on Tuesday, April 19 at 10:30 a.m. in room 102 of the Hanson Hall of Science (726 35th Street, Rock Island).
Odewale will discuss her interdisciplinary approach to identifying royal enslaved Africans' most pressing issues through their written words and archaeological evidence. Her presentation will show how an interdisciplinary approach to archaeology can help promote the bond between researchers and the communities who can directly benefit from their research.

Odewale is a Ph.D. candidate of the University of Tulsa's anthropology department, concentrating in archaeology. Her specific research interests include historical archaeology, African Diaspora studies, human behavioral ecology and risk management theory, Caribbean archaeology and investigations into different forms of cultural resistance and adaptation. She currently teaches a course titled "Archaeology and History of the African Diaspora" at Augustana. Odewale was named the minority dissertation fellow for 2015-2016 by the American Anthropological Association and received the Doctoral Dissertation Improvement Grant from the National Science Foundation.

Hosted by Augustana's Austin E. Knowlton Honors Program, the Annual Honors Lecture explores the growing relevance of the liberal arts in our world. It is sponsored by a grant from the Institute for Leadership and Service at Augustana College.
Sam Schlouch
Senior Communication Director
(309) 794-7833
samschlouch@augustana.edu