Augustana students study music and literature in Paris
June  25, 2014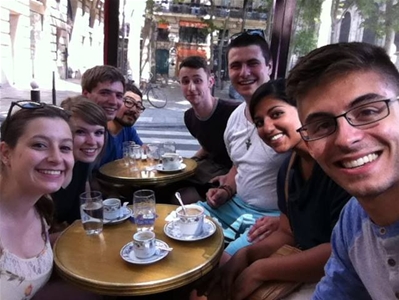 From left, Dena Baity, Rebecca Strandberg, Henry Weberpal, Mineo Patrick
Yasutake, Elijah Olson, Dan Walls, Kamneev Rai and John Whitson.
This June, Augustana students traveled to Paris for a five-week program pairing a course in music, from medieval to the birth of modernism, with a literature course on expatriate American writers in Paris. The program takes place every two years. This year's participating students, all juniors, are Dena Baity, Elijah Olson, Kamneev Rai, Kendall Smith, Rebecca Strandberg, Dan Walls, Henry Weberpal, John Whitson and Mineo Patrick Yasutake.

Augustana faculty members Dr. Randall Hall, associate professor of music, and Dr. Meg Gillette, associate professor of English, are teaching the respective courses in Paris, creating a thorough Learning Community that combines music and literature influenced by the city in which they are studying. Students are connecting classroom experiences with visits to the cathedrals, cafes, bookstores and salons that inspired artists from the Gothic period to the 20th Century.
As one of Europe's most important artistic, political, religious, educational and commercial centers, Paris abounds in history and culture and promises a dynamic and enriching experience not only for the eight students currently studying there, but for future program participants, as well.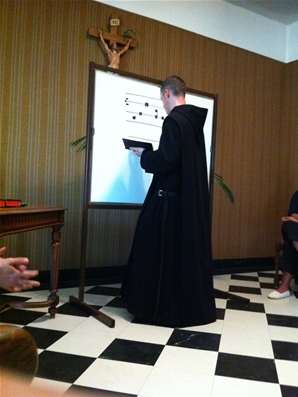 A Benedictine monk teaches the students about
Gregorian Chant.
On the sixth day of their Parisian excursion, Augustana students had the unique experience of visiting the Solesmes Abbey (Abbaye Saint-Pierre de Solesmes) where they spent the day at the monastery for Mass, a tour and instruction about authentic Gregorian Chant from a Benedictine monk.
Kendall Smith '16, a French major and the only non-music major of the group, said "I really enjoyed going to the abbey and attending a service where they used Gregorian Chant, especially after learning about the authentic Gregorian Chant from one of the monks." Smith said the experience was so unbelievable that she did not even know how to put her emotions into words.
The program in Paris is one of many Augustana-sponsored summer international programs. This summer, dozens of Augustana students, including the men's lacrosse and men's and women's soccer teams, are studying or competing in exhibition athletic events in China, Ecuador, England, Germany, Greenland, Ireland, Italy, Nicaragua, and Trinidad and Tobago.
Sam Schlouch
Senior Communication Director
(309) 794-7833
samschlouch@augustana.edu