Augustana professor wins Illinois CPA Society award
May  22, 2014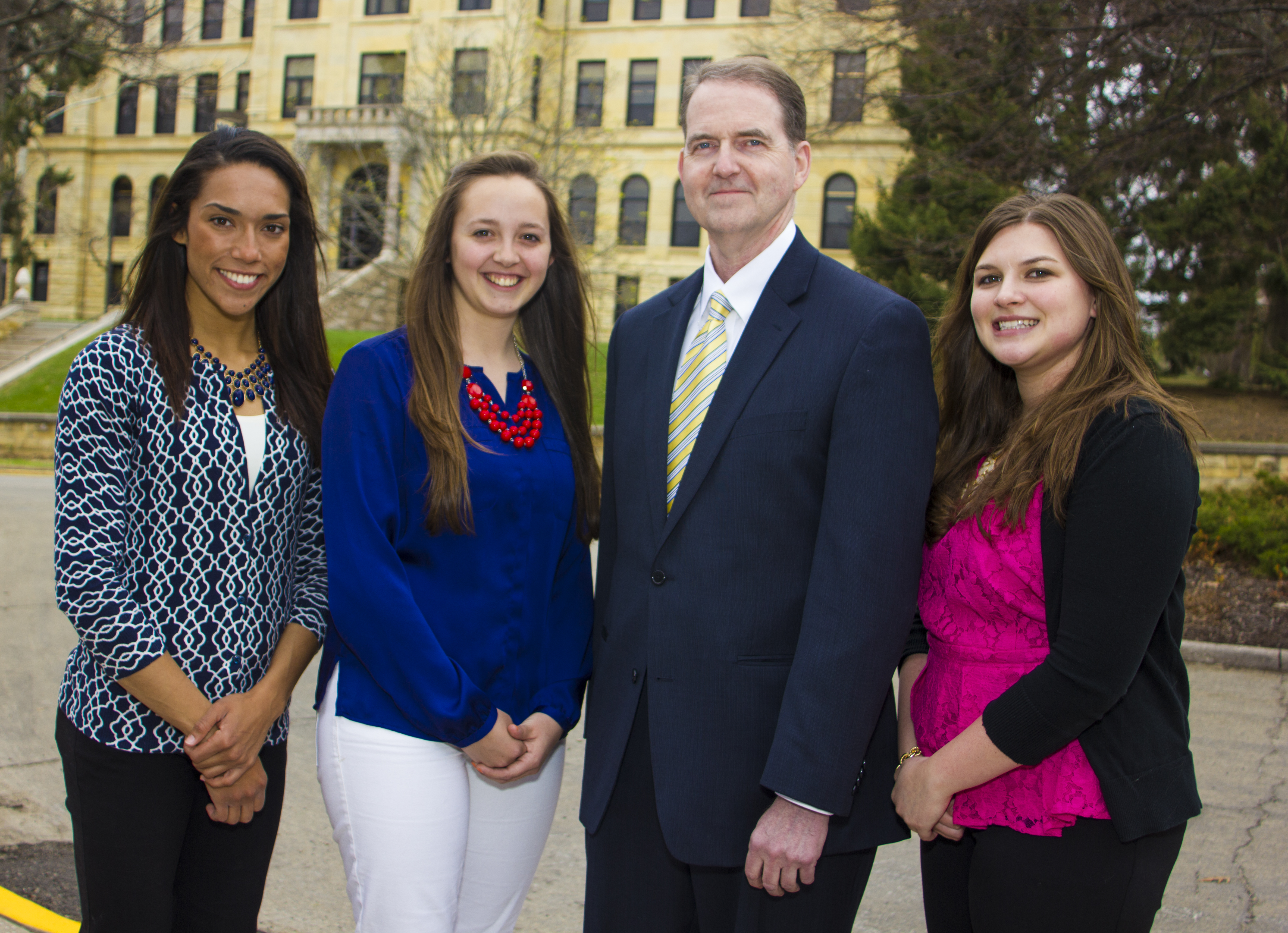 From left, Kierra Smith, Tressa Czysz, Dr. John Delaney and Jennifer Evans.
Credit: Daisy Hoang '14/Augustana Photo Bureau
Dr. John Delaney, associate professor of accounting and chair of the accounting department at Augustana College, has been selected as the Illinois CPA Society's "Outstanding Educator" for 2014. This award will be presented at the society's annual Leadership Recognition Dinner on June 9, 2014.

Dr. Delaney was nominated for the award by several of his Augustana students. Austin Zarbuck '14, who was one of several to participate in the nomination process, said, "Dr. Delaney was the driving reason behind why I became an accounting major, and he has been a great teacher and mentor ever since. He is one of those people that sees great potential in his students and makes a strong effort to help those students to reach that potential."
Another of Dr. Delaney's current students, Jennifer Evans '14, added, "If it was not for Dr. Delaney, I would not have been an accounting major while at Augustana College, and I would not have had the opportunity to have an internship that led to a post-graduation job."
Former students and senior academic leaders at Augustana also formally endorsed Dr. Delaney's candidacy. When asked about his endorsement, alumnus Matt Pelton '10 said, "Dr. Delaney's passion for education, innovative teaching techniques, and sincere interest in supporting each of his students motivates their performance."
This sentiment was echoed by Dr. Pareena Lawrence, Augustana's provost and vice president of academic affairs, who stated, "John is a tireless advocate for his students from the time he starts to recruit them to the college, to graduation, and continuing after graduation. No doubt John's successes are due to the close attention he gives to all of his students and classes."
For Dr. Delaney, the fact that numerous nominations and endorsements came from both students and professional colleagues was humbling."
I was very pleased yet surprised the nomination came from some of my current students-I wondered how they would even know about the award and the process to nominate someone since we never talked about the award in class," he said. "I'm just fortunate to work with terrific students and colleagues at a college that values the integration of the traditional liberal arts with pre-professional programs."
Dr. Delaney was born in Fort Madison, Iowa. He completed his undergraduate work at Loras College in Dubuque, Iowa, where he received a B.A. in accounting (1982). He earned his M.B.A. from the University of Iowa in Iowa City (1995) and his D.B.A. at St. Ambrose University in Davenport, Iowa (2005).
Sam Schlouch
Senior Communication Director
(309) 794-7833
samschlouch@augustana.edu