What's at the CORE?
Summertime on campus is busy, busy, busy. Slated for this year: take the next steps in the Augustana 2020 strategic plan, including establishing CORE at Olin Center; ensure IT services currently on the first floor and third floor of Olin find reliable new headquarters in Sorensen Hall; move other offices and resources to CORE; welcome new administrative professionals in advancement and CORE; take care of the grounds and spruce up facilities; and, as usual, host thousands for visit days, Augustana Summer Academy, sport camps, retreats, orientation and registration, etc.
But what is CORE, you ask? The acronym stands for:
Career development
Opportunities (service learning, Upper Mississippi Studies Center, international programs, community service, national and international student scholarships and awards)
Research (including student research and faculty-student partnerships)
Exploration (advising, vocational exploration and discernment)
Specific areas comprising CORE will include:
Advising
Student research
Student learning and scholarship
Augie Choice
International and off-campus programs
Upper Mississippi Studies Center
Community service and social justice
Career development
• career counseling and advising
• internships and externships
• vocational exploration and discernment
• entrepreneurship (EDGE Center)
• career and community connections
• employer relations
CORE operations will be overseen by the Office of Academic Affairs, primarily associate deans Kristin Douglas and Jeff Ratliff-Crain, with some areas directly reporting to Pareena Lawrence, provost. The new Career Development office will be led by Michael Edmondson, who will arrive on campus in June.
Beginning in August, CORE will offer students a centralized location where they can explore and plan for their future. Whether students want to participate in a service-learning program in Nicaragua, undertake research to investigate storm-water runoff into the Mississippi, find the ideal internship, apply to graduate school or prepare for a first job—they can find the people and resources to help them discover and work toward their personal, academic and professional goals in CORE.
Our Kids Go to College, Too
Each May, we share news of family members' graduation from high school or college.
Claire Bacon, daughter of Julie Bacon (financial assistance), will graduate from Rock Island High School this spring and enroll at Luther College in the fall, with plans to study social work.
Anne Bergren's (advancement) daughter Laura Anne Bergren will represent the fourth generation in her family to attend Augustana College. Laura is graduating from Geneseo High School this spring.
Katherine DuPree Beydler, daughter of Leslie DuPree (web services), graduated from the University of Iowa on May 17 with a B.S. in biology and a B.A. in classical languages. She will enter the graduate program in classical studies at the University of Michigan, Ann Arbor, this fall. Over the summer she will work with U of M at the archeological site of Gabii in Italy.
Lendol Calder's (history) son Andrew will attend the University of Oklahoma, where he will be enrolled in the McClendon Honors College. Andrew spent his Rock Island High School senior year as a Rotary exchange student in Hungary.
Julie Oliger (education) will have two sons at Augustana this fall. Daniel will graduate from Davenport Central with plans to study business and play football, and Joseph is transferring to Augustana from Iowa State University. He plans to study public relations and looks forward to being involved in choir and theatre.
George Roderick, son of Lori Roderick (advancement) and her husband Bill, is graduating from Rock Island High School and will head to Gustavus Adolphus this fall. He plans on exploring all the liberal arts has to offer, but if pressed will admit to an interest in pre-law by way of a political science and psychology major.
Ivan Starenko, son of Drew Starenko and Beth Roberts (communication & marketing), will attend Macalester College in St. Paul, Minn. Like Andrew Calder, Ivan has been a Rotary exchange student this year, studying in Germany. In college he plans to study some combination of geography, engineering, music and/or German.
Mike Zapolski's (athletics) daughter, Haley, graduated from Bettendorf High School last December and has been training with GMS Rowing in New Milford, Conn., since the beginning of February. Haley is hoping to row internationally this summer for the U.S. Junior National Team. She will enroll at the University of Michigan in August and will be a member of the Wolverines' rowing team.
New Face on Campus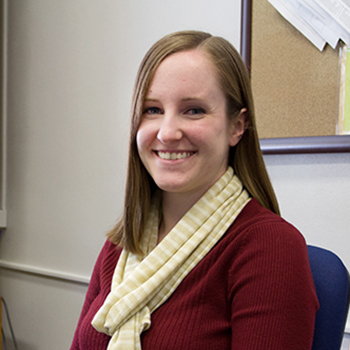 Melissa Lambrecht '10, staff accountant, business office
Melissa ("Missy") Lambrecht is the daughter-in-law of Jim and Cindy Lambrecht of the music department. Missy Fobert grew up in Rock Island and graduated from Alleman High School. She then chose Augustana for college, where she majored in accounting and business administration, and played softball, lettering all four years. At Augustana, she also met her future husband, Paul Lambrecht, in the fall of her freshman year. The couple married in May of 2011.
After graduating from Augustana, Missy did some contract work for John Deere within the General Ledger Shared Services department, and then worked in payroll with Community Care, Inc. in Dewitt, Iowa. She started working for the business office at Augustana in March of this year.
When she's not analyzing cash flow and fixed assets or making journal entries, Missy and Paul are likely to be found outdoors with their husky, Eska (Inuit name for a creek in Sutton, Alaska), hiking and climbing. The couple honeymooned in a log cabin in Montana.
As a Lambrecht by marriage, Missy has become a Green Bay Packers fan, but remains a St. Louis Cardinals fan, much to the dismay of her husband and father-in-law. And as a member of the Fobert clan, Paul married into a very large family. Missy's dad is one of 13 children, and Missy has around 30 first cousins, not including significant others.
In the Works
Congratulations again to this year's Jaeke Award winners. Each of these five colleagues will be honored at our employee convocation in August.
Daniel Corts (faculty), professor of psychology, has taught at Augustana for 14 years. Dan's special ability to draw out the students who otherwise might stay hidden behind their extroverted peers—and open up their potential for excellent research—make him the envy of his colleagues and a gift to Augustana. He doesn't stop with turning naïve researchers into high-quality researchers; every year he takes his students to present their research at conferences in places like Toronto, New York City, Washington, D.C., and San Francisco. For his abilities as a teacher and mentor, Dan has been named the incoming national president for the psychology honorary organization, Psi Chi. More importantly, his impact on his students is reflected in the many alumni who inspire their own students to discover, as one colleague put it, "the intrinsic beauty and utility of the scientific method."
Leslie Dennison (dining services) has worked many positions in dining services, and currently she occupies two. When she is not in the CSL dining hall, dividing her time between "Greens & Things" and the grab-and-go salads and sandwiches, Leslie is helping to stock and order more than 1,200 items in the C-store and the Snack Bar. When she is not taking care of the CSL, C-store and Snack Bar needs herself, she is ably communicating those needs to other staff and many student workers to ensure the Augustana community is fed well and on time—and always with her pleasant and easygoing manner.
Kathi Fox (office personnel) has a "vast scope" of work in the athletic department, including maintaining work schedules for dozens of student workers, staying on top of a complicated budget, and organizing activities for all 23 Augustana Vikings athletic teams. But when Kathi is in charge, her colleagues know the job will be accomplished with skill and on time. One colleague said Kathi is a great example of someone who just "gets it," because she is perceptive and always so far ahead of the game. The athletic program is lucky for the "leadership, guidance and friendship" of Kathi Fox.
Lori McBride (facilities) has the rough third shift—8 p.m.-4:30 a.m.—working as custodian for the entire campus, even on weekends. Those weekends have brought some rowdy activity across campus, especially over St. Patrick's Day and the annual "Buckethead" event. Though Lori is based at Westerlin, she may get called to any hall on campus, depending on the messes of the middle of the night. One night recently, she was called to take care of fire extinguishers sprayed in two different buildings. And yet, Lori enjoys and respects Augustana students. When she shaved her head for the 2013 St. Baldrick's fundraiser, the students were amazed, saying Lori made them feel the staff "really cared about them."
According to his colleagues, Mike Zapolski (administration) knows every Augustana student-athlete by name. At a college with 23 varsity teams, some of them quite large, this is no small feat. To quote one of his nominators, Mike "supports the coaching staff in so many ways. He lobbies for their budgets, equipment needs, competition site needs, a particular prospective student wanted for a team—but most of all, he lobbies for the student." The most surprising aspect of Mike's student focus may be his attendance at all home events, and the maneuvers he manages when they occur on the same day, at the same time.
From the Cabinet
Steve Bahls, President of the College
The long winter and abbreviated spring have compressed time and made the end of the academic year rush at us more quickly than past years. Though it may seem to have sped past, the year we're concluding has been packed with significant achievement by our campus community:
• The strategic plan has been finished, approved and is being implemented. Augustana 2020 was created by the widespread participation of the community, and its success will be determined by the breadth and depth of engagement by the community.
• A record number of faculty achieved tenure this year, an aggregate recognition of extraordinary individual commitment and accomplishment.
• The Class of 2014 has done amazing things, from the creation of groups like Camp Kesem and Augustana Veterans to its leadership in this year's hugely successful Symposium Days and a phenomenal Celebration of Learning.
• Thanks to the leadership of Admissions and Financial Assistance, the entire community can take a bow for an expected entering class that is second largest in our history and possessed of the highest entering credentials in recent memory.
As the year comes to a close, I invite you to join me in celebrating these remarkable achievements, but also in resolving to learn from our mistakes; and, most importantly, in giving thanks for the gift of community. I am grateful for your collegiality and partnership in fulfilling the mission of this great college.
Thank you.
Seen & Heard
"One of the important things we learned is that, above all, these students were just kids. And the worst thing we could do was walk on eggshells around these kids—they're just students."—Chase Matzinger '14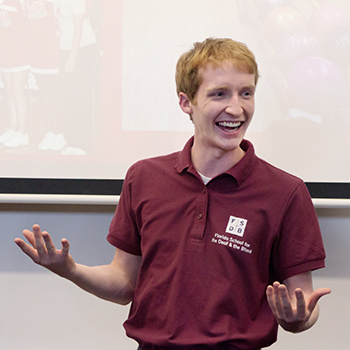 During Celebration of Learning, English-education major Chase Matzinger and his group of CSD and education peers presented on their week of observation and teaching activities at the Florida School of the Deaf and Blind in St. Augustine, Florida.
Acknowledge is published by the Office of Communication and Marketing at Augustana College in Rock Island, Illinois. Contact Beth Roberts, editor. Photographers for this issue include Lauren Becker '16, Emma Stough '17 and Kristin Walden '16 of the Augustana Photo Bureau.