Celebration of Learning
May  06, 2014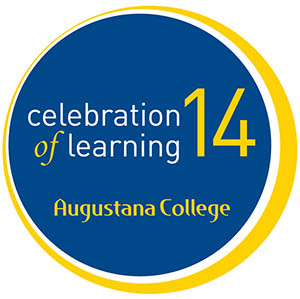 A full schedule is available online
More than 200 students and faculty will share their scholarly and creative work on Wednesday, May 7 as a part of the campus-wide research symposium. The event is free and open to the public.

This year the 18th annual Celebration of Learning also is functioning as Augustana's third Symposium Day for the 2013-2014 school year. This day gives students the opportunity to be a part of a campus-wide community of learners and is the result of hundreds of hours of collaborative work between students and faculty members. In the past, the day has solely focused on student research, but this year it also will include faculty panels on scholarship and teaching.
Student participants can choose to present their research through a poster display or an oral presentation. Many students present the results of their Senior Inquiry project, a multiple-term research project required for most academic programs. Other students share Honors capstone projects or student-faculty research. In addition, the day will feature the senior art exhibition and art history student-curated exhibit. Presentations will focus on topics related to anthropology, biology, theatre arts, geology, gender studies, philosophy, and more.
The four featured presentations will include 2013 alumnus Douglas Peters, who will discuss his transition from a liberal arts education to a highly focused graduate program in the sciences. Senior Joshua Malone brings together his geology and theatre majors in his documentary, "Taking the Initiative," about the Burpee Museum's PaleoFest. Dr. Gregory Tapis, assistant professor of business administration, will use a business perspective to address the opportunities a liberal arts education provides for solving the complex issues facing our world. And Dr. Sharon Varallo, professor of communication studies, will give the last featured presentation focusing on how cultural time orientation influences education.
The day will begin at 9 a.m. with creative writing readings in Old Main (3500 7th Ave.) and at 9:30 a.m. with the student poster session in the Gävle Room within the Center for Student Life (3435 9 ½ Ave.), followed by four sets of concurrent sessions by students, faculty and alumni. The day will conclude with an ice cream social at 4 p.m in the Quad outside the Olin Center for Educational Technology.
Sam Schlouch
Senior Communication Director
(309) 794-7833
samschlouch@augustana.edu