Augustana retiree honored for volunteerism
April  28, 2014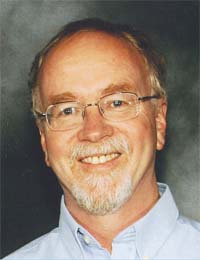 Dr. Michael Nolan
Steve Backmeyer, retired assistant dean at Augustana, was recently honored with the Michael P. Nolan Award for Volunteer of the Year 2014 for his involvement with the 4th-grade students at the Longfellow Liberal Arts Elementary School in Rock Island.
The award is given in honor of Dr. Michael P. Nolan, who established the Adopt-a-School Partnership between Augustana College and Longfellow Liberal Arts Elementary School. Nolan and his wife, Dr. Ann Ericson, professor in business administration, both were dedicated volunteers at Longfellow.
Backmeyer has been actively volunteering at Longfellow for the past four years. "He has remained committed to Augustana's partnership with Longfellow Liberal Arts even in his retirement," said Laura Mahn, program coordinator volunteering programs at Augustana.
"Backmeyer provides a humble and consistent presence among Longfellow's 4th-grade students and is described by one 4th-grade teacher as 'awesome,'" said Mahn.
Backmeyer's contribution to Longfellow will be permanently honored by the placing of a brick engraved with his name in front of the school.
Sam Schlouch
Senior Communication Director
(309) 794-7833
samschlouch@augustana.edu