Professor off to study Irish street performers
April  23, 2014
Minnesota native Dr. Adam Kaul has no family connection to Ireland. But a backpacking trip shortly after earning his undergraduate degree at Minnesota State Moorhead helped him fall in love with the isle he now considers his second home.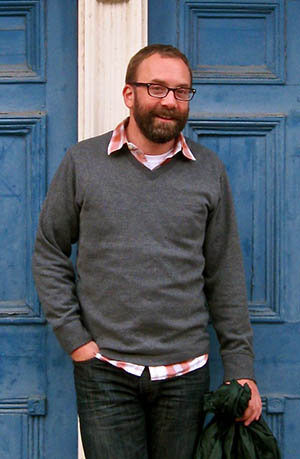 Adam Kaul
Kaul, an associate professor of anthropology, refers to trips to Ireland as his "long commute." He can't even guess how many times he's been there, but he is particularly looking forward to his next vist this summer.
From June 7 to July 7, Kaul will conduct research in Galway, sometimes referred to as Ireland's cultural heart. Located on the western seacoast, Galway is known for its vibrant and varied music scene.
Kaul explains, "I will spend four weeks this summer studying Irish street performers. My research will focus primarily on the intersections between tourism economics, music and social change in the west of Ireland."
Having already conducted ethnographic fieldwork on this and other topics in and around the small village of Doolin in County Clare for a decade, Kaul has published a number of articles and a book, Turning the Tune (Berghahn, 2009).
To continue his research, Kaul will be a Research Fellow at the Moore Institute at the National University of Ireland in Galway. Specifically, this time he will study Irish street performers, known as buskers.
He anticipates he'll be conducting interviews, focus groups and participant observation, and describes Galway as an ideal spot for this research, saying, "Galway's Shop Street is host to more street performers than anywhere in Ireland, besides Grafton Street in Dublin."
The streets of Galway aren't only alive with music. Kaul aims to understand tensions that may also exist.
"Conflicts about busking have emerged in tourist locations throughout Ireland as regulatory schemes have been discussed or introduced," he said. "When implemented, these schemes change the nature of busking quite radically and cause consternation among performers and the public."
He recalls the system for buskers once relied on seniority and achieved status to create a foundation for egalitarian social relations between buskers. Now government leaders in some areas of Ireland have introduced licensing schemes, limitations for performances and efforts to control the way buskers are paid.
Sam Schlouch
Senior Communication Director
(309) 794-7833
samschlouch@augustana.edu