Co-Curricular Transcript Trivia
Kristin Douglas, Associate Dean of Student Academic Success

Take the brief quiz to test your knowledge of Augustana's new co-curricular transcript:
TRUE or FALSE The co-curricular transcript is now available for every Augustana student.
TRUE or FALSE The co-curricular transcript helps students connect learning outside of the classroom to our Student Learning Outcomes.
TRUE or FALSE Faculty are the only college employees who should talk to students about their co-curricular transcript.
Answers:
TRUE. All Augustana students now have access to their co-curricular transcript through Arches.
TRUE. The goal of the co-curricular transcript is to help students articulate the skill sets they are building outside of the classroom. These skills are foundational to our Student Learning Outcomes, and they are the skills employers and graduate schools seek in their employees and students, respectively.
FALSE. Every employee of the college is an educator, and students will benefit from many different types of conversations. For example, supervisors can help student workers articulate their work experience, and advisors of student groups can encourage reflection on the benefits of active participation. Each of us sharing our own experiences and lessons learned along the way provides a model of the behaviors we hope our students will adopt.
How did you do? Are you a co-curricular transcript aficionado? Learn more about the co-curricular transcript here.
One More Favor
Keri Rursch, Director of Public Relations

As you may have heard by now, I've made a decision to resign my position as director of public relations. This decision, as you can imagine, wasn't easy to make. I pray with every fiber in me that this is the right decision for me, my family, the college and the students with whom I've been lucky enough to work.
During my time here, I've asked favors of many of you: would you pose for a photo, talk to the media, fill me in on the details of this or that. As I leave, I need to ask one last favor. Would you please consider supporting Long Nguyen '16?
I've been fortunate to get to know Long, as he's a member of the Augustana Photo Bureau, the student group of photographers with whom we work. He is a sophomore from Vietnam, majoring in applied mathematics and economics. He was diagnosed last year with thyroid cancer, and he's been through surgery and treatment. While he continues to gain strength, Long still needs our help.
Medical bills are piling up, and that's why our communication and marketing team has joined forces with Rowen Schussheim-Anderson, Jane Tiedge, Katey Bignall, Jolene Harper and others to plan a trivia night fundraiser on Saturday, May 3, starting at 6 p.m. in the College Center.
We want to fill the room to show Long he has the full support of the Augustana community. Please consider reserving a table with your colleagues, friends or family members. You can contact Jane Tiedge at 794-7444 or janetiedge@augustana.edu.
My last day in the office at Augustana will be Monday, April 28, but I hope to see you the following Saturday at our trivia night fundraiser for Long. Thanks for all the favors and for the opportunities to get to know you, learn, grow and fully realize the magnitude of all we do at this residential liberal arts college.
Field Notes
When women's lacrosse head coach Sara Tisdale took her undefeated team to Michigan in March, they shone as student-athletes on the field and in the classroom—the grade-school classrooms of their coach's early years.
I tell potential student-athletes that our program's top objective is to help them become the best people they can be, and lacrosse is just the bonus. You are a student-athlete here, not an athlete-student. When we have to be away from campus, I look for opportunities to help our athletes grow as people, learn outside the classroom, and give back.
Earlier this season I took our athletes back to my hometown of Lansing, Michigan. During a three-day swing through "the mitten," we had two in-region games against Adrian and Kalamazoo College, and one big opportunity to give back.
When we arrived at our hotel, we huddled together in the lobby to learn from three of our own: Gina Filippo, Becca Pollard and Shelby Cosman. These three education majors were responsible for teaching their teammates best practices for reading out loud to elementary students, keeping the attention of a classroom, and carrying out a follow-up activity. I consider our team to be confident and fearless, but the idea of being at the front of an elementary classroom got even the most confident players rattled.
Our first stop was Waverly East Intermediate, a 5th- and 6th-grade school I had attended. What made this stop unique and special was the opportunity to join forces with one of my biggest supporters: my mom, who is the building principal. Augie athletes dispersed in pairs to 16 classrooms, read A Bad Case of the Stripes, and talked about what it takes to be a NCAA student-athlete. We answered question after question, helped students with their work, and even demonstrated a pre-game ritual that ties into the movie "Monsters Inc." Our visit scheduled for 30 minutes quickly turned into 90 minutes.
Our next stop was Colt Elementary, where I have vivid memories of learning the song to memorize all 50 states, being a safety patrol officer, and playing basketball with kids twice my size. We spent time in kindergarten and 1st-grade classrooms reading The Energy Bus and talking about the value of positive energy. I walked around and saw Augie players sitting cross-legged on rugs, in chairs with knees up to their chin, and listening to the small voices of 5- and 6-year-olds. They colored, they laughed, and become part of a community that continues to give so much to me.
As we boarded the bus that afternoon, the players shared stories about their experiences and their incredible appreciation for teachers. A sense of pride ran through the team that day, and continues to help us remember that lacrosse is the bonus to a much bigger purpose.
New Face on Campus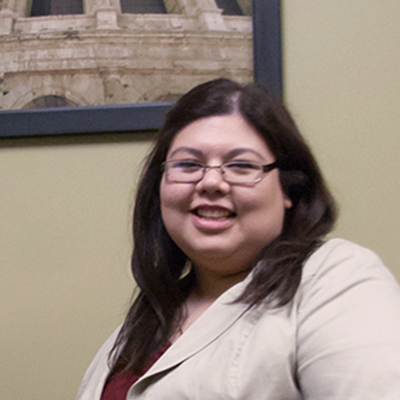 Patricia Santoyo-Marin, Director of Multicultural and International Student Life
Just getting to school as a child was a challenge for Patricia Santoyo-Marin, who grew up in an area of south Chicago known as the "Back of the Yards." This was the area referred to as "The Jungle" in Upton Sinclair's novel of the same name. Luckily, young Patricia had the protection and love of a very close family, and life for her was rich.
Hard work, family and heritage have always been important to the Santoyo family. Patricia's parents taught her brother Rickey and her the nobility of hard work. In fact, work started very early for her dad—at age six. Patricia's mom and dad met when they both worked in a Chicago cardboard factory. Money was always in short supply, but Patricia's mom and dad found a way to provide yearly trips back to the family's ancestral home in Guanajuato, Mexico, which allowed Patricia and her brother to fully appreciate their heritage.
This first-generation English speaker went on to earn her bachelor's degree in Latino studies from the University of Illinois, where she made and sold Mexican food to other students to generate some needed income. Today she is nearing the completion of her master's in higher education leadership from Northeastern Illinois University. Recently she joined her master's program cohort in presenting their research on the use of institutional funding at an alumni of color conference at Harvard.
Patricia came to Augustana last month from Joliet Junior College in Joliet, Illinois, where she served as a multicultural outreach and retention specialist. She plans to continue to serve as a higher education instructor at the University of Illinois at Chicago on Saturdays.
Patricia, her husband Ricardo, brother Rickey and her mom and dad now live in Rock Island. Having mom close by is helping Patricia advance the culinary skills that she first put to work during her days as an undergraduate at the University of Illinois.
From the Cabinet
Lynn Jackson, Vice President of Advancement

This is an exciting time for the college, for the advancement office, and for me personally. I could spend hours writing about all the great things that have happened at the college over the past five and a half years.
This is my last contribution to Acknowledge. In a few short weeks I end an important chapter of my life, filled with many fond memories, a sense of satisfaction and a deep affection for my colleagues and friends at Augustana. I am looking forward to a more relaxed life in June as I ease into retirement. So, as I close this chapter, I decided to simply look forward and not back. It is not so emotional that way. Plus, I know what is back there and I am exceedingly pleased with what I see and what we have accomplished.
Julie Crockett, a 14-year veteran in advancement, takes over as the college's vice president of advancement in June. She will join a seasoned group of Augustana professionals in advancement, and the excellent work will continue. This is all good and bodes well for the future of the college, but my work at the college will be done. I can say that with satisfaction. I am grateful for the opportunity to have worked at a great college with a dedicated faculty, administration and staff. I also am grateful to have lived in the Quad Cities and be able to explore this wonderful area and all it has to offer. There is so much to enjoy and do on and off campus that make it a vibrant community.
I mentioned earlier that I was looking forward. Larry and I are building a new home on our lake property in Michigan. We will spend summers in Michigan and winters in Tucson. After this winter, I am really looking forward to being in the sunny southwest during the cold winter months. We also are looking forward to spending a lot more time with our son Garren, his wife Deirdre, and our 7-month-old granddaughter, Clodagh. As we journey through life, we often find that when one chapter closes, another one starts, and Larry and are looking forward to many new and exciting chapters.
Seen & Heard
O magnet-south! O glistening perfumed South! my South!
O quick mettle, rich blood, impulse and love! Good and evil! O all dear to me!
O dear to me my birth-things—all moving things and the trees where I was born...
—from "O Magnet-South" by Walt Whitman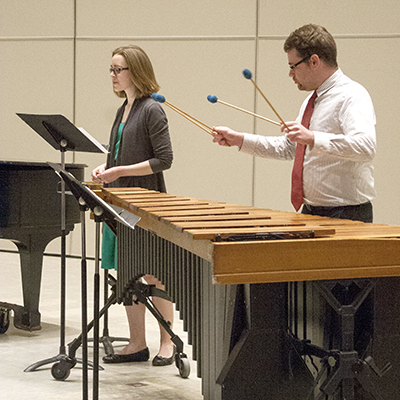 The Trees Where I Was Born: 1. "O glistening, perfumed South..." by Jacob Bancks is played here by Makoto Nakura. Above, at "An Evening with Emily & Walt" on March 27, Mitchell Carter '14 performed Bancks' 2011 piece, written for solo marimba and based on the poem by Walt Whitman, with narration by Katie Boardman '14.


Acknowledge is published by the Office of Communication and Marketing at Augustana College in Rock Island, Illinois. Contact Beth Roberts, editor. Photographers contributing to this issue include Sara Tisdale, and Lauren Becker '16, Nadia Panasky '17 and Kristin Walden '16 of the Augustana Photo Bureau.