Student veterans to share experiences
April  16, 2014
As two veterans of the war in Iraq prepare to graduate from Augustana College, they first plan to share their personal stories of military service. On Wednesday, April 30, at 7 p.m., Josh Brown, a biology major from Topeka, Kan., and J.D. Engelhardt, a communication studies, political science and religion major from Des Moines, Iowa, along with the Augustana Veterans Support Group, will present A Salute to Veterans in the dining room of the College Center.
---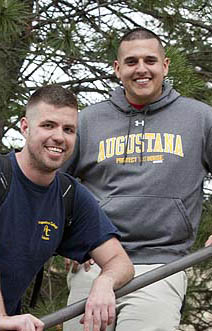 J.D. Engelhardt and Josh Brown
Brown and Engelhardt will talk about their time in service, their experiences in Iraq and the challenges of transitioning to college life. They will offer their advice to other young veterans and to the families and communities that support them.
Both men both are army veterans of the Operation Iraqi Freedom who qualified for the Yellow Ribbon Program. They have attended Augustana for four years as traditional students.
Prior to attending Augustana, Brown led a four-man satellite communications team attached to the 101st Airborne Division in the Saladin Province in Iraq. Brown estimates he completed more than 50 combat patrols.
Engelhardt deployed to Iraq's Diyala province in 2007 as a combat engineer with the 1st Armored Division. Like Brown, Engelhardt and his three-man team spent months patrolling and clearing improvised explosive devices from roads and alleys.
This event is the last of three veteran's events Brown and Engelhardt have helped organize on campus, and this is the first time they will share their personal stories.
In 2013, the Veterans Support Group held an event to honor Korean and Vietnam-era veterans. In 2012, they honored World War II vets.
Augustana College and St. Ambrose will host this and future events in support of Quad-Cities college students who are veterans.
Sam Schlouch
Senior Communication Director
(309) 794-7833
samschlouch@augustana.edu