A Holden Village Musical
Early in the new year, 18 Augustana students and three professors traveled together to Holden Village, a Lutheran-based retreat center in the Cascade Mountains of Washington. There, the group completed three winter-term courses: A History of Consumerism and its Critics; Communication, Time and Technology; and Environmental Ethics. They also shared in the work of the community, choosing among kitchen duties (including garbology), administrative work and general manual labor.
For their Augustana classwork, the students were given a final group assignment of describing the Holden experience using concepts from all three classes. And because they had among them a pianist, a fiddler, two choir members and a videographer—with the remainder in creative, open-minded and hard-working individuals—they decided to spend six weeks making a musical.
We Are One: A Holden Village Musical is the kind of thing that can happen when a group is excited to be learning and working and hanging out together in a remote area away from the frenetic schedules of modern life. (A note about the cast, in case it's not clear: the characters of Lindy, Shari and Laurie are Lendol Calder, Sharon Varallo and Laura Hartman.)
Field Notes
During spring break, Jayne Rose and Jessica Schultz led the psychology class Childhood in the Developing World to study and travel in Guatemala. The group visited Guatemala City, Panajachel, Xela, Retalhuleu, Antigua—with a "brief stop" at Santa Catarina Ixtahuacan, which Jayne describes below.
Expectation? We will briefly stop at Santa Catarina Ixtahuacan to drop off suitcases and gifts for Julieta's family. Reality? We were greeted by a three-piece marimba band, six traditionally dressed Mayan dancers, and what appeared to be the entire community smiling and waving at our arrival.
So your question might be "who is Julieta?" As an indirect result of the 2012 class trip to Guatemala, my husband and I became the host family for Julieta—a 20-year-old Guatemalan student—while she took classes at Scott Community College through a program funded by US AID. In planning the 2014 trip, we realized that we'd only be a few miles from her home, so we arranged to stop for what we anticipated would be a brief visit. Instead, we received an unbelievable welcome and spent the afternoon becoming acquainted with Julieta's family and friends.
After we got off the bus, we were escorted to the community center where they gave a short presentation about their association, el Buen Sembrador ("the Good Sower"), which is dedicated to growing food for the 90% of the people in their area who are either in poverty or extreme poverty ["extreme poverty" is defined by the U.N. as a family living on less than $1 US per day)]. This area of Guatemala has been severely hit by hurricanes Mitch (1998) and Stan (2005), as well as tropical storm Agatha (2010). Although the Guatemalan government relocated some of the people affected by these storms, no help has been given to those who remained in their homes. El Buen Sembrador is a grass-roots effort to meet the needs of the poor in their community.
After the presentation, all 22 of us were formally presented with shawls woven by the women in the community. And then the dancing began! Although the marimba players tried to stop several times, the group kept asking for one more song and they willingly obliged. Although we had many good experiences during our trip, I think we all have special memories of the hospitality shown by the community of Santa Catarina Ixtahuacan.
New Face on Campus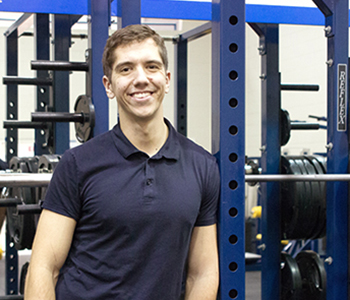 Joe Sperlak, area coordinator, Westerlin Residence Center; assistant director of campus recreation; football strength and condition coach
Joe Sperlak hails from Ellsworth, the cheese curd capital of Wisconsin. And while the cheese curd may be the greatest local culinary delicacy many of us will ever experience, Joe's academic journey took him to a place where the tea is sweet and comfort food is king.
After earning his bachelor's degree from the University of Wisconsin–La Crosse, Joe knew he wanted to pursue a graduate degree and a career in higher education. He also knew he was ready for a change of scenery, so he looked south—the deep south—to Mississippi State University (MSU) in Starkville. While pursuing his master's degree in exercise physiology and strength and conditioning, Joe also served as an intern with the Bulldog football team, where he worked with athletes to reach their individual strength and conditioning goals. During his time in Starkville, Joe also learned to appreciate southern culture, cooking and the legendary collegiate rivalry between Mississippi State and "That School up North," also known as Ole Miss.
While interviewing candidates for positions at a MSU job fair, Joe learned about an opening at Augustana College. The position description was novel—and one that would allow him to wear his several professional hats. In the summer of 2013, Joe accepted the offer from Augustana and now balances his time among residential life, campus recreation and Vikings football.
A dedicated triathlete, Joe has competed in several major events, including the Houston Ironman competition.
"I have three goals when I participate in an Ironman event," he said. "First, I try and get through the swim portion. Then I want to be competitive on the bike. The run comes last, and my goal here is to simply survive."
Joe and his pal Roxie live in Westerlin. Roxie is a Rhodesian Ridgeback, a dog originally bred to tree lions in Africa. Joe also brings to Augustana a fresh take on strength and conditioning he learned while at Mississippi State—so perhaps Roxie will play a role in "motivating" Augie football players to climb higher and faster as part of their new off-season conditioning program.
From the Cabinet
W. Kent Barnds, vice president of enrollment, communication and planning
In admissions, we often describe our work as "trying to get inside the head of a 17-year-old." However, when I began in 1992, I couldn't have foreseen a day like today and a resource like Facebook, which really does allow us to get inside the thoughts of students thinking about Augustana.
When our admissions office experimented with the launch of a Class of 2015 Facebook page, we saw modest participation. Since those early efforts we've expanded the pages to include parents, and now see robust and enthusiastic participation. Patterns among deciding and committed students provide insight into what's on their minds, and almost in real time.
Through our review of questions asked on the Class of 2016 page, we were able to tailor communication to more effectively address questions at the right times. In response to questions about housing selection and parking, we launched a very successful series of videos featuring Gus, our mascot, on the Class of 2017 page. And based on the questions last year, we'll expand the videos for the Class of 2018 to better serve our students during the transition.
While surveying comments on the Class Facebook pages has certainly helped us communicate better with students, the real benefit is to witness in real time the enthusiasm students have for Augustana. It is through these posts that many of our future students stake their preliminary claim in the Augustana experience. In the past few days, I've read of the dreams of veterinarians, speech pathologists, accountants, political scientists, teachers, neuroscientists and aspiring Ph.Ds.
I've read of a student looking for roommates in search of a "coherent color scheme." There are enthusiastic posts about the LGBT community on campus. There are all-state tuba players, bassoonists and a student insistent upon starting a club marching band! Student-athletes in all of our 23 programs post about their excitement to be a Viking.
The posts reveal aspirations of leadership in and outside the classroom, desire to build community, find a roommate and be a part of something big. Facebook provides us with a way to literally read the thoughts of the students seriously considering Augustana, in a way we never could have imagined 20 years ago.
In the Works
Director of Human Resources Laura Ford authors a series of information and wisdom pertaining to being an employee of Augustana College.
Throughout the month of February, the Office of Human Resources hosted four "Conversations about Retirement Plan Changes" to communicate updated information. Our retirement plan will undergo a significant change on September 1, 2014, and this conversation was designed to assist employees in preparing for the changes ahead. For all who attended one of these conversations, thanks for your time and questions. Many of you had suggestions about additional information that will be helpful in this ongoing transition.
You also can access a Virtual Conversation about Retirement Plan Changes here and on the HR site. This 24-minute presentation recreates much of the content shared in our February conversations.
In the coming weeks, you will receive emails and mail to your home address with additional opportunities for group meetings and one-on-one counseling sessions. We will have counseling meetings as well as group meetings here on campus on April 15, 16, 29 and 30.
As our transition date of September 1 nears, additional communications and enrollment materials will be distributed. If you have questions in the meantime, please feel free to contact any member of the HR team.
Seen & Heard
"We hope that we can be friends in music and friends in life."—James Lambrecht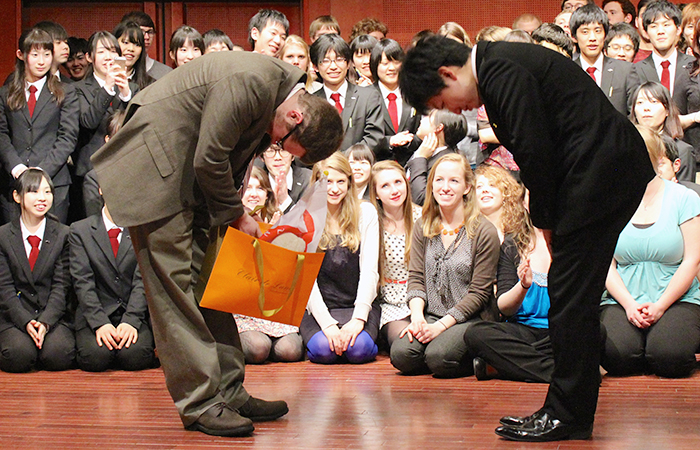 After each of the Augustana Symphonic Band's concerts in Japan during their spring tour, director James Lambrecht spoke this line. The students in the photo above, including Mitchell Carter '14, left, are exchanging gifts, as is Japanese custom, after a concert with the Chuo Wind Ensemble at Minami Osawa Concert Hall in Tokyo.
Acknowledge is published by the Office of Communication and Marketing at Augustana College in Rock Island, Illinois. Contact Beth Roberts, editor. Photographers for this issue include Emma Stough '17 and Kristin Walden '16 of the Augustana Photo Bureau, Cynthia Lambrecht, Jayne Rose and Rosalie Starenko '15.