Hay's efforts lead to creation of nonprofit certificate
March  05, 2014
Dr. Ellen Hay, professor of communication studies, noticed more and more of her students were interested in pursuing careers in the nonprofit sector. As a result of her leadership, these students now have a formal means of preparing themselves and documenting the work they do in their quest for a career with a nonprofit organization.
Beginning next fall, students may earn a certificate in Nonprofit Leadership Development while attending Augustana.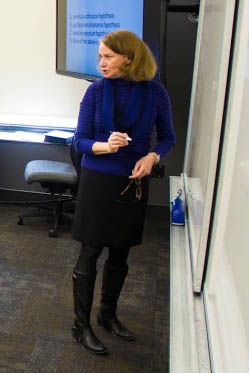 Dr. Ellen Hay
"The certificate will be a way to increase student understanding of how to function in this sector and a way the college can demonstrate to prospective employers that our graduates have intentionally prepared to join a variety of nonprofit organizations," Dr. Hay explained.
A faculty member since 1989, Dr. Hay is an active proponent of nonprofits, service learning and volunteerism. "I am proud that Augustana is dedicated to educating individuals who use their gifts and talents so that they can meet the needs of the community," she said. "This certificate represents Augustana's commitment to leadership and service."
Statistics indicate strong interest in nonprofit leadership among students and show that alumni often choose jobs in the nonprofit sector. In fact, when surveyed nine months after graduation, 12 percent of Augustana alumni reported working for a nonprofit organization.
The certificate program is tied to more than statistics; it also aligns with the college's new strategic plan, Augustana 2020. One goal of the plan states, "Our graduates will find professions that honor their aspirations and investment, and vocations through which they will effect positive change in the world."
Provost Dr. Pareena Lawrence anticipates other certificate programs could be added within the next year, noting the college will be extremely judicious in its offering of certificate programs to ensure they are part of the college's broader mission and help students meet career and life goals.
"We decided to offer certificates programs at Augustana College because they have the potential to enhance our curriculum and the academic and co-curricular experiences that we offer," Dr. Lawrence said. "Certificate programs are distinct from majors and minors as they are focused even more on outcomes-based problem-solving skills and rely on a specific set of practical skills and knowledge."
She explained that certificate programs, like Augustana's Nonprofit Leadership Development certificate, frequently include a substantial experiential learning component outside the classroom and must meet industry accreditation standards if applicable.
To earn the nonprofit certificate, Augustana students will take four specific classes in the areas of communication, business, accounting and ethics. They also will be required to participate in five experiences, including workshops held here on campus and those offered for professionals in the community. The eventual goal is to affiliate with the National Leader Alliance, a national organization dedicated to preparing professionals for the nonprofit field.
In addition, students will be required to complete a 300- to 400-hour internship in a nonprofit organization, and they will develop and present a portfolio that exemplifies the knowledge, abilities and dispositions relevant to the certificate.
As Dr. Hay looks ahead to 2015, when the first students will graduate with a certificate in Nonprofit Leadership Development, she expresses her pride in helping Augustana students pursue their passions and help the greater good through nonprofit leadership. "I firmly believe our students are the best and brightest, but with those gifts come the responsibility of serving others," she said.
Sam Schlouch
Senior Communication Director
(309) 794-7833
samschlouch@augustana.edu