Summer Academy offers teens introduction to college
February  28, 2014
Each summer, high school students can fully experience the atmosphere of college by taking a course in the Augustana Summer Academy.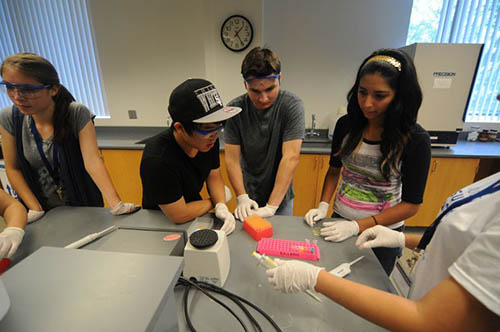 Students participate in an activity as part of the CSI: Augustana course during Summer Academy.
Now in its fifth year, the enrichment program, which runs from June 22-27, offers courses that take an active, hands-on approach within a close-knit learning community. According to Bonnie Jessee, assistant director of admission and transfer enrollment, courses range from one to five days and are taught by Augustana professors.
"Students will find fun outside of class, too, through field trips, evening activities and ventures off campus," said Jessee.
Costs range from $300 to $750 per program, and the topics offered at this year's Summer Academy range from "CSI: Augustana" to a Harry Potter immersion course titled "A Return to Hogwarts," and from an achievement writing course to a dance workshop.
Jessee explained, "Among the 14 different programs offered, there are courses that take advantage of the human cadaver lab at Augustana and courses in the fine arts."
Last year, 158 high school students from eight states experienced a college class, life in a residence hall and more by participating in the Summer Academy.
Registration is open until midnight on Sunday, May 15.
Sam Schlouch
Senior Communication Director
(309) 794-7833
samschlouch@augustana.edu