Detroit duo uses art for urban revitalization
February  28, 2014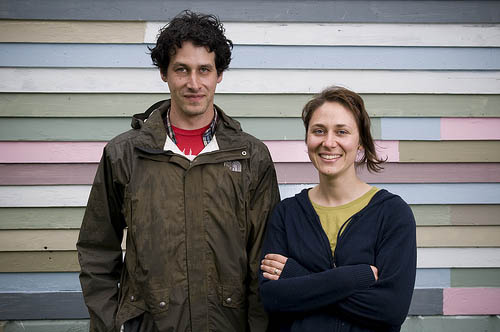 Mitch Cope and Gina Reichert
The husband/wife team of Mitch Cope and Gina Reichert, founders of art studio Design 99, will be on campus April 3 to talk about the efforts of Detroit artists and designers to revitalize troubled neighborhoods.
The free public lecture will be held at 5:30 p.m. in Wallenberg Hall inside the Denkmann Memorial Building, (3520 7th Ave.).
Cope and Reichert, who founded Design 99 in 2007, will share how they've led a movement to take over abandoned houses and turn them into artists' studios, community spaces and even artworks.
Dr. Preston Thayer, director of the Augustana Teaching Museum of Art, said, "People involved in neighborhood revitalization and community organizing will enjoy hearing what artists are doing to bring back Detroit."
Dr. Thayer personally looks forward to the lecture because it promises to help people think about art in the context of social justice and urban ecology. He added, "Gina and Mitch are engaging, funny and full of energy."
Since founding Design 99, the pair has investigated new models of contemporary art and architectural practice. Initially occupying a retail storefront space, the design studio situated itself in the public realm, offering over-the-counter design consultations and $99 house call specials. The pair continues to seek out opportunities to experiment with art and design within their community.
Sam Schlouch
Senior Communication Director
(309) 794-7833
samschlouch@augustana.edu