Teaching literature to first-year students
Recently some of us in communication and marketing appealed to faculty across campus to write an email addressing accepted students, with some insight into their field, courses and/or teaching. This is what Farah Marklevits wrote for applicants interested in English.
When I asked the high school-aged daughter of a friend of my mine about school last spring, she glumly described an English class that basically consisted of 1) Read, 2) Complete Worksheet, and 3) Repeat Steps 1 and 2. My heart sank at hearing this. I told her (and I'm here to tell you if this description fits your high school experience), "you won't be filling out worksheets forever." If you choose to take a course taught by an English professor at Augustana, I can tell you my prediction will come true sooner rather than later.
The deepest and most meaningful understanding of literature comes through conversation, and that is what I love about teaching literature to first-year students. As each term progresses, the first-year students I teach become more and more eager to talk about a poem, novel, play, essay or even an ad sandwiched between Olympic ice dancing and cross-country skiing. The most joyful moments of teaching spring up when my students build upon their classmates' comments, creating ideas and raising questions no one (including me) carried with her or him walking through the classroom door. Often, I leave a class continuing a conversation in my head, mulling over some comment or question a student has raised, and this, too, is a joy.
I think we're eager to talk because in literature we encounter weirdness and loveliness that begs us to "make sense" of the world and our place in it. This "sense-making" is best accomplished as we engage in lively conversations with other readers, with messages a piece sends us, and with ourselves as we re-evaluate our own beliefs and values.
I hope, as you look forward to college, you're excited about engaging in meaningful, lively conversations about the weirdness and loveliness of being human. If it's true you feel this excitement, I hope I'll be hearing your voice soon here at Augie.
Three poems by student poets
In honor of Valentine's Day, I asked poetry professors Erin Bertram and Rebecca Wee to send short love poems by students. They sent the following, by seniors Alexandria Petrassi, Chase Matzinger and Amber Whittle, respectively.
I will, for you
climb into the webbed
honeycombs
of your eye,
paw around for the bitter roots
and
yank them free
hope that the tangled
scarlet clouds
dissipate to leave you
with crystalline clarity,
with optic grace.
Bidding
She sits across from me, her cards unfurled,
A constellation of spots descend from the base of her neck:
Brown dots like undissolved cocoa powder.
Too much sweetness to stir in.
Honeymoon Bridge is an odd double date.
Two players with two sets of cards,
Each hand I hold belongs to opposing teams
Because of the game's rub:
Partners aren't allowed to reveal their hands.
So we find small acts to communicate the truth:
An opening bid suggests what I have to offer,
A response to hint how many hearts she holds,
A brief touch that I wish would linger longer,
The shared grin of a winning hand.
Bicyclical
Loving you is riding
a bike for the first time,
you pushing, and letting go.
How terrifying it is to be
all human and metal and
rubber, certain you're going to crash,
and then suddenly, wavering,
opening your eyes to see that you're
turning the wheels all by yourself.
Field Notes
With her Augie Choice funding, biology and pre-vet major Chandler Todd '14 participated in a research project on campus with Dr. Scott Gehler last summer. The following is an excerpt from the essay she wrote summarizing the experience and how it changed her career goals.
Within our research project, Dr. Gehler and I analyzed the effects of changing environmental factors on breast cancer cells—specifically the migration, adhesion and spreading effects on different concentrations of collagen. Once we established the baseline of "typical" effects of breast cancer cells on collagen, then different extracellular molecules were added to analyze their effects. I worked with Sema3A, a molecule known to reduce migration but with unknown effects on spreading or adhesion with breast cancer cells.
With more in-depth understanding of the effects of different environmental factors on breast cancer cells, one day better treatments could be found that utilize this information and build upon it. Last summer, we were able to create baselines of the typical effects of breast cancer cells on different concentrations of collagen, and began to see the typical effects with the addition of Sema3A.
Personally, I gleaned a lot of knowledge about myself through this research experience. One thing I gained is better laboratory skills. I have become more efficient and sterile within my technique, and gained the ability to interpret data and think things through for myself. Nothing ever goes perfectly according to plan in lab, and this experience taught me how to think on my feet and calculate for the differences from the initial plan. Similarly, when interpreting results, the same thought process is utilized to try to understand why the results would trend the ways they did.
One of the greatest things learned is my career goal. Before going into this experience, I was torn with whether or not I wanted to go into research as a full-time career. Now I have learned that I want to work with patients and their families on a regular basis. Because I want to be a vet, this knowledge has helped me realize I will probably go into a clinical setting where I will help animals on a daily basis, rather than a research position where I would most likely have limited patient-family interaction. Yet, I will forever be thankful for the critical thinking skills, laboratory skills and confidence I have gained from this experience, which can only make me a better veterinarian.
New Face on Campus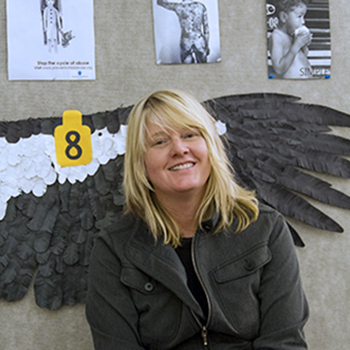 Vickie Phipps, Assistant Professor of Art–Graphic Design
Rehab Addict? Property Brothers? Love it or List it? Which HGTV program are you hooked on? Vickie Phipps doesn't have a favorite network show. In fact, she never watches TV, but she did have a lot to do with the look and feel of the programming that do-it-yourselfers have come to love. Vickie worked 13 years for HGTV in TV production and brand management, ranging from the Pasadena Tournament of Roses Parade, to dynamic show opens, to exploration of brand alignment between HGTV and a Smurfs movie.
Vickie double-majored in art and mass communications at Emory and Henry College in Virginia. While working full-time for HGTV in Knoxville, Tennessee, she began taking art classes at the University of Tenn. Eventually, the faculty at UT convinced her to enroll in the master of fine arts program. As if full-time employment and graduate school didn't keep her busy enough, Vickie also served as a volunteer firefighter and played for the Knoxville Summit in the National Women's Football League. She completed her master's in 2012.
Vickie's wife Ronda Phipps currently is studying sculpture at Alfred University in New York. They share their lives with their "five furry babies"—dogs Paint and Roisin, and cats Conner, Alley and Bendi.
While she had never heard of the Quad Cities before coming to campus for an interview and visit, Vickie has found the liberal arts environment, the people and the energy at Augustana great reasons to stay and work with students who one day may become graphic designers, brand managers, TV producers, firefighters or professional football players, or all of the above.
From the Cabinet
Sheri Curran, General Counsel
An online reporting tool soon will be made available to employees to anonymously share concerns about possible violations of Augustana's policies or other wrongdoing. And yes, I really do want to hear your concerns.
I often think about the janitor at Penn State who witnessed a horrific criminal act, but failed to do anything. Fear is usually the culprit. How can we remove fear as an obstacle to reporting, with its roots in both rational and irrational thought?
I have a keen interest in removing such obstacles, and that interest is shared by the Board and the Cabinet. A good place to start might be to dispel common misconceptions about reporting:
#1 "My Manager Won't Do Anything." If you report a concern, be sure to ask your manager what you can expect in terms of follow-up. What your manager does will likely not be apparent. If the problem continues, however, consider reporting it again, or reporting "up the chain." Of course, you always have the option of reporting to a member of the Cabinet, me, or another manager if you feel your manager might not be receptive.
#2 "They Don't Want to Hear This." Yes, we do want to hear it. In fact, the uglier you think it is, the more important it is that you report it.
#3 "I Don't Rat People Out." While that might be an admirable trait, be sure to think about the consequences of such a decision. "Ratting out" a wrongdoer could very well mean helping someone else.
#4 "Something Bad Will Happen To Me." This is perhaps the concern with the strongest fear element, and also the most irrational. The college has strict non-retaliation policies for a reason: protecting an employee who has reported a concern is very important. If something bad happens to you because you reported, that is a problem in itself and should be reported immediately. I can assure you that swift action will be taken to stop any attempts of retaliation in its tracks.
#5 "It Probably Isn't a Big Deal Anyway." Trust your gut. If something doesn't feel right, report it. There is no harm in doing so.
The College's Code of Conduct outlines expectations of employees, as well as the process for reporting a concern in more detail than what is provided above. You can find it here and in the employee handbook.
Seen & Heard
"And over the course of about three to five years, I had interviewed over 200 women. How does it feel to be talking about it? Very strange. I think it's liberating, but it's kind of funny, too."—Eve Ensler, from "The Vagina Monologues"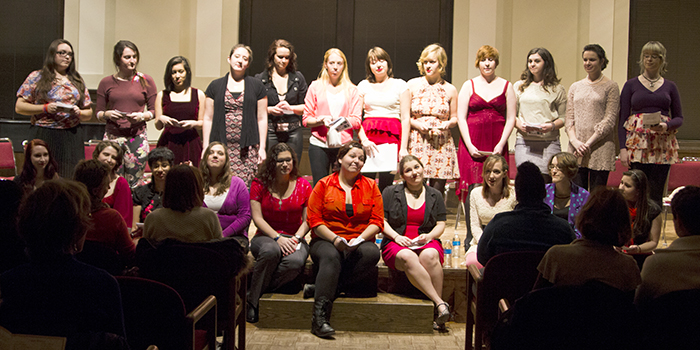 Students performed Ensler's "The Vagina Monologues" in Wallenberg Hall on February 15. This year marked Augustana's 11th annual performance of the play on campus.
Acknowledge is published by the Office of Communication and Marketing, Augustana College, Rock Island, Illinois. Contact Beth Roberts, editor. Photographs in this issue are by Drew Barnes '14 and Daisy Hoang '14 of the Augustana Photo Bureau. Our many thanks, congratulations and good luck to Drew as he graduates from Augustana at the end of winter term. And our thanks and good wishes go to Marla Alvarado Neuerburg for her many years in communication and marketing and leadership of the Augustana Photo Bureau.