Professor prepares for jostling Fulbright experience
February  14, 2014
For Dr. Jane Simonsen her next experience in Germany will be unlike the others.
"I've traveled to Germany and other countries multiple times — in high school, college, grad school, and as part of a young married couple — with little more than a backpack and a jar of peanut butter. It's a much different thing to pick up and take off with a family," admitted the associate professor of history and mother of three young children.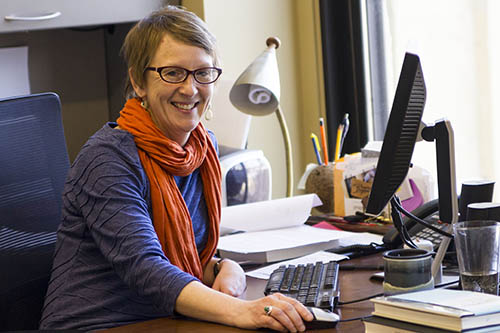 Dr. Jane Simonsen
The family of five departs the Quad Cities in mid-February and will return in July. But the immediate pressures of getting ready to go don't take her eyes off the prize: Dr. Simonsen was selected to be part of the Fulbright Senior Lecturer in American Studies Program, which seeks to improve mutual understanding among teachers, their schools and communities in the U.S. and abroad. She will be teaching classes during the German summer term (April-July) and giving invited lectures at other universities and cultural institutions.
Dr. Simonsen will be teaching two seminars in the American studies department at the University of Regensburg. One course is on the United States' West, and one is on images of Native Americans in U.S. history and culture.
According to Dr. Simonsen, the Fulbright organization is interested in teacher-scholars who can share their perspectives with students. "At Regensburg, they are particularly interested in introducing students to ways that history is done in the U.S., and Augustana's history program is innovative in its approach."
She believes being abroad will make her a better Augustana professor when she returns to campus in the fall. "Both of the courses I'm teaching in Germany will rely heavily on images—paintings, photographs, film—as sources. When I return, I'm hoping to develop at least one course at Augie that focuses on images as history.
"This experience will jostle my creativity as a teacher."
She added, "And of course, going abroad fosters the same sorts of thinking in me that it does in Augustana students when they travel or do internships: we come face to face with difference, ask questions about why those differences have come to be, and re-align our own perceptions as a result."
One decade ago, Dr. Simonsen lived in Regensburg, which is in southeast Germany, on the banks of the Danube River. Built on the site of an old Roman village, it's now a city of 138,000 people. "I am looking forward to returning to one of the most beautiful old cities I've seen," she said.
As for her family, Dr. Simonsen hopes they learn German, meet kids from other countries, and gain new perspectives. "I'm excited about getting them away from a car-centered culture, showing them 1,000-year-old buildings, and giving them a sense of how many different ways there are to live beyond what we're accustomed to here," she said.
She said the experience will yield some of the same results for her children as it does college students and Fulbright professors, like herself.
Sam Schlouch
Senior Communication Director
(309) 794-7833
samschlouch@augustana.edu