A cut above the rest
Geology major immerses himself in Thai gem trade
February  12, 2016
(Editor's note: This article originally appeared in Augustana Magazine in spring 2014. Brian Konecke now is a graduate student in economic geology and experimental petrology at the University of Michigan, Ann Arbor.)
When Brian Konecke '14 talked with a guest speaker after a gemology class in early December, he never imagined the conversation would take him to Chanthaburi, Thailand.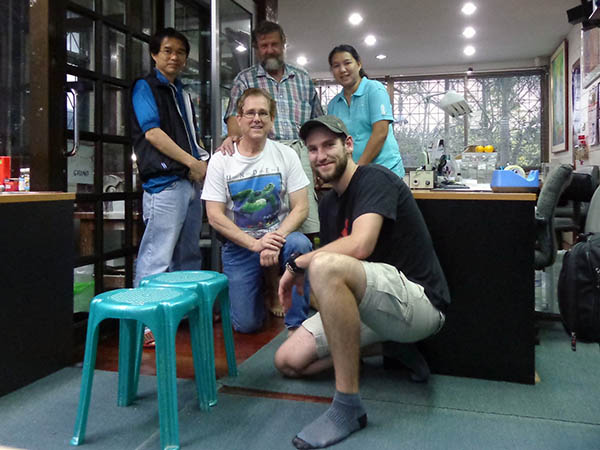 Left to right, back row: Sirkavet; Werner Spaltenstein, gemstone dealer; and Poi, and front: Michael Couch, gemstone dealer, and Brian Konecke '14 in the Ideal Gems office in Chanthaburi, Thailand. As is Thai tradition, no shoes are worn in the workplace or home.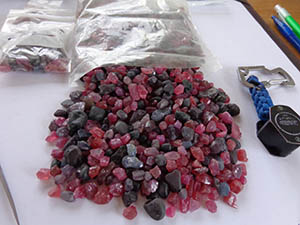 While in Thailand, Konecke worked with uncut spinel to see if heat-treating methods could improve the stones' clarity.
But it did. A few weeks later, the 22-year-old geology major from Itasca, Ill., was walking among the buyers and brokers in the Chanthaburi gemstone market where bags of colored gemstones worth hundreds of thousands of dollars are emptied on tables in front of interested buyers from around the world. It's estimated that 80 percent of the world's supply of rubies and sapphires passes through Chanthaburi, one of southeast Asia's main processing and trading centers for colored gemstones.
"My eyes were the size of saucers when I saw all the gems spread out on the tables," Konecke said. "Sapphires, zircons, rubies, tourmaline — it was unbelievable. But the gems are safe because the Thai culture is all about being honest, polite and hospitable."
Konecke's expenses-paid, 8,500-mile trip to Thailand came at the invitation of Michael Couch, a gem wholesaler and buyer with his own company in Windsor Heights, Iowa. It was Couch who spoke to the gemology class led by Robin Heiderscheit, adjunct instructor in Augustana's geology department.
After the presentation, Konecke talked with Couch about his Senior Inquiry project that focuses on beryl (varieties include emerald and aquamarine) and explores diffusion, solubility and stability. As part of the project, Konecke and geology professor Dr. Michael Wolf are trying to grow their own emeralds.
"Brian's character, interest in gems and keen desire to learn made it a no-brainer to try and bring him and Michael [Couch] together," Heiderscheit said. "I hoped Michael might have some advice for Brian as he decides what direction to purse in his education.
"I did not expect it to turn into such a great opportunity."
Couch asked Konecke to join him on a nine-day buying trip to Chanthaburi so Konecke could take a look at the heat-treating process of spinel, a gemstone often confused with a ruby or sapphire. His assignment was to help solve the mystery of how to dissolve the silk (inclusions) in the spinel and increase its value.
To be as prepared as possible, Konecke stayed on campus during winter break to read all he could about heat-treating spinel. Again and again, the research showed that spinel could not be enhanced by any kind of "burning."
To date, spinel is considered not to have undergone any type of treatment, Heiderscheit confirmed, although heat treatments are an accepted practice on many gemstones. It's considered an extension of what would naturally occur in the earth.
"Heat treatment can turn a blah gemstone into a beautiful gem, allowing for affordable gems with good color and clarity to enter the marketplace," she explained. "But instructions for stable gem treatments are as secret as the Bush Brothers baked bean family recipe."
In Chanthaburi, Couch provided Konecke with Mahenge rock from Tanzania, which is typically nice spinel but has many inclusions, which make the stone look "lazy" or cloudy in appearance. "So there I was trying to do something all the experts say couldn't be done, but in the end, my experiments turned out very well," Konecke said.
He determined an ideal temperature after three days of testing and continued to work on the ideal amount of time required to remove inclusions in the spinel. By the end of his stay, he used heat to clear inclusions by at least 10 to 50 percent, enhancing the beauty, and the value, of the spinel.
His secret? The tried-and-true scientific method.
"Thai cookers are really good at what they do, but they don't write down anything, and they don't tell anyone what they did," Konecke explained. "I kept notes, I took actions based on my observations, and I kept asking questions. That's how I got my results."
Both Couch and Konecke took a chance, Heiderscheit said, and it paid off. Few geology undergraduates have visited Chanthaburi and been allowed access to a high-security colored-stone factory; examined and worked with gemstones; and conducted experiments on heat treatments for spinel.
If given the opportunity, Konecke would return to Thailand tomorrow. "I went on East Asia term in the fall, and once you've been abroad, you're hungry for more," he said.
He hopes traveling is a part of his life after graduate school, where he will study economic geology—an exploration of earth materials that can be used for economic purposes.
"After I earn my master's or Ph.D., I want to give back with what I know," Konecke said. "My ultimate goal is to help those mining the gems in Africa to take advantage of their rich mineral resources and help them make money for themselves."