The Gift of Understanding
This essay by CSD major Courtney Simross '17 won the "Gift to the World" essay contest sponsored by the Center for Vocational Reflection before the holidays. Though the full essay was posted on our homepage, it's so good we wanted to make sure it received plenty of notice during a busy time of year.
It is said that in order to really know someone, you must walk a mile in his or her shoes. By taking that metaphorical stroll, you can hopefully gain insight to that person's past, his or her beliefs and ideas, and the reasons behind his or her personality. Unfortunately for me, being born with achondroplasia has left me with shoes too small for most people to walk in. Out of the 7 billion people in this world, only about 650,000 of them know what life is like as a person with dwarfism. So how do I communicate and socialize with others who are so different than I am? How can I expect others to understand me?
At only 4' 2", I am overlooked on a daily basis, both physically and metaphorically. I have been accidentally stepped on or pushed, but people have also silenced my voice and opinions. If I had to choose which of the two angered me more, I would have to say the latter. I did not choose to be born with a disability, and nothing about my physical appearance makes me feel less than human on the inside. So with this being said, I believe it would be very easy for me to reciprocate the treatment I receive onto others.
However, this is where I choose to turn my disability into an ability. I make it a point to hold other people's opinions to a higher value. I appreciate the things that my peers, family and friends have to share. I try to understand their stories and where they come from. And most of all, I listen to anything and everything that people tell me, because I know how it feels to be ignored. You can often find me in the middle of class debates, asking the opinion of the opposing side. I have learned that louder does not mean better and belittling others' views will not make mine right. My fight to make others understand me is nothing if I do not extend understanding to others. (Read more.)
World Languages, Literatures, and Cultures
As of August 2014, Augustana's programs in Chinese, French, German, Japanese, Scandinavian, and Spanish will operate within one administrative department, called World Languages, Literatures, and Cultures. Each language program will remain a separate academic entity, continuing to offer majors, minors and areas of concentration. However, the department will more closely align operations, budgeting and some programming.
One exciting new program the department already has planned is for area high school students who have advanced in a language beyond that offered by their school. In the 2014-15 academic year, students who have had four years of high school level language study, or have passed the AP language exam, can continue their studies by enrolling in a course at Augustana.
The cost for each 3-credit course will be $1,000; students who subsequently enroll as Augustana students will be eligible to receive a $1,000 scholarship to the college. The program will have the mutual benefit of filling an education gap in our community and introducing high-achieving students to challenging, college-level work on our welcoming campus.
Field Notes
Laura Hartman of the religion department is one of three faculty members accompanying about 20 Augustana students on the winter term in Holden Village outside Chelan, Washington. She writes about using Holden-style collaboration just to get themselves and their baggage — by train, limo, ferryboat, human chain and truck — out to the retreat in the Cascade Mountains.
"Anyone else overpacking?" asked one student on the Holden Term Facebook page, one day before our departure. She wasn't alone. Going away to a remote mountain village for six weeks means bringing a lot of luggage — clothes, toiletries, books, skis, knitting needles, musical instruments, snacks. Our group of 23 must have had more than 60 bags, all told, including many of those large-sized rolling suitcases that could never pass for an airline carry-on.
Thankfully, we weren't traveling by air. Amtrak's baggage limit was generous, and while most students lugged their own luggage down the platform to the train, some of the Red Caps and porters helped out. When we left the train in Wenatchee, Washington, we packed ourselves into two huge limos while the drivers used muscles and ingenuity to wedge our luggage in behind us. Some of us made the trip to Chelan with a pair of skis across our laps! Another group of strong and strategic professionals managed to load our luggage from the Chelan hotel onto the ferry.
Our bags were piled in the hold of the ferry, next to sacks of mail and boxes of milk, oranges and other staples headed for Holden. In the piles of suitcases, not only from Augie students but also Luther College and Pacific Lutheran, I saw a luggage tag: "All Lutherans Have Baggage." So does everyone else, I thought!
Our relationship with our luggage changed when we got off the boat below Holden Village. "Form a chain!" someone shouted, and we crowded into line, shoulder to shoulder, in pairs facing each other, all the way from the dock to the parking area. Students and villagers laughed and grunted as we passed suitcase after suitcase up a long line of ready hands, into the back of a waiting truck. Luggage handling was no longer left to the professionals: it was surprisingly easy in a group who shared the load. Before, we had watched the strongest people work, and pondered how much to tip. Now, we were looking out for each other's safety as a heavy bag heaved by; we were laughing and commenting and bonding and encountering each other — and our stuff — in a more intimate way than ever before.
That was our first experience of Holden-style cooperation and shared work, something the students will be living out, and learning from, for the next six weeks. We all have baggage, but when we share it, we find it bearable and even fun!
New Face on Campus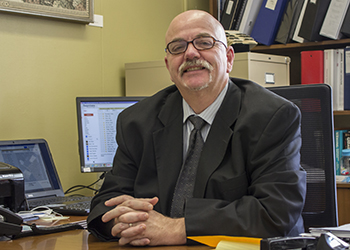 Our new controller Randy Roy may be the most accomplished recording artist you will ever meet. He grew up in picturesque north-central Maine, not far from where they filmed Henry Fonda's last picture, "On Golden Pond." At age 10, Randy got his first acoustic guitar and fell in love with the instrument. After high school, he enlisted and served as a construction engineer in the U.S. Army, where one of his duty stations was along the demilitarized zone in South Korea.
After leaving the service, Randy spent some time in Nashville working on launching a career as a professional musician. He migrated back to Maine and enrolled in the University of Maine, where he earned a bachelor's degree in business administration. His work brought him to Michigan, where he spent the next 30 years working first for non-profit organizations and then at Lansing Community College in Lansing.
Randy and his wife Carol have four children, ages 15-28, and three granddaughters. Their younger two children, one in high school and the other a student at Central Michigan University, will stay for now in Michigan. Their two grown children live in Maine with their families.
As a musician, Randy thinks he sounds most like folk artists James Taylor or Don McLean. His songs however aren't about Mexico, Carolina, Chevys or levees. His music focuses on spiritual topics and three of his songs have placed in the top 100 of the Inspirational Country Christian music charts. His song "In my father's house" spent six months on the charts, peaking in the top 40. You can check out a sampling of Randy's music at randyroyministries.com.
From the Cabinet
Pastor Richard W. Priggie

We are approaching the 10th anniversary of the document, "The Five Faith Commitments of Augustana College," the product of campus-wide conversation during the 2004-05 school year, adopted by the board of trustees in May 2005. Some of us are already talking about marking that anniversary in a way that will stimulate renewed reflection and further conversation.
The document suggests that our first "faith commitment' (How can a college make a faith commitment?) is "Augustana College offers every student the opportunity to develop a life-shaping spirituality." That word "spiritual" is bandied about all over these days. It's exceedingly common for young adults especially to claim that they are "spiritual, but not religious." Sometimes the word "spiritual" seems so free-floating that it's hard to pin down what really is meant.
In this past Sunday's New York Times Book Review (Jan. 12, 2014), the American novelist Sue Monk Kidd is asked about "spiritual themes" in her work and in the work of others. She replies, "I think books with spiritual themes simply point to the deeper mysteries of life — to what lies beyond us, to what's hidden inside of us, or perhaps to an understanding of what truly matters."
We regularly grapple with how to articulate what precisely it means that Augustana is a church-related college. It means different things to different people — that's understandable and even healthy. How about this for an appealing way of describing it? "At Augustana College we invite students to consider in a variety of ways the deeper mysteries of life: what lies beyond us, what's hidden inside of us, and what truly matters in life."
What lies beyond us. What's hidden inside of us. What truly matters in life. That's what I'm most interested in talking about, learning about, and puzzling over, as a human being, and as a member of the Augustana community. How about you?
In the Works
Director of Human Resources Laura Ford authors a perennial series of information and wisdom pertaining to being an employee at Augustana College.
"Communication" and "connections" were two words I heard quite a bit at this summer's campus-wide planning retreat. Taking a page from Faculty Senate's once-a-term "conversations," the HR department is hosting a few additional opportunities for conversations and connections over the next couple of months.
January 16 and 17 we'll host Healthcare conversations as part of the faculty conversation series. You still have an opportunity to join us today in the Wilson Center at 4 p.m. Since this has been so popular, we are looking to schedule another session or two at times and locations we hope will fit the diverse needs of our employees.
In February, we will host conversations about retirement plan changes. Those will occur on Monday, February 10 at 11:30 a.m. in the Gävle Room, and Tuesday, February 11 at 4 p.m. in the Wilson Center. We will again hope to offer additional opportunities and will send out communications as other conversation times are scheduled. Geared more towards conversation than presentation, both of these events will be informal ways to acquaint everyone with short-term and long-term plans as well as updates on how healthcare reform or other legislative changes may affect us.
On March 7, we are planning a family-friendly evening event at PepsiCo Recreation Center. While planning efforts are just beginning, we hope you'll save this Friday evening to join us for food, activities and opportunities to connect with other members of the Augustana community.
I welcome your suggestions for other conversation topics and/or ways we can continue to open avenues for communication and connect with one another.
Seen & Heard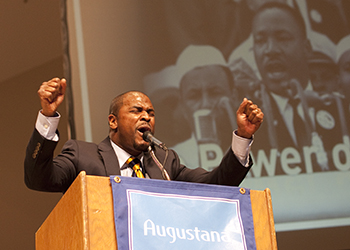 Assistant Dean of Students Mark Anderson is the voice on this WVIK radio spot inviting the community to the annual "The Power of One" Martin Luther King, Jr. celebration and musical tribute, Saturday, January 18 at 6 p.m. in Centennial Hall.
Acknowledge is published by the Office of Communication and Marketing at Augustana College. Contact Beth Roberts, editor. Photographers who contributed to this issue were Drew Barnes '14 and Kristin Walden '16 of the Augustana Photo Bureau, and former Augustana Photo Bureau photographer Matt Peters '11.