Five Questions with Dr. Michael Reisner
January  16, 2014
Five Questions is a series of profiles of people at Augustana College. Dr. Michael Reisner delivers the answers today. If you know someone you'd like to see profiled, send his or her name and a note to sharenews@augustana.edu.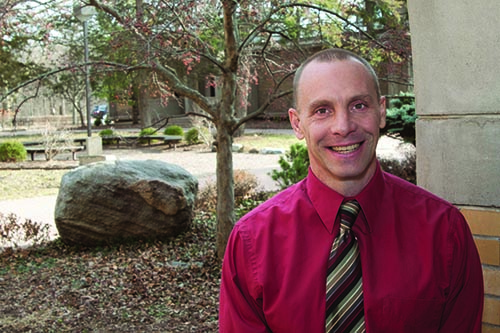 Dr. Michael Reisner, director of the Upper Mississippi River Studies Center. (Photo/Scott Cason)
Dr. Michael Reisner is an assistant professor at Augustana and the director of the college's Upper Mississippi Studies Center.

Reisner earned his Ph.D. in ecosystem and restoration ecology from Oregon State University and J.D. from the University of Oregon School of Law.
1. Describe the concept of the Upper Mississippi Studies Center.
The center was created as a way to mobilize Augustana's resources to help our communities solve the sustainability challenges facing urban and rural working landscapes along the Upper Mississippi River.
2. Approaching the one-year anniversary, what are you working on now?
I'm working on launching a pilot of the Sustainable Working Landscapes Initiative, that I expect to be a centerpiece of our work in the center. This yearlong pilot program will involve the college and community partners in Rock Island County.
The goal of the Initiative is to combine Augustana's academic resources and the civic resources of Rock Island County to tackle the social, economic and environmental challenges facing our community, and create a better quality of life for everyone. We plan to continue current partnerships with the cities of Moline and Rock Island, where we are working to assess the health of the urban streams and related urban ecosystems. In the coming weeks, we will begin accepting new partnership proposals from local, state and federal government organizations, as well as school districts, neighborhood associations, non-profit organizations and small businesses. I am excited about our next steps. We'll be talking about this pilot program on Monday during our 12:30 p.m. and 1:45 p.m. panel discussion sessions at Symposium Day.
3. From an ecologist's point of view, what do you find compelling about the upper Midwest and Upper Mississippi River?
We rely on the terrestrial and aquatic ecosystems of the Upper Mississippi region for a diverse array of goods and services. We grow our food here, it's the source of our drinking water and it provides us with wonderful recreational and learning opportunities. The accumulated use of these resources is, in many circumstances, compromising the ability of these systems to provide us with invaluable goods and services-especially for future generations. I am excited about finding solutions to build a more sustainable Upper Mississippi region. I think the benefits will be enormous-stronger economies, more vibrant communities, and healthy working landscapes.
4. What is the most dangerous thing you've done as an ecologist or as a lawyer?
I once tracked grizzly bears and how they used their habitat. The bears had collars with radio transmitters and we used our sensors to follow them. One rainy day that I found both exciting and terrifying was the day I came upon grizzly bear tracks so fresh that water hadn't even begun to pool in the footprints.
5. How will Augie students benefit from joining in the work of the center?
I think the center will offer students unique learning opportunities where they will develop the knowledge, skills and attitudes necessary to overcome 21st-Century sustainability challenges. I expect to offer two, three internships per year where students will be involved in research, project management and/or serving as liaisons with our community partners. I am hoping that many of our community partners will also agree to supervise interns and ultimately hire some of our graduates once they see what they are capable of doing. I also plan to work towards the creation of numerous research opportunities for students to complete as part of their senior inquiry project. Larger interdisciplinary projects identified by our community partners would offer opportunities for our first-year and sophomore students to conduct research, and for juniors and seniors to participate in integrated and complex real-world projects.
Five Questions has previously featured: