CNN Hero of the Year headlines winter Symposium Day
January  06, 2014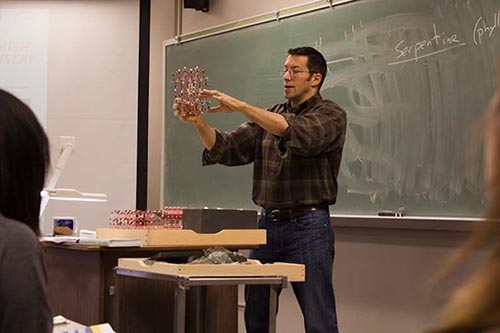 Geology professor Mike Wolf presents a session on asbestos, clay and quartz at the 2013 Winter Symposium Day.
In honor of Martin Luther King Jr. Day, Augustana College will host its Winter Symposium Day on Monday, Jan. 20, to focus on social justice. From 10 a.m.-2:45 p.m., faculty, students and guest speakers will explore themes of global, environmental and racial justice as well as gender, faith, class and economic inequalities, as well as other topics.

Chad Pregracke
Among the featured speakers, Chad Pregracke, president and founder of Living Lands and Waters and CNN's 2013 Hero of the Year, will present a session – "Helping to Clean America's Rivers: From the Bottom Up" – at 11:15 a.m. in the Gävle Room within the Center for Student Life (3435 9 ½ Ave.).
"The symposium committee's decision to move the winter symposium to Martin Luther King Jr. Day, with the social justice theme, was no accident," said Dr. Jeff Ratliff-Crain, associate dean of curriculum and engagement. "Augustana and our students have deep commitments to service and issues related to social justice – much of what the holiday has come to stand for.
"The sessions and the volunteer opportunities provide a chance for this community to come together to think, explore, share and contribute in a unique and completely Augie way."
Other featured speakers include Robert Quinn, the executive director of the Scholars at Risk Network at New York University, and Dwight Ford, executive director of the Martin Luther King, Jr. Community Center in Rock Island. A panel consisting of Bob Choquette, Jason E. Maher and Michael Reisner will focus on how to design a sustainability program that simultaneously maximizes benefits to communities, students and institutions. Choquette is the program director for the University of Oregon Sustainable Cities Initiative. Maher is the program director for CityLabs at the Associated Colleges of the Twin Cities, and Reisner is the director of Augustana's Upper Mississippi Studies Center.
Most of the day's events are open to the public. More details are available at augustana.edu/symposiumday.
As part of Symposium Day, approximately 100 students will actively pursue social justice by volunteering at non-profit organizations in the Quad Cities.
This is the second of the three Symposium Days for the 2013-2014 academic year. The fall symposium centered on understanding relationships. The spring symposium, on May 7, will highlight student and faculty research projects ranging from the sciences to elementary education, music and the visual arts.
Sam Schlouch
Senior Communication Director
(309) 794-7833
samschlouch@augustana.edu