MLK celebration set for Jan. 18
January  06, 2014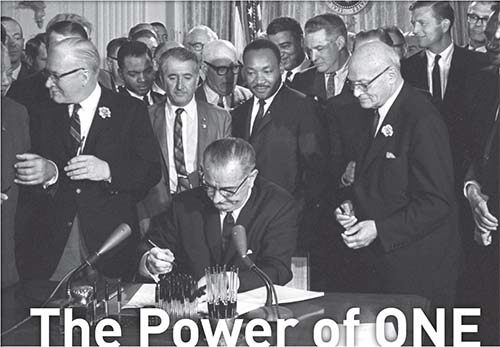 Dr. King looks on as President Lyndon Johnson signs the 1964 Civil Rights Act.
The Power of One, a community-wide celebration and musical tribute to honor Dr. Martin Luther King, Jr., will be held at 6 p.m. Jan. 18 in Centennial Hall, 3703 7th Ave. The free public event will celebrate the legacy of Dr. King with speakers, music and dance.
The 2014 celebration will focus on Dr. King's quote, "The time is always right to do the right thing."
"I hope audience members will be reminded of the legacy of a great American who fought and sacrificed for the betterment of all people," said Eric Rowell, assistant director of admissions and diversity outreach, who coordinates the event.
"I also hope the audience is inspired to continue the fight to provide greater work and educational opportunities for current and future Americans."
The celebration will include performances by the Community Gospel Chorus, the Westbrook Singers, the Bold! Right! Life! Quad Cities group, Imani! Dancers, Tandazo and Toi Allen. In addition, Dr. Christopher Whitt of Augustana College, Vincent Briley of Scott Community College, Kristen Glass-Perez of Augustana College, Pastor Will Williamson of Second Baptist Church and Augustana senior Simone Roby will speak at the event.
The event has a long history in the Quad Cities. Original founders included the Westbrook family of East Moline, the NAACP and the Southern Christian Leadership Conference's Iowa-Illinois Chapter, the celebration now is organized each year by Augustana College and the Dr. King Celebration Committee.
Program
Mistress of ceremonies, Tia Rice, assistant dean of students, Black Hawk College

"Lift Every Voice and Sing" led by Toi Allen and Sandra Solomon
Invocation, Pastor Kristen Glass-Perez, Augustana College
Welcome, Dr. Pareena Lawrence, dean of Augustana College; and Simone Roby, student-president of the Black Student Union, Augustana College
Community Gospel Chorus, Sandra Solomon, director
Recognition of elected representatives, Tia Rice, assistant principal, Rock Island Academy
"Significance of Civil Rights," Dr. Christopher Whitt, political science and Africana studies, Augustana College
Sam Schlouch
Senior Communication Director
(309) 794-7833
samschlouch@augustana.edu