Augustana Christmas Past and Present
Oxymoron or not, new traditions have been a theme this holiday season. And why not? Excitement about the new Center for Student Life materialized into the lighting of a college Christmas tree on the Brew by the Slough patio, followed by a lighting of the menorah by members of Hillel. Dining services introduced a cookie-decorating contest for college employees. A resplendent Christmas at Augustana tested the limits of Centennial Hall, and, inspired by the promise of a Messiah focused on Christmas and highlights, audiences reunited with that masterwork.
This season also marked the 43rd year of Joy of Christmas Past and Present, celebrated at Augustana Lutheran Church and Jenny Lind Chapel in Andover. As always, the service featured glorious music, including the newly renamed Kammarkör and the Steeple Ringers; the Christmas story told in several languages; candlelit caroling to and within the chapel; and then back to the church basement for chatting, cookies and cocoa. Have things really changed?
According to Kai Swanson, yes and no. In 1970, six-year-old Kai, holding his freshly pulled tooth (solemnly admired by College President Conrad Bergendoff; not so by Dean Betsey Brodahl) had the honor with his friend Nick Sorenson, son of then-chaplain Pastor Bob Sorenson, of being one of that year's stjämgosse (star boys) for the annual Sankta Lucia festival.
In those days, the festival was held in Centennial Hall, the smörgåsbord was in Andreen, and Tomten brought toys for the children. Kai recalls Tomten, who was always a girl, presented him with his ceremonial St. Lucia bun as he awoke on the morning of Luciadag.
Later in the '70s, Augustana's Tomten was replaced by the more universal Santa Claus, who today still gives toys to children after the smörgåsbord. Now staged for a number of years in the College Center, perhaps that feast will occur in the Center for Student Life years hence.
And Sankta Lucia? She is still with us. This year "she" was Erek Bell '14 for the campus community celebration, and again, why not? He is a good Scandinavian studies and geography major more than willing to play the part.
That's what Christmas traditions require of us—we play the part and behold the past through our devotion to the present. If not an oxymoron, it is at least a mystery.
Stuff to Think On
Sarah Horowitz left Augustana December 13 to become the head of special collections and curator of rare books and manuscripts at Haverford College, Haverford, Pennsylvania. In addition to her thoughts below, she wants readers to know that what she'll miss most about Augustana is not the "stuff" but her wonderful colleagues here.
One of the best things about working in any special collections is the huge amount of amazing stuff that surrounds you at all times: unique manuscripts, books whose worn covers reveal exquisite woodcuts, photographs produced through long-forgotten techniques.... But I think what I will remember most about Special Collections at Augustana is not the stuff itself so much as it is what students were able to create using our materials; a really good student project can turn even previously uninteresting material into a star. I have worked with hundreds of students over my years at Augustana, but watching students' faces as they find a connection to a physical artifact of the past never gets old.
First-year students used guides for those considering a move to the West (when Illinois was the West) while writing letters advising a 19th-century European friend about whether to immigrate to the Midwest. The John Henry Hauberg papers, which detail the life and enthusiasms of the amateur historian, photographer, progressive-era activist, member of civic and cultural societies, and book collector, are fascinating in their own right, but helping students unearth materials for papers on Black Hawk State Park, the West End Settlement, and Ft. Armstrong made them especially memorable. Others used texts printed during the Reformation to explore the importance of printing to the spread of ideas during that historical period, and to discover what they could learn from the physical aspects (binding, illustrations, paper, marks of former ownership) of books they couldn't read due to language barriers.
The versatility of materials in Special Collections also never ceases to amaze me; I've often used the same materials with students and classes studying a wide variety of subjects. The most common thread among all these projects, however, is the sense of engagement students have with these materials.
No, Special Collections isn't a magic wand we can wave to make everyone put away their phones, but in this digital age I think we sometimes forget the possibilities than can be found beyond our computer screens, and how significant the chance to work with paper someone else put together years ago can be.
Field Notes
Drew Barnes '14 (psychology major, Spanish and communication studies minors) has a special interest in cognitive mechanisms in depressed individuals, especially adolescents. After graduating at the end of winter term in February, Drew plans to work as a research assistant at a university in downtown Chicago before applying to doctoral programs in clinical or counseling psychology.
I was able to use my Augie Choice funds to attend the Psychonomic Society's annual meeting in Toronto over fall break. The conference showcases psychological research surrounding cognitive science. The keynote speaker this year was Elizabeth Loftus, whose research on eyewitness memory is overwhelmingly interesting. During my time at the conference, I was able to consume current research being done by faculty all over the world as well as many graduate student posters.
The city of Toronto was even more exciting. We visited the CN tower—the second tallest structure in the world—at the perfect time of day, just as the sun set (see photo at the top). We were able to see the city and its surrounding area during the daylight and stayed until dark.
Earlier that day I visited the Hockey Hall of Fame; this was an amazing experience after playing hockey for 14 years. The most notable highlights of Toronto, other than the sights, were the people and the food. Everyone we encountered was friendly and willing to help in any way; it was a nice change of pace from city experience in Chicago. The food was phenomenal; the best meal we had was at Japango, a five-table sushi restaurant.
Although it was only four days, I will never forget the experience I had visiting Toronto and attending Psychonomics. I am very lucky to have had Augie Choice to fund it!
New Face on Campus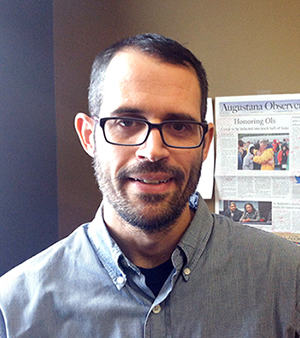 Jared Schroeder, assistant professor of communication studies/multimedia journalism and mass communication
Initially attracted to journalism because it offered the opportunity to earn a whopping $20,000 a year—which seemed more promising than Little Caesars—Jared Schroeder started working at the McKinney (Texas) Courier Gazette while in high school. He went on to college at Abilene Christian University and worked at the Abilene Reporter News. After graduating, he became a copy editor at the San Angelo Standard-Times
At the Standard-Times, where he advanced to reporter, city editor and sports editor, Jared covered both the controversial presidential election of 2000 and later the tragic events of 9/11. During this period, he also worked toward his master's degree at Texas Tech.
"I took one class a semester, and spent three hours on the road each way between San Angelo and Lubbock," he said. He claimed that the long drives were soothing, given the hectic nature of his job the rest of the week.
After earning his master's, Jared got a job as an assistant professor at the College of the Ozarks. It was here he discovered that he loved teaching. So he started looking at potential schools to pursue his Ph.D.
He and his wife Laura decided the primary criterion for this selection would be location. "We wanted to find a school where we knew we wouldn't want to settle down, so that once I finished, we'd have all the places we wanted to live still available," he said. So, like many good Texans, they picked the University of Oklahoma and fell in love with Norman.
Jared's area of research focuses on free speech and the First Amendment. His dissertation focus was on the future of the press clause of the First Amendment. He said he is "particularly interested in how the press clause will be interpreted by the Supreme Court in the 21st century, a time when anyone with a computer and an internet connection has a 'press.'"
Jared serves as the faculty co-advisor to the Augustana Observer and enjoys this extra connection to students. He, Laura, and their three sons share their home with their dog and two cats.
From the Cabinet
David English, vice president of finance and administration
Given the time of year and Augustana's emphasis on meshing student learning with post-graduate activity, I will forego the intriguing financial topic I had prepared (hedging interest rate risk on the college's variable rate debt) and instead discuss why I work at a liberal arts college. The curious may wonder what the time of year or—since I don't work closely with students—the integration of student experience and life after college have to do with my work at Augustana.
First, at this holiday time of year, I am reminded why I left the corporate world to work for a non-profit organization. The key difference is that while both types of institutions require net revenue (profit) to continue, not-for-profit organizations have the additional mandate of performing social good. Some for-profit corporations do good and many make products that improve the world; certainly my iPhone is never far away. However, I think working at a for-profit is qualitatively different from working at a non-profit organization. We have an explicit goal of benefitting the people who pass through our halls, and this mission weaves through all we do. Our "product" is to educate those who go on to become leaders and thinkers; nurture curiosity in those who become innovators and entrepreneurs; and reinforce character in those who improve their community.
Regarding the latter point—tying classroom education to extracurricular learning from the first day students arrive, and turning them into lifelong curious, critical thinkers—I am proud my work contributes to this goal. I don't teach in a classroom, but instruction at a college is a complex endeavor and students interact with all of us. Also, what we do requires facilities, equipment and skilled employees—all of which require funding and coordination. My major contributions are as a prudent steward of the institution's finances helping to chart the course through sometimes choppy waters. Higher education is a competitive industry, and our cabinet members strive to be leaders that not only keep the college abreast of our peers, but improve it so next year is more secure than last.
I see Augustana's "product" as critical to the continuation of our society. The work I do helps guide and improve our college, and I enjoy knowing my effort consequently benefits the larger community. Certainly, some days one sees trees rather than a forest; but I have worked in multiple industries and feel best about this one.
Seen & Heard
"I love all the classes I've taken here, but there is one that I specifically remember. It was the Christianity Origins class I took to fulfill the religion requirements. I had to try so hard for every single assignment because to me, Christianity is completely different from what I practiced at home. One day, I wrote a religion experience paper explaining to my religion teacher about my unfamiliarity with Christianity. I wrote about how not a lot of people in Vietnam are affiliated with this religion and how I really want to learn more about it and other religions over the world to gain a better worldview understanding. I ran into my religion teacher recently, and he told me that he used that paper as an example of good work for the class he is teaching right now. It made me so happy to know that the professors at Augie are very accommodating to your beliefs and needs, and they recognize the differences in where I come from."—Daisy Hoang '14
Senior Daisy Hoang spoke at the recent Global Christmas at Augustana dinner and program. This annual recognition banquet for members of The Presidents Society honors alumni and friends who annually gift at the level of $1,000 or above.
Acknowledge is published by the Office of Communication and Marketing at Augustana College in Rock Island, Illinois. Contact Beth Roberts, editor. Photographers who contributed to this issue are Drew Barnes '14, Lauren Becker '17 and Nadia Panasky '16 of the Augustana Photo Bureau, Anne Bergren and Scott Cason.