Interns on the Rise
Most campus offices use student workers. They write, call or email, keep the schedules, correct our work, do our work, budget, track projects, think for us, make us laugh and want our advice.
Sometimes they do the kind of work that becomes a window to a real career and gives a résumé more heft—more so than a campus job. If their work creates and uses measurable job skills, requires an extended focus on one or more projects, advances their education and even the college, then it's possible a student worker position could become an internship.
Other differences are more related to process. Internships generally have an academic component. Depending on the supervising department and faculty input, students may get academic credit if they hold regular meetings with a professional supervisor, keep a journal and/or write a final reflection on their experience and how it may affect their future goals.
Interns on campus currently work in human resources, the business office, EDGE Center, athletics, and the departments of religion and women's and gender studies. Communication and marketing is working through the details of an internship for a graphic design student, to extend and provide a career focus to the work of the college's graphic design major.
With its focus on learning outcomes, the strategic goals of Augustana 2020: Our Path Forward urge us to develop learning experiences that provide students, graduate schools and employers real evidence of applied knowledge. Internships can be an excellent format for that kind of learning, and whatever responsibility we may feel toward our students' education, it's the reason we are here.
If you think you have a spot for a future intern, contact Johnna Adam in the internships & careers office. She calls this "a ripe area for development," and has insight on how student worker positions can transform to an internship over time.
Four Years Project
Telling the stories of students at Augustana takes many forms, through words, videos and photos online and in print. Using everything from postcards to our viewbook to social media, we try to share those stories with alumni, prospective students and the broader community.
Sometimes these stories are compelling examples of the variety of student experiences. A one-liner here, a 90-second video there. It's worthwhile, no doubt, but ultimately, those are just snippets of the four years that shape our students.
We've felt for a while that we needed to provide something more complete, more sustaining. At the start of November, Augustana debuted the Four Years Project.
Eight first-year students will open their collective residence hall, classroom and extracurricular doors to share what it's like to be a student at Augie. The group will provide insight into campus life through their own eyes via Tumblr blogs. We will supplement that with photos, videos and stories, which will also be linked to via Twitter.
And we'll do that with these eight students for the next four years.
They're a great bunch and offer a ton of different perspectives. They''re from the Chicago suburbs, rural Illinois, Wisconsin and right here in Rock Island. Some are athletes, some musicians and one is both. One is neither; she is interested in becoming a psychologist with the CIA and came to Augustana with her twin brother.
We think they will be successful at Augustana, but they know it won't be a breeze. When things are tough in and out of class, they'll share what that's like. When things are great, they'll relay that as well.
It will be fascinating for these students to look back at their well-documented experiences four years from now. Our hope is that those who follow along find the journey equally compelling. They're already well underway, most recently offering insight during their first week back with parents during fall break.
Field Notes
While teaching on the fall term in East Asia, geology professor Mike Wolf kept a journal, which he shared with his family when he had internet access. The following is from Day 56 (October 19), Lijiang, Yunnan Provence, the southeastern-most section of the Himalaya Mountain range.
Jade Dragon Snow Mountain, Southeastern China Luckily it cleared up, so the 18,000-foot-high snow-peaked crags of Jade Dragon Snow Mountain greeted us against a rare Chinese blue sky and beckoned us to climb. About 20 of us took the hour-long bus ride to the staging area at the mountain's base, taking advantage of yet another amazing geologic experience on this 2013 Asian term.
By the time we made it through the gatehouse, the heights were shrouded in clouds. Having been warned that it would be cold up at 15,000 feet and might even be snowing, most of us carried layers of clothing but one student opted for the giant, red, knee-length, expedition-weight parka—the standard gear for all of the Chinese tourists—while another student just wore his shorts and a T-shirt.
We took a shuttle to the lower station of this "marvel" of a ropeway, at 3,350-meters elevation, and, six at a time, hopped in the moving gondola as it reversed its direction at the wheel house, and sped upwards 1,150 meters, sometimes at over a 45° angle. Exiting at a rarified 4,506 meters, we entered the mists swirling about the mountain and started on our stair-climb, past the oxygen-tank-carrying, red-parka-festooned, lumbering Chinese tourists.
By the time we reached the upper reaches of the path, at 4,680 meters, I had shed my vest and sweatshirt, and just hiked in my T-shirt (if the sweat accumulates, that's what will get you chilled); it was quite pleasant and not cold at all, but the Chinese gawked at us (and took photos). A few times the clouds parted to cheers and camera clicks. As much as I would have liked to get a long view of the mountains and glaciers, the intermittency of the sights made those brief experiences more special.
At the top viewing platform, after watching a group of pudgy Chinese guys bare their chests for a photo, we stripped off our T-shirts and posed for a frenzied crowd of Chinese who really went wild—hopping into the photo with us, commenting on how strong we all looked (our Augustana athletes are really buff).
As we returned down, in a controlled plummeting gondola, tickled by our climbing accomplishment (and probably somewhat giddy from lack of oxygen), we were surprised by the lack of altitude side effects (beyond some headaches)—maybe we hadn't been up there long enough. Everest, here I come!
New Face on Campus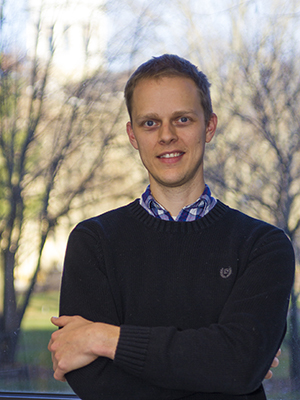 Bill Peterson, assistant professor of physics
Bill Peterson grew up in Marshalltown, Iowa, with dreams of becoming a scientist. As he got older, he became more interested in music and writing, and went to the University of Iowa thinking about English and creative writing. It was after he took an undergraduate astronomy class that Bill rediscovered his passion for science, and went on to major in philosophy, physics, math and astronomy.
When he graduated, Bill did what all philosophy, physics, math and astronomy majors do: took a job as a computer consultant and programmer. For a couple years he worked for the University of Iowa Hospitals and Clinics Mental Health and Clinical Research Center, and then taught math at Kirkwood Community College. He taught physics and astronomy at the University of Iowa once he returned for graduate studies, and completed his Ph.D. in 2011.
Bill's primary research focus is radio telescopic imagery—using magnetism and radio waves to create images of things we may only know as sources of distant light. His research brought him to an analysis of the star system Algol. Once called the "demon star" because it seemed to fluctuate from light to dark, since 1881 it's been known that Algol actually comprises two stars that appear to overlap in space.
"What we found with radio images is that there is a huge coronal loop—like the loops that sometimes appear on the sun's surface—that stretches from the North to South pole of the larger star," Bill explained. "This is arguably the first time anyone was able to image a feature on another star."
About 93 light years away, Algol is fairly near in terms of stars ("the galaxy is about 100,000 light years across," Bill pointed out). But he estimates it would take about two million years for the Voyager spacecraft, now somewhere beyond Pluto, to reach the Algol system.
Bill, his wife Sarah Eikleberry, a kinesiology professor at St. Ambrose, and their Jack Russell Terrier named Dingles have settled into the Quad Cities. Still a musician, Bill plays keyboards in a number of bands, including the Iowa City-based Johnny Kilowatt Band and the Diplomats of Solid Sound.
From the Cabinet
Pareena Lawrence, provost and vice president of academic affairs
It's not groundbreaking to suggest that we want all of our students to lead meaningful and productive lives upon graduation. But a funny thing happens when we ask ourselves:

1. What exactly are the attributes that we would like students to have developed by the time they graduate?
2. What exactly do we—staff, faculty, administrators and fellow students—need to do every day if we want this idyllic aspiration to have the best chance of coming true?
Our faculty spent almost a year considering how they might spell out the skills and attributes that describe a successful Augustana graduate.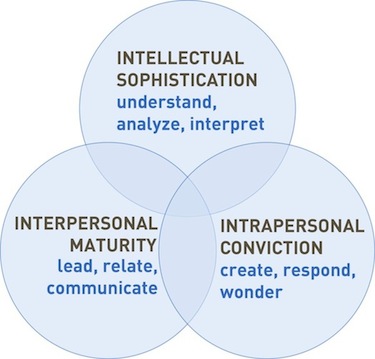 Part of Augustana 2020, our strategic vision for the college, states: Augustana will offer more intentionally designed and fully integrated learning experiences that recognize the holistic nature of student learning and development, and take full advantage of the comprehensive learning resources of a residential liberal arts and sciences college. We will intentionally connect the knowledge, skills, dispositions and interpersonal sensibilities that are the hallmark of a liberal arts education to our students' post-graduate career plans.
But even with these clearly articulated learning outcomes and well-defined vision of integrated learning experiences for our students, we know that "real-learning and meaning-making," or what may be referred to as "true knowledge," doesn't always happen automatically. Students often don't see the connections between activities outside of the classroom (e.g., student organizations, athletics, residential life, on- and off-campus employment) and their learning in other contexts (in coursework, internships, study abroad, faculty/student research, etc.). For example, students might be formally learning what makes up "ethical citizenship" in their business course, but they do not automatically connect those concepts to their volunteer work with Habitat for Humanity.
How can we guide the integrated learning we want to happen? We can start with our daily interactions with students, gently prodding them to make connections between experiences—by intentionally suggesting that what they have learned conceptually about ethical citizenship in their coursework is closely connected to their volunteer work, their residential life community and their teammates. Each of us individually will play a critical role as fellow educators in helping our students integrate and connect their learning both in the classroom and out of the classroom, and in this process help them make their education more personal and permanent.
In the Works
Director of Human Resources Laura Ford offers a perennial series of information and wisdom pertaining to being an employee at Augustana College.
While there are many benefits associated with working at Augustana College, it isn't generally top of mind for most of us. To help with our ongoing communication, the HR team has initiated two new ways to keep you updated.
1. Total compensation summaries. Our colleagues in ITS and payroll have worked with us to offer total compensation summaries. Our hope is that by December 31, 2013, you'll be able to view a summary of your current benefit elections and the value of these benefits. You will access this in Arches in the same section where you can currently find your pay advices. Information will be sent to you via email when this information goes live.
2. Employee discounts. Along with access and discounts on campus, several area businesses offer additional discounts to Augustana employees—free admission to the Figge Museum, reduced rates at the YMCA and RIFAC, cell phone discounts and many more. We've created a section on the Employee Information Page—easily accessed from CampusNet via the link in the top right corner or in the "information" section on the homepage—to capture all of these discounts and will do our best to keep this updated for all employees. If you are aware of other discounts, please let us know and we will update this section for the benefit of all.
Seen & Heard
"Let's say, 'Robert Patterson, please return to the trailer. We have a surprise for you.'"—Riley Whiteside, age 7, on finding a lost money clip holding Mr. Patterson's credit cards and cash at the NCAA III Midwest Regional Cross Country Championships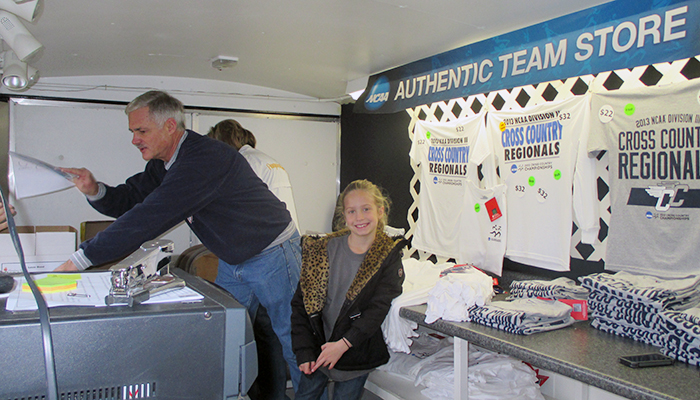 Kevin Mueller '78, Cathie Whiteside '78 (in back) and Riley Whiteside (granddaughter of Cathie and Fred Whiteside '74) were busy in the merchandise trailer at Saukie Golf Course on Saturday, November 16, when Augustana hosted the NCAA III Midwest Regional Cross Country Championships.
Acknowledge is published by the Office of Communication and Marketing at Augustana College, Rock Island, Illinois. Contact Beth Roberts, editor. Contributing photographers for this issue include Drew Barnes '14 and Daisy Hoang '14 of the Augustana Photo Bureau, Frederic Whiteside (athletics) and Mike Wolf (geology).