Warren, students to build Eastern Shawnee archive
November  12, 2013
Augustana's Dr. Stephen Warren will lead a $1.3 million project to build a digital historical archive for the Eastern Shawnee Tribe of Oklahoma in 2014.
Dr. Warren, associate professor of history, will be assisted by six Augustana students who will work as research assistants, doing graduate-level work and helping to organize Dr. Warren's collection of research material.
The three-year grant was issued by the U.S. Department of Health and Human Services Administration for Native Americans.
According to Dr. Warren, 52 percent of Eastern Shawnee tribal members report a lack of familiarity with their tribe's history. The grant aims to reverse this trend by recovering, promoting and preserving the history of the tribe to increase knowledge and build a stronger cultural identity.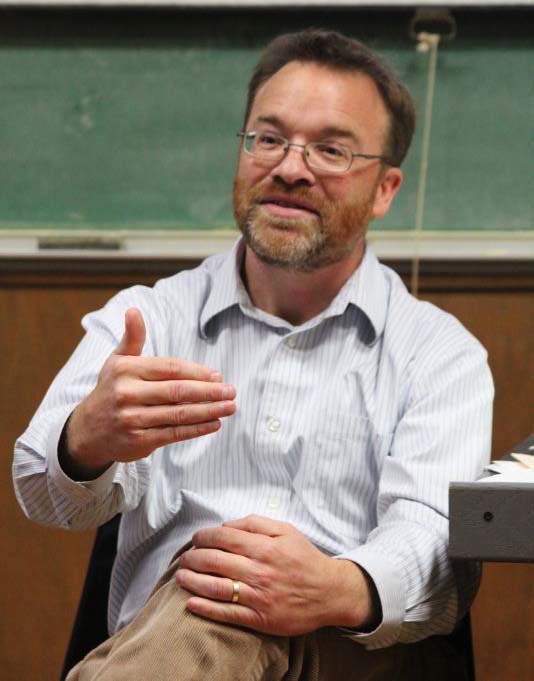 Dr. Stephen Warren
Dr. Warren specializes in American Indian history and holds the largest collection of Shawnee research. As a part of the project, he will provide copies of published and unpublished research, serve as a presenter at conferences, mentor people from the tribe, and assist in writing and editing two books that will be distributed to members of the tribal community.
He said American Indian history recently has been transformed by the involvement of scholars and communities in academic research.
"The beauty and the challenge of scholarship on American Indians is that the past is never safely historical," he said. "Past and present are intertwined."
Dr. Warren received a bachelor's from Indiana University, a master's from the University of Arizona and a doctorate from Indiana University. He joined Augustana's faculty in 2002. Since then, he has taken more than 30 students to Oklahoma to conduct service-learning projects for American Indian communities.
His first book was "The Shawnees and Their Neighbors, 1795-1870." His second book, "The Worlds the Shawnees Made: Migration and Violence in Early America," will be released next January. This research has been supported by a Mellon Foundation Sabbatical Fellowship from the American Philosophical Society. Dr. Warren also has served as a consultant for the Colonial Williamsburg Foundation and the Missouri History Society.
Sam Schlouch
Senior Communication Director
(309) 794-7833
samschlouch@augustana.edu