First-year student earns full Gates scholarship
October  24, 2013
Addison Morgan, a first-year student at Augustana College, is a recipient of the Gates Millennium Scholarship, a program established in 1999 by a $1.5 billion grant from the Bill & Melinda Gates Foundation. The scholarship provides highly motivated minority students an opportunity to complete an undergraduate college education in any area of interest.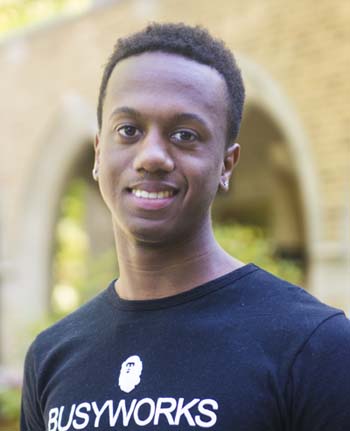 Addison Morgan
The scholarship Morgan received covers all tuition costs, including living expenses, at any college or university. Additionally, Morgan may request funding for a graduate degree program if he chooses to pursue one of the specific disciplines.
Morgan was born and raised in Chicago, Ill. His mother is a therapist and his father is a writer who currently is working on a book about how changing your diet can change your life. Morgan graduated from King College Prep, a selective enrollment school on the south side of Chicago, in 2013.
He plans to major in pre-medicine at Augustana, as his lifelong dream is to become a neurosurgeon.
"In high school, almost every day, I found myself analyzing people to see how and why they reasoned the way they did," Morgan said. "I never came to a consoling conclusion about how people made their decisions, but to me, that was the joy of the practice."
When the package arrived from the Gates Scholar Foundation informing Morgan that he was the one out of 1,000 students selected for this scholarship, he was astonished.
"Words cannot describe the feeling I felt that day," he said. Morgan refers to receiving the scholarship as "destiny," as he was not planning on applying but his mother encouraged him to apply on the last day the application was open. Morgan typed all nine essays on a variety of topics in about seven hours.
For the second straight year, Augustana is proud to welcome students in the Gates Millennium Scholars Program. "Gates Scholar are standouts who not only excel academically, but also demonstrate significant leadership and commitment to community," said Kent Barnds, Augustana's vice president of enrollment, communication and planning.
Lizeth Tamayo, an Augustana sophomore from Poplar Grove, Ill., is also a Gates Scholar. Of both Tamayo and Morgan, Barnds said, "They should be proud of this achievement, and we anticipate they will accomplish much here at Augustana and in life."
Sam Schlouch
Senior Communication Director
(309) 794-7833
samschlouch@augustana.edu