Senior finds dream job at John Deere
October  21, 2013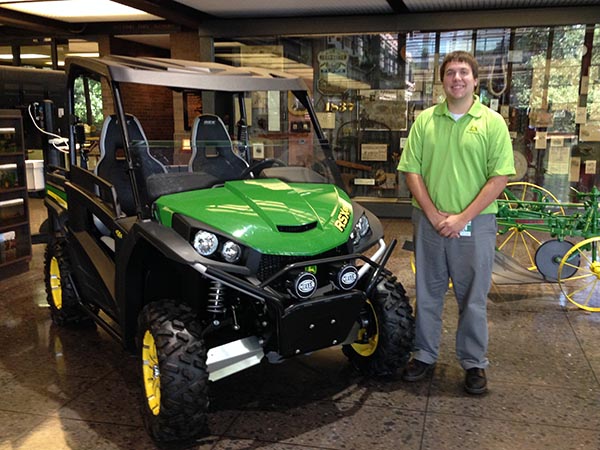 Devan Peterson
Devan Peterson, an Augustana College senior from Aledo, Ill., grew up playing with John Deere tractors at his family farm. He knew from the first day of his first year at Augustana that he wanted to have a career tied to agriculture.
This passion has helped to fuel his career orientation throughout college and a full-time job opportunity with John Deere in the Accounting Finance Development Program next summer.
Peterson, a business and accounting major, is currently in his third position as a part-time student in general accounting at John Deere. His first position was with shared services on the Moline campus, and during the summer of 2013, he completed his Senior Inquiry internship at John Deere Horicon, Wis., where he successfully tackled a number of accounting and finance related projects.
"I always enjoyed discussing the money side of the farm business with my father, so I thought that accounting was something that would interest me. From there I decided on my major and told my advisor that I wanted to work for John Deere," said Peterson.
He has clear goals for himself throughout his career and he has fulfilled the beginning stages of those goals with John Deere: "The company gives me a chance to stay close to the agriculture business which is what has helped me get to where I am today."
The liberal arts curriculum at Augustana has helped provide Peterson with the skills to succeed in a work environment like John Deere.
"John Deere it is a very team-oriented environment. There you have to be active in the team or you will not be successful," Peterson said. "I have grown into someone that is more outgoing and willing to put myself out there."
"Devan's major in business administration provides a well-rounded business background and good communication skills needed to stand out in the workplace," said Karen M. Petersen, director of business internships at Augustana.
"Fortunately, Deere is a strong supporter of our accounting program and provides job opportunities throughout the year to our students, which helps them compete for and obtain both internships and full-time offers," said John Delaney, Peterson's advisor for his accounting major.
Petersen, Delaney, and professional staff in Augustana's Internships and Careers Office provide an internship seminar, guidance, and reflection for the internship to help the students more effectively transition into the workplace. Augustana places more than 400 students in internships in one academic year.
Internships offer students the opportunity to work in diverse environments, effectively improve time management skills, develop organization and decision-making skills, and think critically. In Peterson's case, internships help to reinforce his career orientation and expand his professional network.
Peterson is on track to graduate in May 2014. Upon graduation, he will be working for a three- to five-year rotational program at John Deere that will allow him to hold different positions with a variety of functions of accounting.
Sam Schlouch
Senior Communication Director
(309) 794-7833
samschlouch@augustana.edu
— Anh "Daisy" Hoang, Communication and Marketing student-worker