C&M: Who are those people?
We call ourselves C&M because "communication and marketing" takes too long to communicate. But even without the mystifying abbreviation, some on campus may not know who we are or what we do all day here on the second floor of Founders. Here is a brief introduction or reminder.
Scott Cason is an assistant vice president and he heads the office, which is split by the hallway into two sections. With Scott on the east side are Keri Rursch, director of public relations; Sam Schlouch, manager of arts events and communication; and me (Beth Roberts), editorial director. Keri is the primary contact for connecting with external news media. Sam (who spends part of the day in his Bergendoff office) works with media as it relates to art, art history, music and theatre, and coordinates ensemble tours and other events. I help produce content for various projects, from letters to brochures, articles, white papers, and this newsletter. Mainly I work with admissions throughout the year.
Debbie Blaylock, on the west side, also writes, edits and collaborates with designers on many projects, working primarily with advancement. Our two graphic designers are Quan Vi, creative design director, and Rebecca Zitzow, a new face on campus. Marla Alvarado Neuerburg works closely with the designers and our vendors to make sure projects are handled well, delivered on time and paid for. She is a liaison with several offices, a photographer, and she heads the student Augustana Photo Bureau, which is managed by Drew Barnes '14.
Finally, Leslie DuPree and Andrew Petersen form web services, and it's their job to direct and handle content on Augustana's website. Andrew also heads the student Video Bureau, developed over the past couple of years. Besides our student photographers and videographers, we have several student workers who help us with everything.
Altogether, we develop media to advance the college, from web to print to public address. It's non-stop, imperfect and sometimes thrilling. We would like to continue to improve our relationships with partners across campus, so please contact us for any assistance related to communication and marketing. At the top of our C&M webpage is a band of links, with "C&M Contacts" on the far right. There you should find the person who will help your department, office or program with your projects and questions.
Field Notes #1: Gratitude from a Lutheran choir nerd
Sam Schlouch, communication and marketing
"Let us go to welcome our presiding bishop-elect." These words were spoken by the Rev. Mark Hanson, outgoing presiding bishop of the Evangelical Lutheran Church in America, at the beginning of the installation service for the Rev. Elizabeth Eaton, the denomination's new leader.
Along with Michael Zemek and Jon Hurty of the music department, I had the pleasure of coordinating the participation of two Augustana choirs in the service, which really was just a convenient excuse to be present for the installation of the ELCA's first female presiding bishop.
Staged in a packed Rockefeller Memorial Chapel at the University of Chicago, the service was about as flashy as we Lutherans can get without feeling guilty—complete with brass, organ, choirs and a long procession. I was one large goosebump the entire time. I was proud to tell those sitting around me that Chamber Singers and Kammarkör were the only choirs from the 26 ELCA colleges and universities taking part that day.
About 50 of our students dedicated a Saturday to a church that many of them do not know. Most Augustana students who identify as having a religious preference are Catholic. Probably no more than 10 or 15 of the choir members there were Lutheran.
After the service and a hearty dinner at Portillos in Orland Park, I decided to let my inner Augustana-Lutheran-choir-nerd show. I got on the microphone of the bus, faced the group, and said, "I just want you to know that you helped make history today, and this is just the first of many amazing opportunities you'll have as students. Many of you will travel around the country and the world, touching thousands of lives with your music, while making eternal friends and memories."
They were silent for a while, and then we just resumed our trip home.
I was a proud Lutheran, alumnus and employee that day—and just as the students will have more amazing opportunities, so will I. For that, I am grateful.
Field Notes #2: Lesson learned despite soggy attitude
Keri Rursch, communication and marketing
You know the lessons will be many when you head to the boathouse with the BALI (Bartholomew Institute for Advanced Leadership) group for a morning of rowing. It was a beautiful morning, the Mississippi was sparkling and still, the trees were just starting to display their autumn shades, and, let me be honest, I wasn't in the mood for lessons. The others were eager, but I would have gladly taken a sneezing child to the walk-in clinic or an unexpected meeting to cancel my plans.
I'm not a fun-hater. But I am uncoordinated and unathletic. My mind was racing. I was nervous. I could envision tipping a boat and causing a public relations nightmare right there in the Mississippi River. If not that, I knew it was even more likely that I might simply embarrass myself in front of a group of respected colleagues.
But I had a commitment and no reason to cancel, so I went. Now I'm proud to say I did.
Of course, that morning we all learned that listening and practicing are important in rowing, like everywhere in life, and working together as team our group could propel itself. We learned not to watch our own ore dip in and out of the water, but instead to watch the movement of the person in front of us. The beautiful teambuilding analogies were everywhere. Over coffee afterward, we even were able to find connections between rowing and the college's strategic planning process.
What I wasn't personally prepared for was the sense of success that came from accepting an opportunity to do something I didn't care to do one bit. The biggest lesson for me was simple: When confronted with new opportunities, keep an open mind, try new things and stretch.
I can't say I'm a good rower, but I can say I did it. And the next time I'm asked to do a job for which I feel I lack skills, strength and experience, I can draw from what I learned during my morning on the mighty Mississippi.
Thanks to Laura Ford and Kai Swanson for organizing this opportunity and all of the events of the BALI group. The group is named for Edward Fry Bartholomew. The program offers advanced leadership training, and it has been offered twice before. This year's BALI group includes Sara Tisdale, Matt Walsh, Alex Wenz, Kertesha Riley, Scott Dean, Susan Horan, Mary Tatro, Tom Phillis, Jennifer Blohm, Katey Bignall and Keri Rursch.
New Face on Campus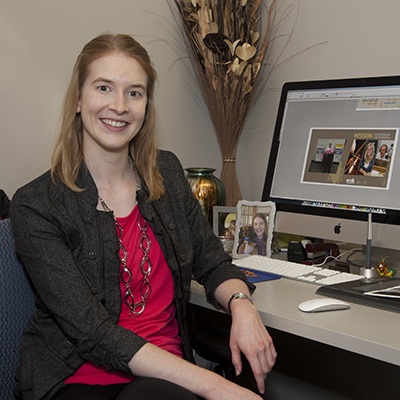 Rebecca Zitzow, graphic designer, communication and marketing
Rebecca Zitzow drives to Augie every day from her home in Muscatine, Iowa. She is a graduate of Judson University's School of Art, Design and Architecture, where she became a member of the American Institute for Graphic Arts.
At Judson, Rebecca participated in a faculty-led mission trip to the Adventure Learning Center and Camp in the Bahamas. While she was there, she also engaged in mission work at a camp in Nassau for adults with AIDS. She calls this the most inspirational part of her undergraduate experience.
"It made an indescribable impact on me to see them living in an isolated camp that was literally an old leper camp," she said. "The joy and love they shared even in such terrible conditions forever altered how I approach my life and how I interact with others."
After graduation, Rebecca went to work as a graphic designer for Agrace Hospice in Madison, Wisconsin. Her design work there landed her two American Advertising Federation "ADDY" awards. You will soon see a piece of Rebecca's most recent work, a logo for Söt (Swedish for "sweet"), at the dessert station in Augustana's Center for Student Life.
Now Rebecca is looking forward to moving soon from Muscatine to the Quad Cities with her rescue dog Sadie, a Cavalier King Charles/Papillon mix.
From the Cabinet
Kent Barnds, Vice President of Enrollment
Recently, I was challenged by a stakeholder to clearly describe Augustana's brand. I answered as I typically would: Our brand is what others say it is. I could tell the answer was insufficient for this particular person, so I continued by saying that if a dozen members of the community answered this question, they would probably say something like: "Augustana cares deeply for each student, has top-notch faculty, and offers a liberal arts education on a residential campus."
I could sense agitation at this response. I think he was thinking what we all might think: How does any of that make Augustana different or better?
So I put on my marketer's hat and told my inquisitor very directly that we actually do have a clear sense of what is genuinely distinctive about Augustana. I shared a version of the following, which was included in Task Force One's report about our college's competitive environment.
Within the universe of liberal arts schools, colleges have very few genuine distinctions and Augustana is no exception. However, over the course of the past few years, we have been increasingly intentional about attempting to distinguish Augustana, at the institutional level, on the following grounds:
• Augie Choice
• #6 in the nation for Academic All-Americans
• The learning resources provided by our location in the Quad Cities
While many other qualities we frequently cite are increasingly common among liberal arts colleges (e.g., international study and study away, internships, great faculty-student connections, capstone projects, etc.), these are genuine distinctions. If you have others at the institutional level in mind, let me know. Each of our distinctions creates genuine value for students, and in combination, they make a strong case for Augustana College.
While I think my answer satisfied this tough stakeholder, I was reminded there is more work for us to do as a community to be able to articulate the worth of this combination of experiences to deciding students. Each of us might ask ourselves the following questions:
• How does Augie Choice strengthen and distinguish my program? How can I promote Augie Choice and help students use their $2,000 to make a difference in their education?
• How does our location strengthen and distinguish my program? The Quad Cities, the Mississippi River, our location at the border of Iowa and our proximity to various resources—how do these impact the students I know? How can I further use or promote our location?
• Student-athletes who become Academic All-Americans achieve a balance of learning with other aspects of their lives that are equally important to them. How is this balance represented through my own department or program? How can I further support this balance of living and learning on campus?
There is power in each of us thinking carefully about the individual answers we might have for these questions, and how answering them directly can clarify perceptions of Augustana's value for deciding students and others who wonder about our worth.
Seen & Heard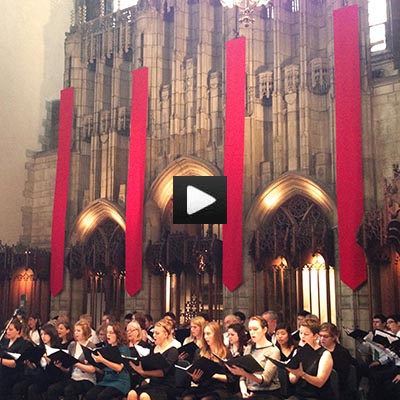 Watch the installation of the new presiding bishop of the ELCA.
Acknowledge is published by the Office of Communication and Marketing at Augustana College in Rock Island, Illinois. Contact Beth Roberts, editor. Photographers for this issue include Drew Barnes '14 and Marla Alvarado Neuerburg of the Augustana Photo Bureau, and Sam Schlouch '10.