A funny 'Figaro' will open the theatre season
October  07, 2013
Augustana College's Department of Theatre Arts will present Figaro, the first production of its 2013-14 season, October 18-20 and 25-27. Show times are 7:30 p.m. Friday and Saturday, and 1:30 p.m. Sunday, in Potter Theatre on the upper level of Bergendoff Hall of Fine Arts (3701 7th Ave.). Tickets are $11 for the general public and $9 for senior citizens, students and Augustana faculty and staff. Tickets purchased by October 14 are eligible for a $2 discount.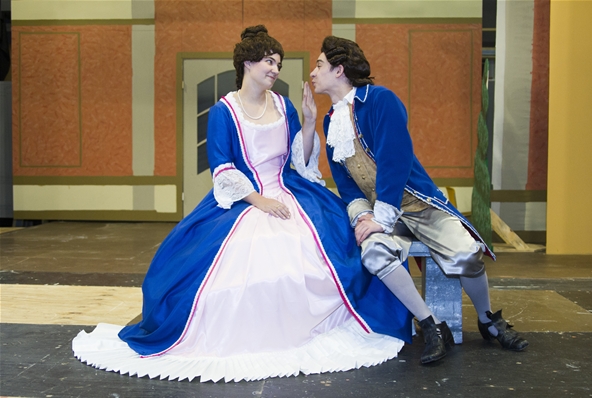 Leslie Kane (Suzanne), left, and Joshua Pride (Figaro)
Figaro, by Charles Morey, was freely adapted from the well-known opera Le Mariage de Figaro by Beaumarchais. It is the story of the enterprising Figaro (servant, barber and professional troublemaker) who is thrilled to be getting married in the morning. But with everybody scheming to come between him and his bride, Figaro will need all his cunning to make it down the aisle. This new adaptation of Beaumarchais' comic masterpiece is hilariously funny, with a razor-sharp political edge.
Dr. Jennifer Popple, director of Figaro and teaching fellow in the department of theatre arts, said, "I like that the play can appeal to all ages and to people who are at any level of historical understanding. Children can come in and enjoy the many jokes and moments of physical comedy, adults can laugh at the double entendres, and all the while we can get educated about tensions in a society that doesn't value all of its members the same."
Leslie Kane '15, a psychology and theatre arts major from Lemont, Ill., will play the character of Suzanne. "The script itself is funny and then when we pair the script with movement it becomes outright hilarious. The cast members are having a blast working on the show and the audience members are bound to have a lot of laughs!"
Tickets can be purchased through the Augustana Ticket Office at (309) 794-7306.
Sam Schlouch
Senior Communication Director
(309) 794-7833
samschlouch@augustana.edu