High school students get a glimpse of college
September  27, 2013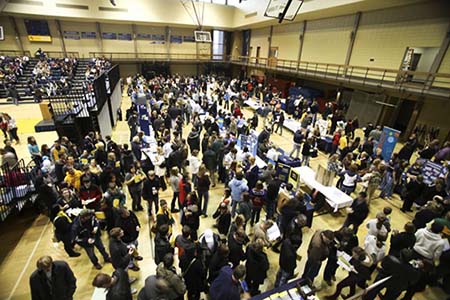 Prospective students visit the Augustana campus during one of the 2012 fall visit days. (Augustana Photo Bureau)
High school students and their parents are invited to Augustana College on Saturday, Sept. 28, or Saturday, Oct. 26 for the college's Fall Visit Days.
Designed as one-day experiences, Augustana's visit days provide an opportunity for prospective students to get an overview of the college. Each visit day includes a campus tour, presentations by professors and an informational fair about out-of-classroom opportunities. Those who attend also receive information about admissions, scholarships and the financial-assistance process. Events run from 9 a.m.-2 p.m.
On both days, prospective students can attend an information fair to get details about all of the academic fields at Augustana and other key programs. Students learn about Augie Choice, international study, campus ministries, student activities, the honors program and the career center.
On visit days, academic sessions cover a variety of the nearly 90 majors and related academic programs, providing an in-depth look at majors—from coursework to hands-on learning opportunities to graduate success stories. One of the academic sessions (Choosing a Major) is ideal for students not yet certain about a primary field of study.
Augustana College will award three scholarships (one $1,000 award and two $500 awards) during the visit days this fall. According to Meghan Cooley, director of recruitment communications in the Office of Admissions, scholarships will be awarded based on response to a 500-word essay.
"We encourage all students coming to Fall Visit Days to write an essay prior to their visit," said Cooley, a 1999 Augustana graduate. "This year's topic is 'What is my response to the one great question that no one has ever asked me?'"
To register for a Fall Visit Day, go to augustana.edu/visitday or contact the Office of Admissions, (309) 794-7341, for more information.
Sam Schlouch
Senior Communication Director
(309) 794-7833
samschlouch@augustana.edu