Study Abroad Fair scheduled for Oct. 6
September  27, 2013
Students are advised to start thinking right now about a study-abroad program that can take them anywhere from Africa to Australia, Hong Kong to Paris. All the information will be available at the Augustana Study Abroad Fair to be held Sunday, Oct. 6, from 4-6 p.m., on the main floor of the College Center (3750 7th Ave., Rock Island).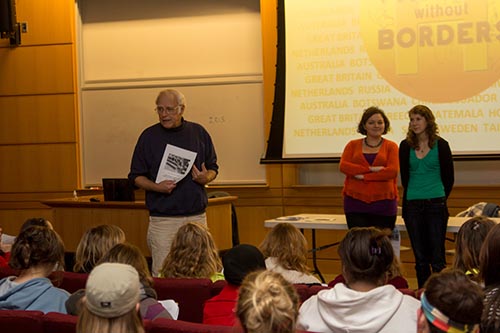 Dr. Norm Moline tells students about study abroad opportunities during the 2012 Study Abroad Fair in Olin Auditorium. (Long Nguyen '16/Augustana Photo Bureau)
The event planners say participation has grown every year, along with competition for the most popular programs, as more Augustana students realize the cost often can be about the same as staying on campus.
Augustana now ranks among the top 40 baccalaureate colleges nationally in terms of the number of students who study abroad. The goal is to see more than 60 percent of its students travel internationally, according to Dr. Allen Bertsche, director of international and off-campus programs at Augustana.
"Students should be looking at programs for next year right now, so they can be ready to apply during the winter term," he said. "Students who come to me late in the process find out their options are now more limited. Our goal is to have every opportunity available to students at one easy-to-explore event."
The fair will provide information on more than 20 international programs offered at Augustana, as well as financial aid and scholarship programs that students can explore. Even within individual programs, every student experience is different.
Vatina McLaurin '14 went to Ghana in West Africa, unsure how it might affect her. She interned for an organization that taught vocational skills to poor Ghanaians and saw the impact it made on their lives. "My time in Ghana was life-changing," she said.
"I now know I want to go into social work, and it's all due to this internship experience," McLaurin said.
Daniel Michniuk '14 also went to Ghana, but he was seeking added depth and meaning for his major in biology/pre-medicine. As an intern at a local hospital, he said his duties were far beyond what he had expected, as he rotated from the emergency room to the surgical center. And everyday life outside the hospital, he said, was equally interesting.
"Participating in daily commutes to work along with Ghanaians puts you in the middle of real life instead of being a tourist staying at a safe distance," he said. "My experiences in Ghana have made me conscious of my own culture, both the good and the bad, and have forever altered the way I perceive my life."
Australia is the most popular among 17 foreign countries offered at Augustana. Every major field of study can be accommodated, from internships with accounting firms to national parks. And every trip can include the unexpected, such as a group that planted mango trees in a Buddhist monastery in Cambodia.
But perhaps the most surprising thing about the programs is affordability, said Dr. Bertsche. During the academic year, several of the term abroad programs are typically priced within $2,000 above an equivalent cost to on-campus tuition, fees, housing and dining. And that additional $2,000 can be covered by Augie Choice, a one-time grant of $2,000 available to any student in the sophomore year or beyond.
There also is a rich array of scholarship opportunities available nationally from public and private sources, even some that cover the full cost of a study-abroad program, though they are the most competitive. Students are more likely to win scholarships that cover a portion of the total cost, but that also can make a big difference in their program choices, Dr. Bertsche said.
"Our study-abroad offerings provide courses that are just as much a part of the Augustana experience as those you take on our campus in Rock Island," he said. "So much of what you believe is based on a cultural assumption, and until you step outside that culture, you cannot understand the foundations of why you believe what you believe."
Sam Schlouch
Senior Communication Director
(309) 794-7833
samschlouch@augustana.edu