What Gus Did This Summer
Augustana's Viking mascot, Gustav Mauler, made his most recent appearance at the ribbon-cutting event at the new CSL last Saturday. Gus is an active Viking. This summer he was busy tootling in the GEM car across campus, looking for a job, becoming acquainted with the roommate-selection process, exploring the CSL, even getting a parking permit for his longship. Gus really is serious about being Gus, but let's face it, he finds it easier being Gus in cooler weather.
If you haven't seen them already, watch the Get Ready With Gus video series, which he helped put together for the incoming Class of 2017.
New This Year: A Christmas Messiah
Handel's Messiah has been a Christmastime tradition at Augustana for nearly 100 years, but prior to that was performed during the spring term. The Handel Oratorio Society premiered the work in the Quad Cities on April 12, 1881, at First Congregational Church in Moline. Since that time, Handel's masterwork has been performed by the society more than 200 times, most of those on Augustana's campus. This year the Handel Oratorio Society will present Messiah on December 14 and 15, and it will be a significantly shorter performance than in the past.
"We've decided to focus on parts of the oratorio associated with Christmas texts," said Jon Hurty, director of choral activities and conductor of the Handel Oratorio Society. "Hopefully by shortening and focusing the performance on Christmas, we'll bring in new audience members who have been put off in the past by the performance length."
Jon says the piece should run less than an hour and a half, with no intermission. Not to fear—many of the audience and performer favorites not part of the Christmas texts will continue to be performed, including "The trumpet shall sound," "Hallelujah Chorus," "I know my redeemer liveth," and others.
"Messiah is just one, yet very important, part of the music department's Christmas season," Jon said. "With the addition of Christmas at Augustana, we wanted to ensure the students who performed in multiple concerts within such a short period of time were able to recover and remain healthy."
Messiah is a part of Augustana's Celebration of Christmas, which also will feature two services of Lessons and Carols for Christmas on Thursday, December 19, and the sixth annual performances of Christmas at Augustana on Friday and Saturday, December 6 and 7. Tickets for all performances will be available through the Augustana Ticket Office beginning in mid-October, with the exception of Lessons and Carols, which is free.
"The [music department] has been fortunate to have the great support of the Augustana and Quad-Cities communities," Jon added. "I'm hopeful these changes will make Messiah an even more appealing part of our Christmas performance offerings."
Field Notes
Rosalie Starenko '15 sent this essay to her parents as an email from Cuenca, Ecuador, where she spent the summer taking three Spanish classes at CEDEI and living with a Cuencan host family. A geography and Spanish major, Rosalie benefited from Augie Choice and a Freistat Award to help her take part in Augustana's Summer Spanish Program in the Andes.
In the outskirts of the Ecuadorian Amazon, we high-stepped through tall, trampled grass and thick, watery mud to San Vicente, a very poor community located not far from our campsite. The Shuari live there, but please don't picture a tribe of people who have never had contact with the "outside world," because it was quite obvious that others have been coming to visit frequently. They didn't wear traditional clothing, but rather well worn cotton clothing, obviously made outside of the jungle. We had been told to bring donations for the kids there, and when we arrived they swarmed us immediately.
We played soccer and handed out the gifts (I brought colored pencils and paper). It seemed as though the kids had expected this. They were grabby and pushy, but at the same time so excited that we were there. All they wanted to do was play, and spent a lot of time scampering up and down our backs and shoulders. "Cárgame!" (Carry me!), they would pipe from below our knees. If we didn't pick them up immediately, one would somehow find a way to make it up there.
Yet, I can't help but feel unsure about the interaction. They asked me for money, and anyone who was wearing jewelry was asked for it, as well, so it seemed to me that whenever outsiders arrive they bring something for the kids, who have become accustomed to it. Because we were contributing to this "unhealthy exchange," as one of my friends put it, I felt uneasy. Were we really helping, or was this just a day of instant gratification for the kids? And if so, is that really something terrible?—to give these children a day of fun?
Many of the other students left feeling like the day had been rewarding, like they had really done some good. This, I believe, is where the danger lies—in not realizing the potential harm of giving in the material sense. We were surrounded by a horde of children whose names we did not know, and we handed out these random trinkets. We would never see them again, never know all of their names, and they will never see us again. Yet they will surely experience the arrival of more people blindly giving more, giving without realizing the expectations that ensue and the reliance on outsider material goods that forms.
From the Cabinet
President of the College Steve Bahls

In the coming weeks, there will be some red-letter days for Augustana—the Fall Board Meeting, Homecoming and the re-dedication of Old Main among them. But for my family and me, October brings another important day. October 10 marks the 10th anniversary of a lovely autumn afternoon when I was installed as Augustana's eighth president, under the boughs of the majestic sycamore that spreads across the foot of the Slough.
While I am amazed and humbled by all that we have accomplished in moving Augustana forward, especially considering the latter half of this decennial has not been kind to residential liberal arts colleges, I am struck in considering the college's history by how much transformation has occurred after a president's 10th year in office.
T.N. Hasselquist had been president 13 years when Augustana made the courageous and enduringly brilliant move from Paxton, Illinois, to the banks of America's greatest river. Gustav Andreen had been president 15 years when Augustana broke out of its parochial shell to become a true partner in the community, joining with the Tri-City Symphony Orchestra in a relationship that's lasted 97 years. It was the 14th year of Conrad Bergendoff's presidency when Augustana achieved the long-held dream of a Phi Beta Kappa chapter. And Tom Tredway had been president 13 years when Augustana formalized its relationship with Huazhong Normal University in Wuhan, a partnership that was at least a generation ahead of its time.
So, while great things have happened in the 10 years since October 10, 2003, and I am exceedingly proud of what we as a community have accomplished, I look forward to what's ahead. The strategic plan we are working together to craft today will transform Augustana for decades to come. I am very grateful for your partnership in this important work.
New Face on Campus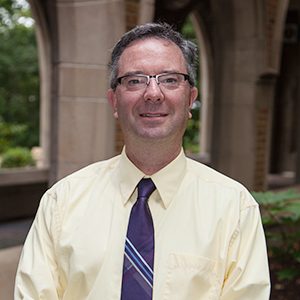 Dr. Jeffrey Ratliff-Crain
Associate Dean of Curriculum and Engagement
New professional challenges and bigger-city life drew Jeff Ratliff-Crain and his wife, Sharon, to Augustana College and the Quad Cities. Jeff and Sharon had had just about enough of the long commutes from their home in rural Benson, Minnesota, to workplaces in opposite directions. It's ironic the place they chose to buy their new bigger-city home is a neighborhood called Green Acres.
Jeff joined the Office of Academic Affairs this summer after 24 years as a teacher and administrator at the University of Minnesota, Morris. We all will be seeing a lot of Jeff in the coming months as he takes over leadership of several campus programs, including the Institute for Leadership and Service, Symposium Days, Summer Session, the Community Engagement Center (beginning in January), and assessment work connected to the college's drive for re-accreditation from the Higher Learning Commission, 230 S. LaSalle St., Suite 7-500, Chicago, Ill., 60604.
Jeff's area of academic specialty is medical psychology, a field he first became interested in as an undergraduate at Ohio State. "I was involved in a study on the effects of exam stress among medical students on immunological functioning," he said, "and that got me connected with the [at the time] new field of health psychology."
He earned his Ph.D. in medical psychology from the Uniformed Services Medical School in Bethesda, Maryland, where he was inspired by researchers studying the effects of human-made and natural disasters on physical health, both within and outside military settings.
Jeff's wife, Sharon, starts this month as a clinical informatics specialist at Trinity/Unity Point Health hospital in Muscatine, Iowa. The older of their two children is a daughter, Devon, who graduated this spring from the other Augustana College and now serves as a nurse in Sioux Falls, South Dakota. Their son, Ethan, is a junior at Grinnell College.
Jeff and Sharon are excited about becoming engaged in the life of the college—especially in theatre and music. Jeff is an amateur percussionist, and would entertain offers for any ensemble looking for a dynamic timpani player.
In the Works
Director of Human Resources Laura Ford authors a perennial series of information and wisdom pertaining to being an employee of Augustana College.
This time of year it seems our campus is always buzzing with activities and new initiatives, but never more than the fall of 2013. We want to spread the word about a couple of highlights for employees:
Take a Look at Lindberg! We are excited to bring all Augustana employees and family members to Lindberg Stadium for an evening of food and fun. Along with a free BBQ dinner, there will be games for all ages provided by our Greek groups, a bouncy house, the chance to try your leg at kicking a field goal (it looks so easy from the stands!) and try out some of the lacrosse team's equipment and techniques. We will have a behind-the-scenes tour of our new stadium, giveaways galore, and many more activities. We hope you've already marked your calendar for this event on Tuesday, October 1. The continuous fun runs from 4:30–7 p.m., so come down at a time that works for you.
Also new this fall is the YPA–Young Professionals of Augustana group, charting a series of events aimed at networking and development for employees under 40. Future plans include outings in the community, networking with the Chamber YPN, and creating opportunities to network with other young professionals within higher education. Stay on the outlook for information on this new group, or contact Steve Gottcent at x7141 and he'll be happy to keep you updated.
Seen & Heard
"It's not so much that I wanted to write about love and grief and mystery. That's inevitable. I want to write about the problems and complications of trying to language love and grief and mystery.... And I realized the closest I was ever going get to what I was trying to discover was a sort of gloss. Which is why a lot of the poems are footnotes and indexes and definitions and marginalia. Because they are ways of admitting this is as good as it's going to get. As close as it's going to get."—Rebecca Lindenberg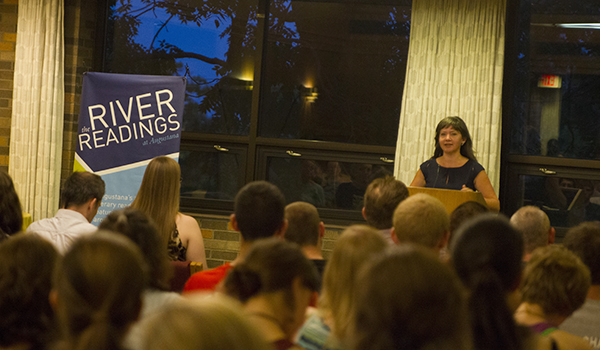 The first artist in the 2013-14 River Readings was poet Rebecca Lindenberg, who read from her book, Love: An Index, to a large audience in the Wilson Center on September 10.

Acknowledge is published by the Office of Communication and Marketing at Augustana College in Rock Island, Illinois. Contact Beth Roberts, editor. Photographers for this issue include Drew Barnes '14, Daisy Hoang '14 and Kristin Walden '16 of the Augustana Photo Bureau, and Rosalie Starenko '15. Videos are by Andrew Petersen and Audrey Moore '15 of the Augustana Video Bureau.