Young alumna adopts vision for college's future
September  17, 2013
Augustana College has been busy planting "green" initiatives the past few years, focusing on energy efficiency and environmental stewardship, and working to instill the same spirit in its students.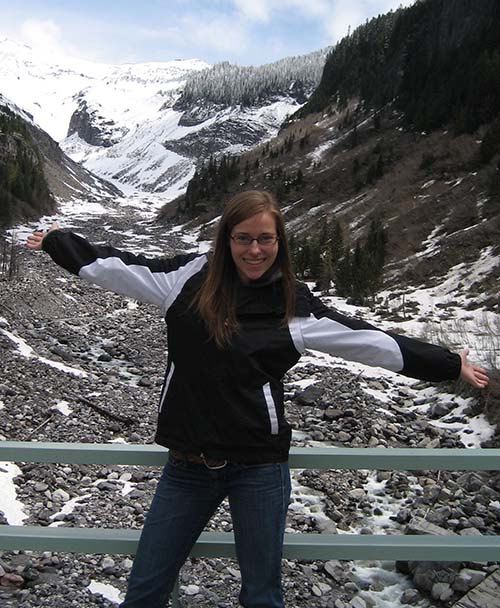 Amy Bandman
Rarely, however, does the college see a student like Amy Bandman, who may soon be teaching the college more than it knew.
"She is collecting a wide variety of data, most of which have never been systematically studied in any way," said Dr. Jeffrey Strasser, a geology professor who chairs the college's campus sustainability committee. "For instance, she has assembled essentially all of the college's energy use data – electricity and natural gas – for the past five years or so."
Since graduating in May, Bandman has been working on a major project to assess all the college's sustainability initiatives, everything from reducing water usage across the 115-acre campus of 2,500 students, to raising the profile of sustainability as an academic subject.
Bandman says her interest is all natural.
"It's a mentality," she said. "Augustana has a lot of initiatives, but being a college student, I was always looking for ways to save money, being more careful to turn out the lights, or riding my bike to class, walking more. That's what really got me excited and interested."
So, after graduating with a degree in geography and a natural interest in environmental issues, Bandman applied for a paid internship with Dr. Strasser's sustainability committee. Her goal was specific: Collect information on all aspects of campus sustainability and enter the data into the Sustainability Tracking, Assessment & Rating System (STARS), which is maintained by AASHE, the Association for the Advancement of Sustainability in Higher Education.
The task is daunting, and often a group initiative rather than a solo venture. There are 130 criteria that must be analyzed, from recycling and food supplies to education and innovation. Bandman says a minor in mathematics has helped her put the data together by herself.
"It was such a big task that it was a little bit intimidating, but it's actually going very well," she said.
Typically, sustainability initiatives save money as well as natural resources. When she submits her voluminous report later this month (September), she says she's confident it will save the college money in the areas of energy usage and water consumption.
Bandman says her interest in sustainability matured last summer with a college trip to the Pacific Northwest, where a culture of sustainability is more prevalent. She also has been working for River Action in Davenport, a non-profit promoting the sustainability of local river environments. There, her work earned her the affection of executive director Kathy Wine, who describes Bandman as a "tiger" when she commits to a cause.
Now Bandman is thinking about a career. She said jobs as sustainability coordinators are opening up at colleges and universities. She suspects the work might replicate what she's doing for Augustana.
"From the beginning, I was excited because of the opportunity to help make a difference at the college, especially since I just graduated," she said. "I have such a connection to the campus and community. Now it's a matter of getting more people on board, and expanding what we do."
Sam Schlouch
Senior Communication Director
(309) 794-7833
samschlouch@augustana.edu