"A Survivor's True Tale of Rape and Recovery"
September  16, 2013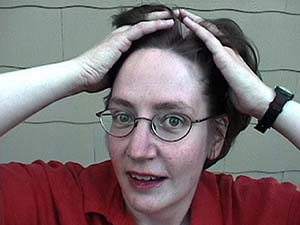 Nancy Donoval
Nancy Donoval, national story slam champ, will speak about her experience as a survivor of sexual assault at 7 p.m. Oct. 10 in Wallenberg Hall, Denkmann Memorial Building, (3520 7th Ave., Rock Island.
The event is sponsored by Family Resources, Inc. Members of the Quad-City community, especially teens and their parents, are encouraged to attend.
Donoval was a 19-year-old college student when she went out for a night of fun and drinking and was raped by a trusted classmate. The presentation, titled "The Road to Shameless: A Survivor's True Tale of Rape and Recovery," tells Donoval's experience as a survivor of sexual assault and how she found a voice to speak about it.
"I am a storyteller by trade, so I speak at colleges to put a human face on what day-to-day life is like for a survivor" said Donoval.
Donoval brings 25 years of experience as a professional storyteller, speaker and theater artist to her work as a sexual violence educator and activist. She is the founder of Stories 2 Stop Rape, providing sexual violence awareness and prevention performances, keynotes and seminars to colleges and universities.
Donoval combines her experience as a survivor with her skills as a storyteller to actively engage students – men and women – in talking honestly about sexual violence in order to reduce the stigma of rape, inspire hope in survivors and their loved ones and motivate change in campus culture.
She recently received an Artist Initiative grant from the Minnesota State Arts Board to study the use of digital storytelling in working with sexual assault survivors, their loved ones and the community at large.
She received a bachelor's degree in speech from Marquette University, Milwaukee, and a master of fine arts in theatre from Northwestern University, Evanston, Ill. Donoval is an associate member of the Association for Fraternity/Sorority Advisors and teaches beginning and advance storytelling courses at Metropolitan State University, Minneapolis.
Sam Schlouch
Senior Communication Director
(309) 794-7833
samschlouch@augustana.edu