Ander Lecture kicks off symposium on Indians and immigrants
September  13, 2013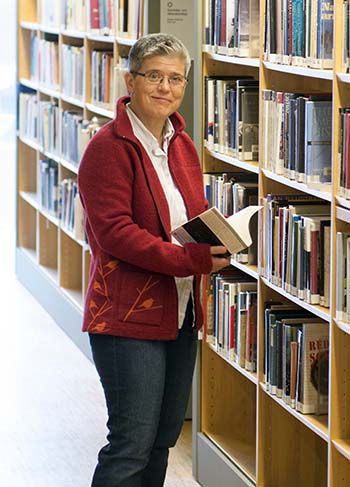 Dr. Gunlög Fur
Dr. Gunlög Fur, professor of history at Linnaeus University in Växjö. Sweden, will give the 24th annual O. Fritiof Ander Lecture in Immigration History on Friday, Oct. 4, at 7 p.m. in Larson Hall inside the Bergendoff Hall of Fine Arts (3701 7th Ave). This event, co-hosted by Augustana's Swenson Swedish Immigration Research Center and the Augustana Teaching Museum of Art, is free and open to the public.
After the lecture, the public is invited to enjoy a reception in the museum and view the "Rosebud Sioux: Lakota People in Transition" exhibition – photographs taken by Swedish immigrant photographer John Anderson.
The lecture kicks off a symposium, "Indians and Immigrants: Entangled Histories," which continues on Saturday, Oct. 5, from 9 a.m.-5 p.m. The symposium will include discussions and presentations from scholars in the fields of Native American and immigration history from Sweden and the United States, including three from Augustana College.
Dag Blanck, director of the Swenson Center, said, "The symposium will focus on the different types of relationships between Indians and immigrants, with a focus on the Midwest and Scandinavian-Indian contacts. It will conclude with a presentation and guided tour of the 'Rosebud Sioux' exhibition."
The symposium is free and open to the public, though pre-registration is required. To register for the symposium, call (309) 794-7443 or email susannetitus@augustana.edu.
Blanck said, "Dr. Fur is one of the foremost scholars in the field of American Indian history today."Her research interests include cultural encounters, gender and postcolonial perspectives, as well as oral history and the uses of history.
She earned a Ph.D. in history in 1993 from the University of Oklahoma. Her dissertation explored the relationships between the Swedes and the Lenape Indians in the New Sweden colony during the middle of the mid-17th century. She also has published numerous books and articles, including Colonialism in the Margins: Cultural Encounters in New Sweden and Lapland (2006) and A Nation of Women: Delaware Encounters with European Colonists (2009).
The O. Fritiof Ander Lecture in Immigration History is presented annually by a prominent scholar in the field of immigration studies. It is named after Dr. O. Fritiof Ander, an immigration historian who taught history at Augustana from 1930 to 1968.
Sam Schlouch
Senior Communication Director
(309) 794-7833
samschlouch@augustana.edu