Pendulum Chamber Ensemble to perform at Figge
August  30, 2013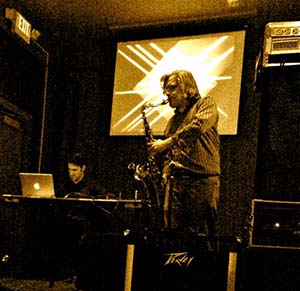 Dr. Randall Hall, saxophonist and associate professor of music
The contemporary chamber ensemble Pendulum will perform at 7 p.m. Sept. 5 at the Figge Art Museum, 225 W. 2nd St., Davenport.
The ensemble consists of Dr. Randall Hall, associate professor of music and saxophone instructor at Augustana College, and Dr. Jonathon Kirk '97, assistant professor of music composition and theory at North Central College in Naperville, Illinois.
Formed in 1999, Pendulum pushes acoustic and electronic resources to their technical and expressive limits and has performed throughout the United States, Europe and Asia.
This performance, as a part of the Figge's Project GreenSpace, will consist of an outdoor multimedia performance including sound and images projected on the iconic glass façade of the Figge Museum. The Pendulum ensemble involves Dr. Hall performing on saxophone while Dr. Kirk alters and adds to the music through the use of computer software.
Sam Schlouch
Senior Communication Director
(309) 794-7833
samschlouch@augustana.edu