Rosebud Sioux: A Lakota People in Transition
September  04, 2013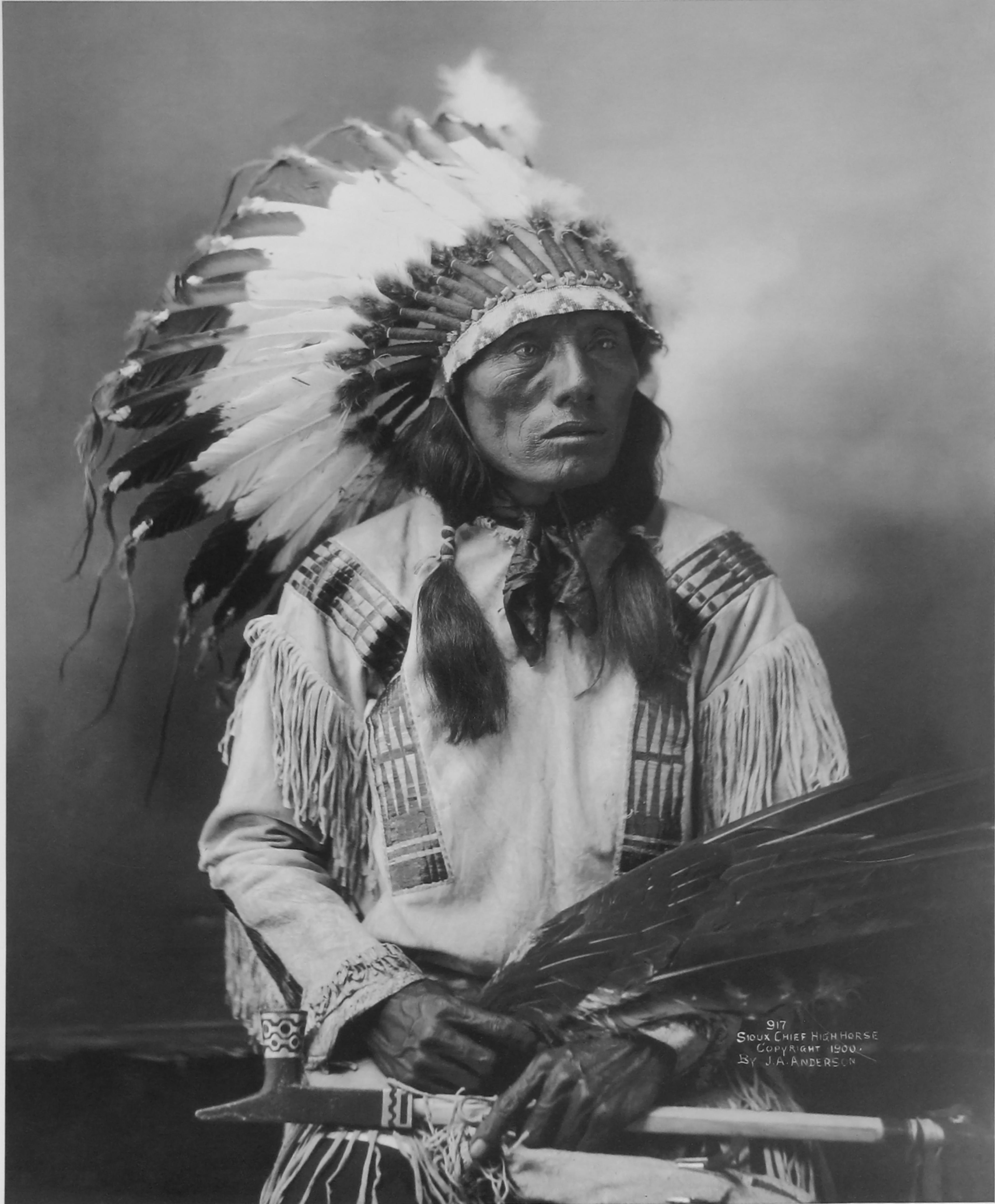 High Horse, ca. 1900, photo
by John Anderson, Swedish-American
photographer on Rosebud Sioux reservation
The Augustana College Teaching Museum of Art will present the exhibition "Rosebud Sioux: A Lakota People in Transition" Aug. 27-Oct. 18 in the museum, 3703 7th Ave., Rock Island.
Admission is free. The museum is open noon-4 p.m. Tuesdays through Saturdays.
The exhibition features 75 photographs by Swedish pioneer photographer John Anderson (1869-1948) taken during his long residence at the Rosebud reservation. The images capture the Lakota people as they moved from their nomadic traditions to reservation life. The exhibition highlights the cultural transition of the Sicangu Lakota people on the Rosebud reservation from the late 19th century into the 21st century. Anderson lived and worked on the Rosebud reservation for more than 45 years.
The exhibition also includes other photographs by contemporary photographers, contemporary artifacts, detailed biographical information on Anderson's life as a pioneer photographer and the life stories of some of the Rosebud Sioux he photographed and their descendants. Many of these contemporary additions here collected by the co-curators of the exhibit, Claes H. Jacobson and Eva Anderson of C-H Jacobson Produktion, who added these photos and artifacts to complement Anderson's work.
In connection with the exhibit, the museum and the Swenson Swedish Immigration Research Center will sponsor a conference Oct. 4-5 5. Titled Indians and Immigrants: Entangled Histories, the conference opens at 7 p.m. Oct. 4 with a free lecture by Dr. Gunlög Fur of Sweden's Linnaeus University, who researches Native American history and cultural encounters during colonization. A variety of concurrent sessions are planned for Oct. 5, concluding in the afternoon with a walking tour of the exhibit by curators Jacobson and Anderson. Funding for the conference comes from the Swedish-American Society of New York.
"We are delighted to host this very significant exhibit that has been displayed in more than 90 museums around the world," said Dr. Ellen Hay, chair of the Art Museum Advisory Board. "In Europe alone more than 1.5 million visitors have viewed the exhibit. It provides our students and the Quad-City community with a unique opportunity to learn more about the Lakota people and their way of life."
The local presentation of the exhibition is made possible thorough the Barbro Osher Pro Suecia Foundation.
Sam Schlouch
Senior Communication Director
(309) 794-7833
samschlouch@augustana.edu