Crew team to partner with Two Rivers YMCA
August  19, 2013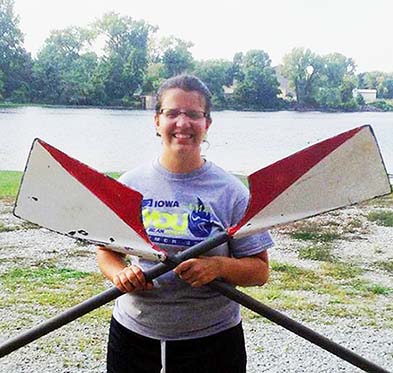 Deidrah Kennedy
Augustana College and Two Rivers YMCA, in Moline, Ill., have announced a new partnership involving crew. The YMCA's Deidrah Kennedy will begin coaching the club crew teams at Augustana, and the two organizations will share rowing resources.
"Both institutions believe this partnership will improve our community and the opportunities for those who love the sport of rowing," said Jesse Ricke, rowing program director at Two Rivers.
Dr. Evelyn Campbell, dean and vice president of student life at Augustana, said, "As the Augie crew team grew and advanced, we came to recognize the YMCA to be the major resource for crew in the Quad Cities. It seemed like a good idea to explore partnerships, and it made sense for the YMCA to coach our team."
Coaches at the Two Rivers YMCA lead all of the major competitive and recreational rowing programs in the Quad-Cities area. "For Augustana, it made sense to be in a position to both benefit from their expertise and also contribute to the resource base and enthusiasm for the sport," added Dr. Campbell.
Kennedy has been around the sport of rowing since she was in middle school. She and her family have been active members in Y Quad Cities Rowing (formerly Quad Cities Rowing Association) since 1996, when her older siblings started taking interest in the sport. In 2002, Kennedy began her personal career in rowing and was a member of the Junior Rowing Club.
Kennedy attended University of Dubuque where she took a break from rowing and focused on her career in golf, while she healed from a knee injury. Kennedy has had many roles in her rowing career such as coxswain, learn-to-row coach and novice coach.
According to Ricke, "Diedrah is now excited to enter her new role as Augustana's crew coach."
Dr. Campbell anticipates this partnership will be a benefit to students, noting they will have "access to the YMCA's boathouse, a YMCA coach, use of its weight room and more."
Dr. Campbell believes the YMCA also will benefit. "The YMCA will have access to a great group of talented college students who will be members of the YMCA and will be able to support the YMCA in a variety of ways."
The Augustana crew team got its start in the fall of 1998. The team is comprised of women and men, and it offers both a novice rowing program and a varsity program for the most competitive, experienced rowers. Crew is one of 11 club sports at Augustana.
Sam Schlouch
Senior Communication Director
(309) 794-7833
samschlouch@augustana.edu