August 15, 2013
Men's cross country looking forward to 2013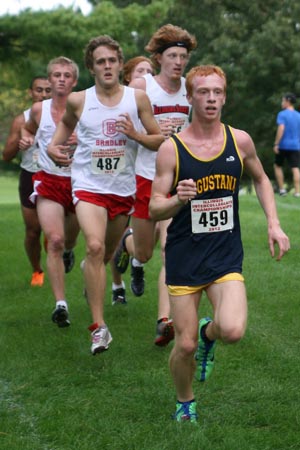 Keith Sands placed 10th in the College Conference of Illinois & Wisconsin championship meet and was named the Vikings' "Most Valuable Freshman" in 2012.
Even thought the losses absorbed by the Augustana men's cross country team because of graduation claimed several key contributors, head coach Paul Olsen is optimistic that his 2013 Augustana Vikings will be able to surprise people. With 13 letter winners returning, including four top-seven runners, Olsen thinks the opportunity is there for this unit to have considerable success.

"There is no question that this team will be young and inexperienced," said Olsen who is beginning his 48th season at the helm of Augustana's harrier fortunes. "We lost four runners who were solid top-seven runners but I believe that we have some people who can, and will, step up. There have been some kids who have been waiting in the wings and it is now their time."
A year ago the Vikings won the Brissman-Lundeen Invitational, placed second in the pre-national meet and the Western Illinois Invitational and were third in the College Conference of Illinois & Wisconsin championship. They finished the year ranked 31st in NCAA Division III and were ninth in the Midwest Regional. In addition, Jonathan Smith, who graduated in May, earned NCAA Division III All-American honors.
Sophomore Keith Sands (United Township HS, Silvis, Ill.) is the top returner for Augustana. He finished 10th in the CCIW meet and was named the team's Most Valuable Freshman. During the spring he won the 5000 at the CCIW championship outdoors. Another sophomore, Dan Popek (Minooka HS, Minooka, Ill.) was in the top-seven along with junior Nick Gornick (York HS, Elmhurst, Ill.) and senior Tyler Busch (Winnebago HS, Winnebago, Ill.).
Sophomore Ethan Koch (Prospect HS, Prospect, Ill.) was a contender for a top-seven spot early in the 2012 season before an injury which sidelined him during the latter part of the campaign. Seniors Andrew Allabastro (Lyons Township HS, Countryside, Ill.), Alex Stockwell (Glenbard West HS, Glen Ellyn, Ill.) and Isaac Trostle (Willowbrook HS, Lombard, Ill.) form a trio that Olsen feels can step up in 2013. The junior class that includes Alex Odenkirk (Ironwood Ridge HS, Tucson, Ariz.), Keegan Buttimer (Riverside-Brookfield HS, Riverside, Ill.), Andrew Brimeyer (Dubuque Senior HS, Dubuque, Iowa) and Grant Bell (Belgrade-Brooten-Elrosa HS, Belgrade, Minn.) will be in the mix as well.
"I think that we are going to surprise some people," said Olsen. "We have a very good freshman class coming in and I would be surprised if we didn't somebody from that bunch in our top-seven at some point during the season."
Once again the Vikings will tackle a highly competitive schedule. The season kicks off on August 30 at the Western Illinois Invitational and hopefully ends at the NCAA Division III national meet on November 23 in Hanover, Indiana. Augustana will host the Brissman-Lundeen Invitational on Friday, September 27 and the NCAA Midwest Regional on November 16. Both of those meets will be at Saukie Golf Course in Rock Island. Other invitationals include Olivet Nazarene on September 13, Wartburg on October 12 and Wisconsin-Oshkosh on October 19.