August 14, 2013
Vikings look forward to 2013 season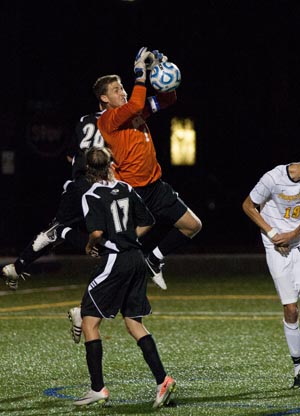 Senior captain Tyler Cowherd and the Augustana Vikings are looking forward to the 2013 season.
With a total of 21 letter winners returning from 2012, including nine starters, optimism is high around the 2013 Augustana men's soccer program. Head coach Brenton Joseph has stressed since last season that preparation will be the key to success this year and he thinks his core group of eight seniors have taken that to heart.

"Throughout the off season we told our guys that preparation will be the answer," said Joseph who is entering his seventh year as the Vikings' head coach. "Our older players have done a good job of holding people accountable and that will make the difference."
Augustana went 13-6 in 2011 before slipping a bit in 2012 and falling to 6-9-3. The Vikings went 0-4-1 in the last five games and Joseph said his team used that as a focal point in the off-season.
"At times we played pretty well last year but the disappointing thing came from lack of consistency," said Joseph. "If we can find a way to play at an even level I think we could be pretty good."
One area that will draw quite a bit of attention in the pre-season will be developing some goal scorers. Last year Augustana scored a total of 20 goals in 18 games and were shut out three times.
"We need to figure out a way to score goals," said Joseph. "We didn't do that last year and that made the margin of error tough at times."
The forward position is wide open and Joseph is hoping that sophomores Gabriel Brouillette (Carmel Catholic HS, Mundelein, Ill.), Ian Deggendorf (St. James Academy, Liberty, Mo.) and Patrick Nelson (Jacksonville HS, Jacksonville, Ill.) along with junior Vincenzo Dal Pozzo (Neuqua Valley HS, Naperville, Ill.) will be able to provide some scoring punch. Nelson scored two goals and had one assist in 2012 while Brouillette had one goal and one assist.
Seniors Matt Shipon (South Elgin HS, Elgin, Ill.) and Grant Halter (Glenbard West HS, Glen Ellyn, Ill.) and juniors Chandler Brooks (University HS, Bloomington, Ill.) and Nathan Kyes (Oswego HS, Oswego, Ill.) will provide veteran play in the midfield. Shipon was a second team all-conference selection in the College Conference of Illinois & Wisconsin in 2012 and he scored one goal two assists. Halter had a goal and Kyes an assist.
Two seniors, Michael Buric (Notre Dame Prep, Scottsdale, Ariz.) and Evan Johnson (Glenbard South HS, Glen Ellyn, Ill.) will combine with junior Adam Bengfort (Davenport Assumption HS, Davenport, Iowa) and sophomores Cole Collins (Lisle HS, Lisle, Ill.) and Erik Gustafson (Cary-Grove HS, Cary, Ill.) on defense.
Senior Tyler Cowherd (Bettendorf HS, Bettendorf, Iowa) returns at goalkeeper after posting a 3-4-2 record with a 1.80 goals-against-average last year. He logged 850 minutes and recorded 32 saves with one shutout.
Joseph is excited about his incoming freshman class, which numbers 17, and figures that several players will be contributing before too long.
"The freshman that we brought in will form a good class," said Joseph. "Several have the chance to be contributors fairly early. I thing the competition will be good and the younger players will push the older ones and that will make us better."
The Vikings will once again play a very competitive schedule with the season opener set for August 30 against Taylor in a match that will be played in Wheaton, Illinois. The home opener will be one day later against Macalester.