August 12, 2013
Vikings fall to top Brazil team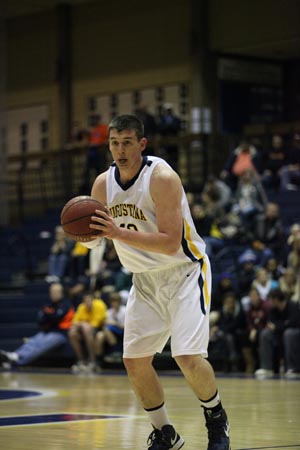 Kevin Schlitter scored 11 points and grabbed nine rebounds as Augustana dropped a 78-72 decision to C.R. Flamingo on Monday, August 12 in Rio de Janiero.
RIO de JANIERO, Brazil - Augustana head men's basketball coach Grey Giovanine has taken a total of eight teams on international trip, including five with Augustana. He called his current team's opponent on Monday, August 12 the "best competition I have seen in all my years of international experience".

His Vikings dropped a hard-fought 78-72 decision to C.R. Flamingo on Monday, August 12 in Rio de Janiero. The C.R. Flamingo team is the best under-22 team in Brazil and is the club that has been picked to host the upcoming Olympics basketball competition and will also entertain the NBA event on October 12.
Trailing 39-35 at halftime, Augustana battled back to tie the game at the end of three quarters. With 1:20 left the Vikings trailed just 72-70 before falling by six. C.R. Flamingo shot 58 free throws in the game and made 42 while Augustana went to the charity stripe just 18 times.
Senior Kevin Schlitter (Maine South HS, Park Ridge, Ill.) led the Augustana offense with 11 points and nine rebounds while Danielus Jurgutis (Downers Grove South HS, Darien, Ill.) Ben Ryan (Washington HS, Washington, Ill.) each had 10 points. Tayvian Johnson (United Township HS, East Moline, Ill.) hauled in nine rebounds.