August 7, 2013
Baids double-double helps Vikings to second win in Brazil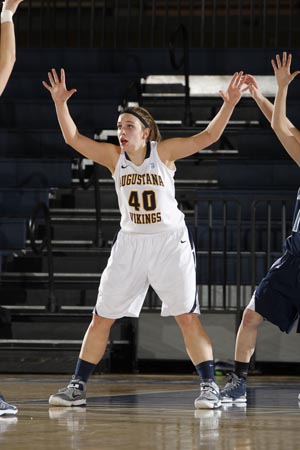 Senior Jessica Baids scored 10 points and grabbed 13 rebounds to lead Augustana to a 55-31 victory over Club Municipal for a second straight victory in Brazil.
RIO de JANIERO, Brazil - Helped out by a double-double from senior Jessica Baids (West Chicago HS, Carol Stream, Ill.), the Augustana women's basketball team picked up its second straight victory in Brazil. The Vikings defeated Club Municipal by a score of 55-31.

Two nights ago Augustana beat Club Municipal 62-44, but this was a different team within the same club.
Baids had 10 points and hauled in 13 rebounds to lead the Vikings. She was the lone Augustana player in double figures. Sophomore Marissa Pezzopane (Addison Trail HS, Wood Dale, Ill.) scored nine points and had 10 rebounds while senior Chaney Tambling (Dwight HS, Dwight, Ill.) had nine points and nine rebounds. Senior Molly Etheridge (Normal Community HS, Bloomington, Ill.) scored seven points and had six rebounds while junior Kayla Boers (Oswego East HS, Oswego, Ill.) put up six points and four rebounds.
Second year head coach Mark Beinborn's team led 25-9 at halftime.