August 7, 2013
Hot shooting, great rebounding lead to win in Brazil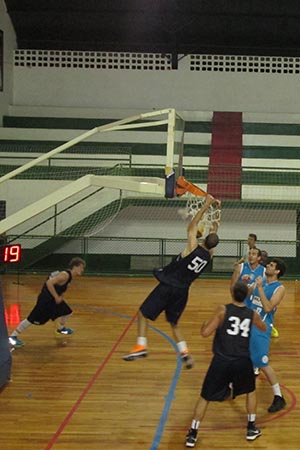 Junior Alex Dziagwa's dunking ability energized the Brazilian crowd Tuesday as the Vikings raced to an early 18-5 lead.
The long plane flight to Brazil less than 24 hours ago didn't seem to bother Augustana much as the Vikings cruised to a 107-71 victory over Jundiaense/Vinjedo on Tuesday in the first of four games in Brazil. Veteran head coach Grey Giovanine's team got off to a quick start and never looked back.
Junior Alex Dziagwa (Riverside-Brookfield HS, Brookfield, Ill.) scored the first basket of the game and junior Mark Roth (Washington HS, Metamora, Ill.) buried a trio of three-point baskets as Augustana bolted to an 18-5 lead in the game's early going. Eventually the advantage would move to 58-33 at halftime and the Vikings continued to pour it on the hosts.
Roth hit six of 10 shots from beyond the arc and finished the game with 20 points. Junior Nic Hoepfner (United Township HS, East Moline, Ill.) was also in double figures with 16 points. Sophomore Ben Ryan (Washington HS, Washington, Ill.) pulled down nine rebounds.
Sophomores Griffin Pils (Libertyville HS, Libertyville, Ill.) and Hunter Hill (Byron HS, Byron, Ill.) had seven and six assists respectively.
The Vikings shot 57 percent from the field and nailed 12 of 27 3-point attempts. They dominated the boards to the tune of a 40-17 advantage and forced 19 turnovers.