August 6, 2013
Mejia's Viking tabbed for second in CCIW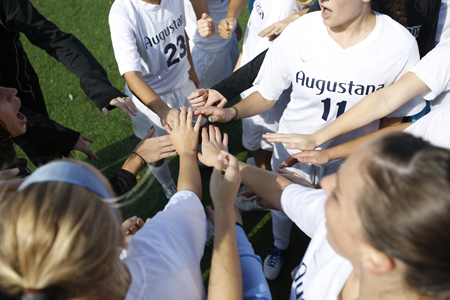 Augustana has been picked for second place in the 2013 CCIW pre-season women's soccer poll
NAPERVILLE, Ill.-Coming off a CCIW regular season championship and an NCAA tournament appearance in 2012, Coach Scott Mejia's Augustana women's soccer team has been tabbed for a second-place conference finish this year in a poll of the league's coaches. The Vikings received two first-place votes and 43 total points, just three behind pre-season favorite Wheaton, which received the other six first-place tallies.

Augustana finished 16-5 a year ago and won the CCIW regular season title with a perfect 7-0 mark. Wheaton, which defeated the Vikings in the CCIW tournament, was 21-4-2 in 2012 and 5-1-1 in the league.
Illinois Wesleyan (9-9, 5-2-0 in 2012) was picked for third in this year's poll with 37 points, followed by North Central (6-9-3, 2-3-2), who was fourth 29 points. Elmhurst (8-6-3, 1-4-2) received 27 votes to rank fifth, with North Park (5-9-2, 1-4-2) picked for sixth with 19 votes. Carthage (5-10-4, 1-4-2), with 16 points and Millikin (5-11-3, 1-5-1), with seven, rounded out the poll.
Augustana opens its 2013 season on August 30 against UW-Oshkosh in Aurora, Illinois. The Vikings' home opener at Thorson-Lucken Field is scheduled for 1:00 p.m. on September 14 against Prinicipia.
2013 CCIW Pre-Season Women's Soccer Poll
| | | | |
| --- | --- | --- | --- |
| Rank | Team | Points | First Place Votes |
| 1 | Wheaton | 46 | 6 |
| 2 | Augustana | 43 | 2 |
| 3 | Illinois Wesleyan | 37 | |
| 4 | North Central | 29 | |
| 5 | Elmhurst | 27 | |
| 6 | North Park | 19 | |
| 7 | Carthage | 16 | |
| 8 | Millikin | 7 | |