August 6, 2013
Vikings win first game in Brazil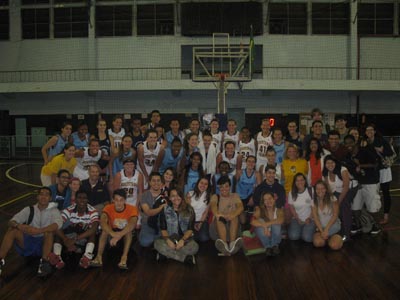 Augustana players and coaches gathered for a team picture after the Vikings' 62-44 victory over Club Municipal on August 5 in Rio de Janeiro.
RIO de JANEIRO, Brazil - Playing on little sleep and without a warm-up, the Augustana women's basketball team turned to balanced scoring to tip off the Brazil '13 trip with a 62-44 victory over Club Municipal on Monday, August 5 in Rio de Janeiro. The Vikings, who traveled all day on Sunday with a long flight from Chicago's O'Hare International Airport, were a little sluggish in the early going.
"The game tonight was a good start especially considering we hadn't really slept the night before and we didn't get to warm up," said second-year head coach Mark Beinborn.
"We played hard and were able to carry over some of the things that we worked on in practice last week. I was pleased."
Three Vikings ended the game in double figures with seniors Molly Etheridge (Normal Community HS, Bloomington, Ill.) and Jessica Baids (West Chicago HS, Carol Stream, Ill.) leading the way with 12 points apiece. Senior Amy Hicks (Rockford Christian HS, Rockford, Ill.) added 10 points and sophomore Marissa Pezzopane (Addison Trail HS, Wood Dale, Ill.) dropped in eight.
Hicks led the team in rebounding with seven while junior Kayla Boers (Oswego East HS, Oswego, Ill.) had six, while scoring four points. Baids and Pezzopane each pulled down five rebounds.