Library director honored for leadership
August  05, 2013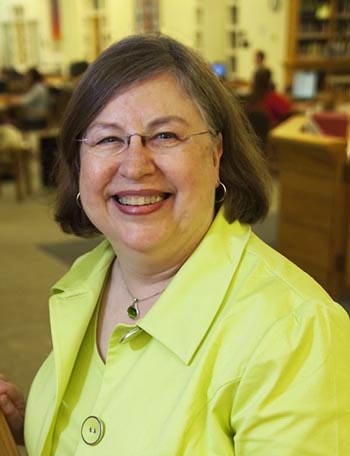 Carla Tracy
Carla Tracy, director of the Thomas Tredway Library at Augustana College, has been awarded the Illinois Academic Librarian of the Year Award for 2013. The award is presented by the Illinois Association of College & Research Libraries, and the ceremony will officially take place during the Illinois Library Association conference in October.
Tracy has been director of the library since 2003. Prior to holding that position, she served as interim director (2002-2003), collection development coordinator (1997-2002), reference coordinator (1995-1997), and reference librarian (1994-1995).
Under Tracy's leadership, the library staff has played a key role in integrating information literacy into the requirements for the general education program and new college-wide outcomes; increased the number of student instruction sessions to roughly 300 per year; promoted undergraduate research with primary sources in Special Collections; begun an assessment program to evaluate information literacy instruction; and engaged in a major renovation and expansion project as part of the college's creation of the Center for Student Life.
On August 26, the beginning of the Augustana academic year, Tracy and others will celebrate the completion of 18 months and 37,700 square feet of construction as they will welcome students into the new Center for Student Life and renovated areas of the Thomas Tredway Library.
The Center for Student Life is a unique structure that fuses the library with the college's dining facility while addressing the changing academic and social needs of today's students.
Dean of the College Dr. Pareena Lawrence said, "The CSL construction has been a mighty weight on many shoulders across campus, including Carla's. During the CSL process, Carla has fostered an environment of respect and open communication. It is remarkable that news of this award comes as the CSL project enters the final phases."
Tracy is someone to share the spotlight, and when asked about the award, she said, "I am most proud of the Tredway Library staff. Every one of them is bright, capable and dedicated to the library's success. They are also personable, kind and have good senses of humor. All of these qualities have seen us through the intellectual and emotional demands of re-inventing our library, as well as the hands-on labor of making it a reality."
It was the library's staff who nominated Tracy for the award. Sarah Horowitz, assistant professor and a librarian in Special Collections, explained, "It was my idea to nominate Carla for the award.... I ran the idea past the other librarians, and they all agreed that it was a great opportunity and helped to write the nomination."
In the nomination form, Tracy is described as someone who "tackles complex professional concerns, such as the future of libraries in general and collaborative efforts among libraries and other student service departments, with the same attention to detail and careful thought with which she engages her staff on a daily basis."
Sam Schlouch
Senior Communication Director
(309) 794-7833
samschlouch@augustana.edu