August 1, 2013
Strong finish leads to optimistic 2013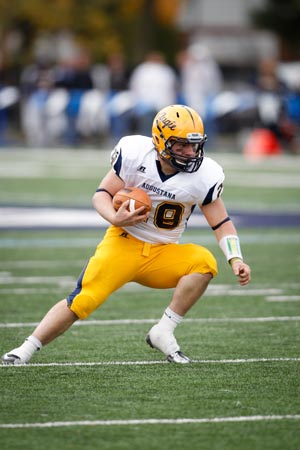 Senior Eric Chandler led the Vikings in rushing last year with 718 yards and five touchdowns and was an all-conference selection. He was named to the pre-season Football USA NCAA Division III All-America team.
A strong finish to the 2012 season when his team won four of its last five games, has third-year Augustana head coach Rob Cushman understandably optimistic heading into the 2013 campaign. The Vikings return 42 letter winners, including 13 starters and hope to build on a 5-5 overall record and a 4-3 mark in the College Conference of Illinois & Wisconsin from a year ago.

"So much positive came out of last season when finished so strongly," said Cushman, whose team was 1-4 through the first five weeks of 2012. "It sent a message to our team that has carried over into the off-season. We knew that we were close and I think our team showed some great resiliency to continue to work and progress each week. When things started to click for us you could just see it in the way we played."
A trip to France this summer, where the Vikings beat the French national team 20-13, and the opening of Lindberg Stadium add to the mounting excitement around the Augustana program.
"There is certainly a lot of enthusiasm at this point," said Cushman. "The trip to France was a great experience and we came away with a nice victory. The opening of Lindberg Stadium will be a tremendous boost to our program."
Cushman knows that all the external circumstances are a plus but he comes back to basics when assessing his team.
"Hopefully we can channel things like international travel and a new facility where it needs to go," he said. "The bottom line is that it still comes down to blocking and tackling and I think we did that much better at the end of last season."
Offensively the Vikings will return seven starters on offense but the position that will get the most attention is the spot where a newcomer will have to step in and that will be at quarterback. Sophomore Sam Frasco (Prospect HS, Mount Prospect, Ill.) learned last fall while senior Nick Welch (Oswego HS, Oswego, Ill.) ran the offense. He saw limited action and ended the year with 31 rushing attempts and 12 pass attempts. After a good spring, Frasco stepped up and scored all three Augustana touchdowns in the 20-13 win over France.
"Quarterbacking is a process," said Cushman. "It takes time. Last year Nick did a nice job of managing our offense and at the same time our younger players got to see what it takes to be successful."
Joining Frasco in the hunt for the starting position will be fellow sophomore Chris Salazar (Providence Catholic HS, Plainfield, Ill.). Together, the two of them are growing into the position. Behind Frasco and Salazar will be a "bunch of young guys", according to Cushman.
The running back position is in the capable hands of senior Eric Chandler (Cary-Grove HS, Cary, Ill.). A year ago Chandler was the leading rusher on the team with 718 yards on 115 attempts for a 6.2 average with five touchdowns. He was a second team all-conference selection and was named to the USA Football's pre-season All-American team. Junior Ben Hodges (St. Charles North HS, Elburn, Ill.) carried the ball 28 times for 70 yards last year and he will be used more often this fall. Senior Alex Hembrey (Cary-Grove HS, Cary, Ill.) is coming back off injuries that have sidelined him for two years. He gained 158 yards on 29 carries as a freshman in 2010.
Senior Nick Krantz (Moline HS, Moline, Ill.) leads the wide receiver corps and he had 18 catches for 329 yards and two touchdowns last fall before an injury ended his season just after the midway point. Junior Torre Harrell (Bloomington HS, Bloomington, Ill.) caught 23 passes for 288 yards and three touchdowns but he is recovering from an injury suffered in the track season. Junior Eric Josupait (Waubonsie Valley HS, Aurora, Ill.) and junior Kyle Frake (Clifton Central HS, Clifton, Ill.) provide great depth at this position.
The slot receiver spot is well-stocked as well. Senior Kyle Snow (Wheaton-Warrenville South HS, Wheaton, Ill.) had a breakout year in 2012, catching 27 passes for 302 yards with a pair of scores and earned all-conference honors. He was also a pre-season NCAA Division III All-American from USA Football. Junior Antonio Owens (Naperville North HS, Bolingbrook, Ill.) has been a starter since his freshman year and last season he caught 19 passes for 215 yards with two touchdowns. He also carried the ball 17 times for 110 yards. Sophomore Sean Fitzgerald (Providence Catholic HS, Manhattan, Ill.) is also in the mix here.
Two starters return in the offensive line, senior Eric Dratnol (Kaneland HS, Montgomery, Ill.) at center and junior Anthony Roome (Geneseo HS, Geneseo, Ill.) at guard. Dratnol was an academic all-district performer last year and Roome has been a two year starter. Senior Eric Link (Sherrard HS, Aledo, Ill.) and junior Alex Anderson (Geneseo HS, Geneseo, Ill.) will handle the tackle positions while senior Trace Wingo (Crystal Lake South HS, Crystal Lake, Ill.) and junior Greg Ferguson (Plainfield South HS, Plainfield, Ill.) will battle for the guard spot opposite Roome. Juniors Jon Losen (Morton HS, Morton, Ill.) and Nick Stone (Lyons Township HS, LaGrange, Ill.) will be battling for playing time as well.
The Vikings bring back six starters on defense and in a four game winning streak at the end of 2012 they only allowed a total of 48 points. Senior middle linebacker Erik Westerberg (York HS, Elmhurst, Ill.) was the Most Valuable Defensive Player in the CCIW last year and he has been the leading tackler in the conference each of the last two years. He is a two time Capital One Academic All-American and was a D3football.com All-American last year as well. Heading into the 2013 season he has been named to every pre-season All-American team. He had 118 total tackles last year (66 solo and 52 assists) with four sacks and 14 tackles-for-loss.
There are several players vying for the inside linebacker position next to Westerberg. Seniors James Stratton (Sherrard HS, Sherrard, Ill.) and Jason Byro (LeRoy HS, LeRoy, Ill.) and juniors Luke Kowalczyk (LaSalle-Peru HS, Peru, Ill.), Jacob Benner (Batavia HS, Batavia, Ill.), Justin Dyche (Ottawa Marquette HS, Ottawa, Ill.) and Tom Enke (Millard West HS, Omaha, Neb.) are all vying for the position. The outside linebacker will be senior Mike O'Donoghue (Mundelein HS, Mundelein, Ill.).
Senior Carl Hartweg (Illini West HS, Carthage, Ill.) is a multiple-year starter and he will anchor the interior of the defensive line. He had 24 total tackles a year ago, including 6.5 tackles for loss and four quarterback sacks. Seniors will Hass (Marian Central Catholic HS, Algonquin, Ill.) and Mike Roehrenbeck (Columbus Academy, Gahanna, Ohio) and sophomore Sam Mago (Cary-Grove HS, Cary, Ill.) will rotate into this position as well.
At the end positions on the defensive line junior Sean McIntyre (Genoa-Kingston HS, Genoa, Ill.) is coming off an all-conference season in 2012. He had 24 total tackles and had a team-high nine sacks and 8.5 tackles for loss. Seniors Sean Mulholland (Clinton HS, Clinton, Iowa) and Ryan Coleman (Wheaton North HS, Carol Stream, Ill.) along with sophomore Brandon Stiers (Deer-Creek-Mackinaw HS, Mackinaw, Ill.) will battle for the other end spot.
In the secondary seniors Sean Walker (Annawan HS, Annawan, Ill.) and Justin Gruca (Wilmington HS, Wilmington, Ill.) and juniors Ben Fornek (Batavia HS, Batavia, Ill.) and Tim Maroder (Burlington Central HS, Elgin, Ill.) will handle the cornerback positions. Fornek was fourth on the team in tackles in his sophomore year with 46 while Maroder had 33 tackles and he had three interceptions, a deflection, a fumble recovery, a forced fumble and one tackle-for-loss. Walker had 22 tackles and a fumble recovery last year while Gruca contributed six tackles.
Junior Bo Goshorn (Romeoville HS, Romeoville, Ill.) finished the year third on the Vikings in tackles with 57 with a team-high four interceptions, four pass break-ups and two tackles for loss. He will be at safety once again. Senior Ken Clay (Waubonsie Valley HS, Naperville, Ill.), who has been a quarterback for the first three years of his career, has moved to safety and will be in the hunt for playing time.
"We are really looking forward to 2013," said Cushman, who was the Augustana defensive coordinator for three seasons before being named the head coach in December of 2010. "We have the positive energy from our strong finish of last year, a great off-season program, our trip to France and the opening of a new stadium. It all looks bright for us and it will be up to us to execute and get better as the season progresses."